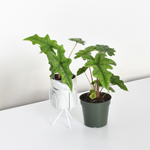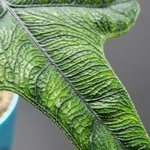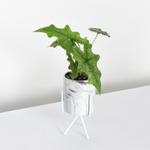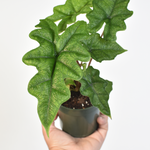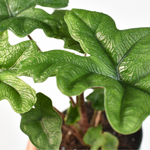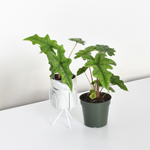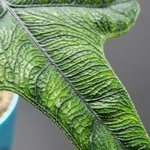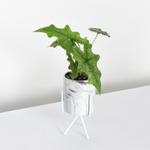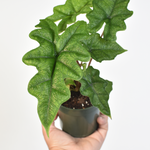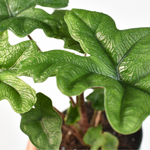 Alocasia tandurusa 'Jacklyn' Elephant Ears
Regular price
Sale price
$29.00
Unit price
per
Sale
Sold out
Details
Elevate your indoor jungle with the Alocasia Jacklyn, a captivating botanical wonder that exudes exotic charm and artistic elegance. This unique plant, known for its striking beauty and distinctive features, is set to become the centerpiece of your botanical collection.
A Tropical Experience, Right at Home: Bringing a slice of the tropics into your living space has never been easier. The Alocasia Jacklyn is a true tropical gem, offering a taste of the rainforest's allure without ever leaving your home. Its bold foliage and captivating aesthetics instantly transport you to a lush, green paradise.
An Artistic Statement: The Alocasia Jacklyn's leaves are a work of art in themselves. Their dramatic size and shape, combined with the intricate veining, and unique textures, make this plant a true statement piece. Whether placed in a minimalist, contemporary setting or a bohemian, eclectic space, the Alocasia Jacklyn adds an artistic flair that's hard to match.
Caring for the Alocasia Jacklyn: While the Alocasia Jacklyn boasts exotic beauty, it's surprisingly adaptable and can thrive with proper care. Here are some care tips to ensure your Jacklyn flourishes:
Light: Bright, indirect sunlight is ideal. Avoid direct sunlight, which can scorch its leaves.
Water: Keep the soil consistently moist but not waterlogged. Ensure proper drainage to prevent root rot.
Humidity: Jacklyns adore humidity. Consider misting the leaves or using a humidity tray to mimic their natural rainforest environment.
Temperature: Keep your Alocasia Jacklyn in a warm, stable environment, ideally around 65-80°F (18-27°C).
A Standout Addition to Your Green Collection: The Alocasia Jacklyn is not just a plant; it's a conversation starter and a living piece of art. Its unique appearance, combined with its manageable care requirements, makes it an excellent choice for both experienced plant enthusiasts and beginners looking to make a statement in their indoor garden.
Make your space come alive with the Alocasia Jacklyn, the embodiment of tropical splendor and botanical grace. Elevate your indoor décor and immerse yourself in the exotic beauty of this extraordinary plant. Don't miss the opportunity to own a piece of the rainforest – bring home the Alocasia Jacklyn today!
Available in the following packaging based on your preference:

Nursery Pot - Standard plastic 4-inch planter pot that can be placed inside a larger pot or left as is until it outgrows it.
Olympia Planter - Marble-style grey and white ceramic planter raised on a metal planter. Approximately 4" opening with drainage hole.
Looking for more plant goodies? Check out our accessories.
For added humidity, our Lyfe Rose Gold Signature Mister will make a perfect addition to your plant shelf for both function and beauty. We also recommend adding our Plant Shield & Shine to your order for routine maintenance and pest prevention.  
Our plants are shipped from our indoor greenhouse in South Florida. Please note all our plants are one of a kind and if you want to message us we can send you a picture of the exact one you will receive. The product image here is intended to be the best representation of what you can expect to receive but yours may have slightly less or more growth depending on the crop we have when your order is placed. Any lifestyle pictures are meant to demonstrate how a fully grown or more mature plant looks for you to get a sense of it in your space.
About the Plant
Botanical Name

Alocasia tandurusa 'Jacklyn'

Common Names

Alocasia, Elephant Eats, Grey African Mask, Mini-Polly African Mask, Mini-Elephant Ears, Amazon Taro, Alocasia Silver Dragon

Plant Type

Tropical Plant

Mature Size

6 inch to 3 foot tall and spreads 6 inch to 2 foot wide

Sun Exposure

Indirect to Bright Indirect

Soil Type

Moist but well draining loamy

Soil pH

Slightly Acidic

Bloom Time

Spring Summer

Flower Color

Not really showy light yellow color

Hardiness Zones

Zone 10-11; grown as a houseplant in all climates

Native Area

Tropical and subtropical regions of eastern Australia and areas of Asia

Toxicity/ Pet Friendly

Not pet safe, toxic to humans and pets
Shipping & Returns
All our plants ship exclusively with UPS to ensure they arrive timely and in good condition. We ship most of our plants Mondays & Tuesdays to most of the USA to ensure they arrive speedy to your location. If you order on a Tuesday after 12 PM ET it is possible that we would not ship it till the following Monday.
We monitior the weather in each destination location to maximize the shipping time and utilize thermal protection to ensure that the plant is protected. You can add a heatpack or thermal bag to your order if temperatures at night fall below 40 degrees.
You can visit our shipping policy to learn more.