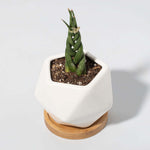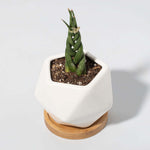 Braided Sansevieria Cylindrical Dragon Fingers Beginner Plant
Regular price
Sale price
$18.00
Unit price
per
Sale
Sold out
Details
New Larger 5" Size Pot available! A gorgeous braided plant. A plant of many names, including the common Snake Plant, Saint George's sword, Viper's bowstring hemp, and Mother-In-law's tongue, has had a varied history and is used in various ways. Make for a great living centerpiece or conversation starter, we always get asked if it is real -- and yes it is! 
Braided Sansevieria Cylindrical, also known as Snake Plant or Mother-in-Law's Tongue, is a popular houseplant known for its striking, upright leaves and ability to thrive in a variety of indoor conditions. This plant is native to West Africa and can tolerate low light levels, making it a perfect choice for offices or homes with limited natural light. The cylindrical Sansevieria has tubular-shaped leaves with spines on the tips that may turn brown at the edges as a normal growth habit. 
One of the standout features of the Braided Sansevieria Cylindrical is its long, narrow leaves, which grow in a tight, upright pattern and can reach up to three feet tall. The plant has a braided stem, giving it a unique and decorative appearance.
In addition to its attractive appearance, the Braided Sansevieria Cylindrical is also known for its air purifying properties. It is able to absorb toxins from the air, such as formaldehyde and carbon dioxide, and release oxygen, making it a beneficial plant to have in your home. It is also low maintenance, requiring minimal watering and fertilizing, making it a great choice for those who don't have a lot of time to devote to plant care. Overall, the Braided Sansevieria Cylindrical is a striking and low-maintenance plant that is well-suited for a variety of indoor environments.
Available in the following packaging based on your preference:
Nursery Pot - Standard plastic 2-inch, 4-inch, or 5-inch planter pot that can be placed inside a larger pot or left as is until it outgrows it.
Valentina Terracotta Pot 6" - a beautiful molded terracotta pot that is porous and fire-glazed to allow plant roots to breathe; color works well with any decor and will develop a beautiful patina color over time. Includes matching dish underneath to catch water drainage and protect surfaces. 
Wanda - Elegant Hexagonal patterned white ceramic planter pot (approximately 4") has a hole for drainage and comes with a matching bamboo drip tray.

 
Looking for more plant goodies? Check out our accessories.
For added humidity, our Lyfe Rose Gold Signature Mister will make a perfect addition to your plant shelf for both function and beauty. We also recommend adding our Plant Shield & Shine to your order for routine maintenance and pest prevention.  
Our plants are shipped from our indoor greenhouse. in South Florida. Please note all our plants are one of a kind and if you want to message us we can send you a picture of the exact one you will receive. The product image here is intended to be the best representation of what you can expect to receive but yours may have slightly less or more growth depending on the crop we have when your order is placed. Any lifestyle pictures are meant to demonstrate how a fully grown or more mature plant looks for you to get a sense of it in your space.
About the Plant
Botanical Name

Sansevieria Cylindrical Straight

Common Names

Braided Plant, Braid Snake Plant, Braided cylindrical snake plant

Plant Type

Succulent, Evergreen

Mature Size

1 to 2 feet tall; Can spread .5 to 1 foot

Sun Exposure

Full Sun

Soil Type

Fast draining, dry loving, sandy well draining mixes

Soil pH

5.5 to 7.5, but can do well in any setting

Bloom Time

Rarely as a houseplant

Flower Color

White

Hardiness Zones

Zone 9-11 outdoors; may grow indoors in containers with enough light

Native Area

Tropical areas of West Africa

Toxicity/ Pet Safety

Toxic, not pet safe; Not safe for consumption
Shipping & Returns
All our plants ship exclusively with UPS to ensure they arrive timely and in good condition. We ship most of our plants Mondays & Tuesdays to most of the USA to ensure they arrive speedy to your location. If you order on a Tuesday after 12 PM ET it is possible that we would not ship it till the following Monday.
We monitior the weather in each destination location to maximize the shipping time and utilize thermal protection to ensure that the plant is protected. You can add a heatpack or thermal bag to your order if temperatures at night fall below 40 degrees.
You can visit our shipping policy to learn more.
My daughter loves her gift.
Wonderful gift. Very special, unusual plant configuration.
Braided Sansevieria Cylindrical Dragon Fingers Beginner Plant
Plant
Very happy with my new plant braided dragon
Braided plant
So unique. How fast and tall will it grow. Will it bloom and when