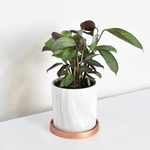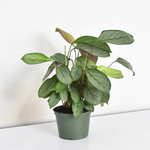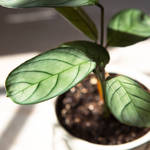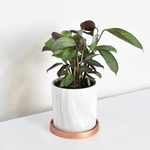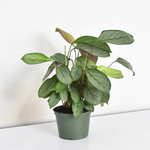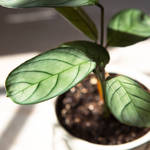 Calathea Setosa Ctenanthe 'Grey Star' Prayer Plant
Regular price
$32.00
Sale price
$30.00
Unit price
per
Sale
Sold out
Details
Ctenanthe Setosa Grey Star, the houseplant that's more celestial than your average shooting star! With its striking grey-green leaves and delicate silver streaks, this botanical beauty is here to outshine every other plant in your collection.
Picture this: a mini galaxy right in your living room. The Ctenanthe Setosa Grey Star brings the celestial wonders of the cosmos into your home. Its foliage is like a mesmerizing nebula, with patterns that dance and twinkle in the light, captivating anyone who gazes upon it.
Not only is this plant a visual masterpiece, but it also possesses a stellar personality. The Ctenanthe Setosa Grey Star is known for its day-night routine, as it unfolds its leaves during the day, basking in the sun's warmth, and then elegantly folds them up at night as if preparing for a starry slumber.
Worried about the hustle and bustle of daily life? Fear not, for the Ctenanthe Setosa Grey Star is a zen master disguised as a houseplant. It releases a calming energy that soothes your surroundings and provides a tranquil oasis amidst the chaos of the outside world. Plus, it's a pro at purifying the air, helping you breathe a little easier while it adds an ethereal touch to your space.
Maintenance-wise, this cosmic charmer requires minimal effort to keep its radiance shining bright. Just place it in a well-lit spot without direct sunlight, give it a sip of water when the soil feels dry, and voilà! You've unlocked the secrets to intergalactic gardening success.
If you're ready to level up your plant game and bring a touch of celestial magic into your life, the Ctenanthe Setosa Grey Star is your ticket to cosmic stardom. Get ready to become the envy of plant enthusiasts and have your home radiate with otherworldly elegance. So why wait? Take the leap and let the Ctenanthe Setosa Grey Star be your guide to botanical brilliance!
Originating from the tropical rain forests of South America, this plant is perfect for growing in a pot in your living space. It can spread outwards to between 6 inches and 2 feet wide and can grow to 6 inches and 3 feet in height.
Available in the following packaging based on your preference:
Nursery Pot

Standard plastic 6-inch planter pot that can be placed inside a larger pot or left as is until it outgrows it.



Selene Planter - Porcelain 6-inch pot ceramic marble planter with drainage hole and matching rose gold ceramic tray. The planter measures: 7.5" x 6.5" x 6.5" and weighs approximately 3.7 lbs. We recommend placing your plant in the nursery pot inside it to make it easy to water and transplant.

 
For added humidity, our Lyfe Rose Gold Signature Mister will make a perfect addition to your plant shelf for both function and beauty. We also recommend adding our Plant Shield & Shine to your order for routine maintenance and pest prevention.  
Looking for more plant goodies? Check out our accessories Here. 
Our plants are shipped from our indoor greenhouse in South Florida. Please note all our plants are one of a kind and if you want to message us we can send you a picture of the exact one you will receive. The product image here is intended to be the best representation of what you can expect to receive but yours may have slightly less or more growth depending on the crop we have when your order is placed. Any lifestyle pictures are meant to demonstrate how a fully grown or more mature plant looks for you to get a sense of it in your space.
About the Plant
Botanical Name

Calathea Setosa XL Ctenanthe Exotica

Common Names

Exotica Calathea, Large Prayer Plant

Plant Type

Herbaceous perennial

Mature Size

12 inch to 5 foot tall and spreads 6 inch to 2 foot wide

Sun Exposure

Indirect to Bright Indirect

Soil Type

Moist but well draining

Soil pH

Acidic

Bloom Time

Summer

Flower Color

Yellow, purple, white

Hardiness Zones

Zone 11, 12; grown as a houseplant in all climates

Native Area

Tropical rainforests of South America, principally Brazil

Toxicity/ Pet Friendly

Non-Toxic and Pet Safe
Shipping & Returns
All our plants ship exclusively with UPS to ensure they arrive timely and in good condition. We ship most of our plants Mondays & Tuesdays to most of the USA to ensure they arrive speedy to your location. If you order on a Tuesday after 12 PM ET it is possible that we would not ship it till the following Monday.
We monitior the weather in each destination location to maximize the shipping time and utilize thermal protection to ensure that the plant is protected. You can add a heatpack or thermal bag to your order if temperatures at night fall below 40 degrees.
You can visit our shipping policy to learn more.