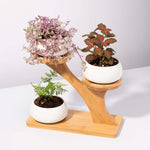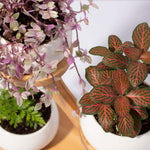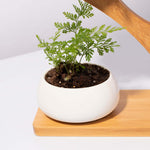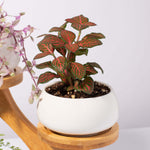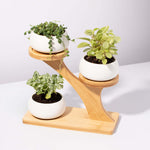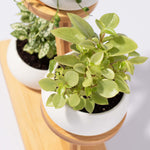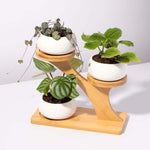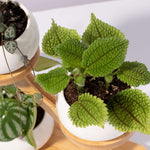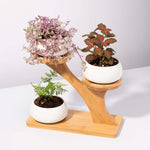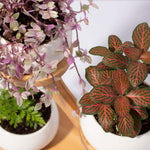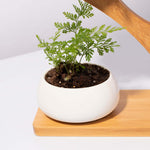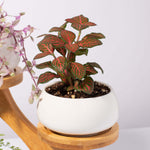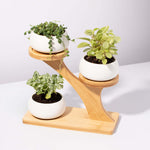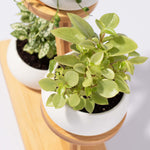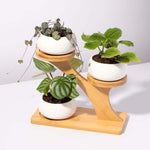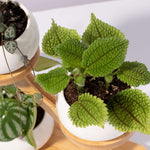 Grower's Choice Triple Layer Bamboo Stand - 4 Piece Planter Set
Regular price
Sale price
$54.00
Unit price
per
Sale
Sold out
Details
Now available empty or with plants. A gorgeous surprise every time! 
A perfect desk accessory with 3 unique foliage plants potted in 3 round pots with a grower's choice of plants which may include any of the following: Peperomia, Fittonia, Succulent, Columnea, or other plants. The three-layer stand is a part of the beauty and we try to include at least one plant that can trail down. Each porcelain white planter does have a drainage hole to improve plant life and reduce root rot. 
The base of the triple layer bamboo stand is approximately 8" x 3.5" from the bottom to the top of the bamboo stand it is approximately 6.25". The bamboo itself is approximately 1/2". Each pot has an opening of 2.5" (but wider in the middle) x 2" tall and comes with 3 matching pots like in the pictures. 
If you receive a plant you are not sure of please send us an email to hello@verdantlyfe.com with a picture of it and we would be happy to ensure you know what it is and how to care for it the best. We will generally choose to complement your other selections with something that needs similar conditions or include a note with your order regarding the available lighting and we will try to match plants that suit that light source. 
Shipping & Returns
All our plants ship exclusively with UPS to ensure they arrive timely and in good condition. We ship most of our plants Mondays & Tuesdays to most of the USA to ensure they arrive speedy to your location. If you order on a Tuesday after 12 PM ET it is possible that we would not ship it till the following Monday.
We monitior the weather in each destination location to maximize the shipping time and utilize thermal protection to ensure that the plant is protected. You can add a heatpack or thermal bag to your order if temperatures at night fall below 40 degrees.
You can visit our shipping policy to learn more.
Cute
The item was smaller than I expected. However, I still love it and found the perfect place for it. My only complaint is the pots should be an inch taller. That being said I would buy another one.
It was packed by a pro. But I was a lil shocked at how teeny tiny it was compared to the book. But..I like it and all the goodies with it.
Beautiful stand and unique plants
The triple layer Stand is so elegant! Love it
Beautiful stand and pots
I didn't realize plants came with the stand, it was awesome and the plants were adorable, it would make a terrific gift for any occasion!