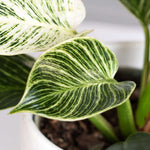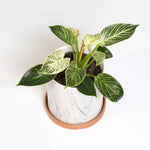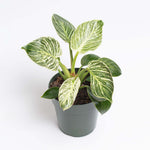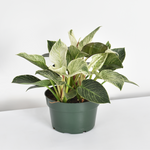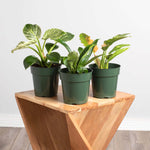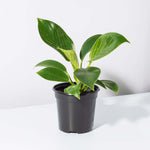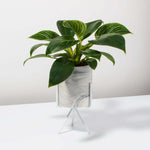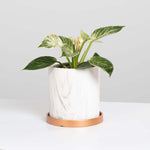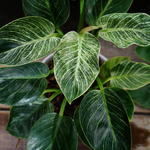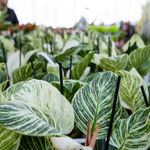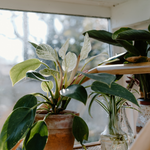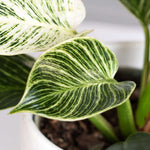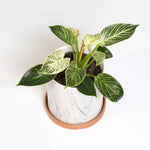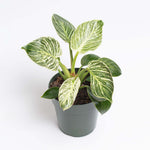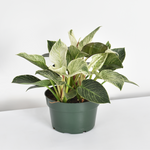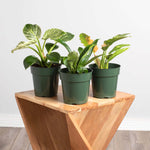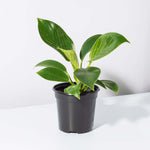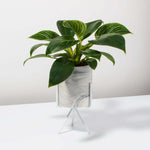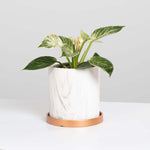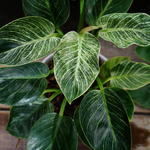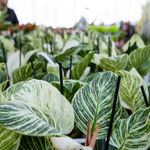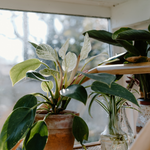 Philodendron 'White Measure' Birkin Variegated Pinstriped Houseplant
Regular price
$19.00
Sale price
$14.00
Unit price
per
Sale
Sold out
Details
Breathe life into your work or living space with this Philodendron Birkin rare variegated pinstriped plant. The striking plant has glossy dark green leaves with white pinstripes. This perennial houseplant is easy to care for, so perfect even if you don't have a green thumb. As the plant grows, it produces random variegations so each new leaf offers a unique look. This evergreen plant is rare to come by so a must for plant enthusiasts.
Originating from Central and South American rainforests, this tropical plant is well-suited to an indoor environment. With a compact shape, it grows upwards steadily and the growth rate increases when placed in humid conditions. When it's mature, it can reach a height of up to 8 feet as long as it's supported.
With its dramatic appearance, you want to place it where it can be admired easily but make sure it has bright and indirect sunlight for optimum health. It is happiest when planted in loam soil that is fast draining and has a slightly acidic pH. It also thrives when misted so use our Plant Mister to boost its humidity.
As you watch it grow and unfold new variegations, this Philodendron Birkin is not only intriguing to look at but a good way to create a calming atmosphere in your living space.
Available in the following packaging based on your preference:

Nursery Pot - Standard plastic 4-inch planter pot that can be placed inside a larger pot or left as is until it outgrows it. 
Olympia Planter - Marble patterned grey and white porcelain planter raised on a metal planter stand.

Selene Planter - Porcelain 6-inch pot ceramic marble planter with drainage hole and matching rose gold ceramic tray. The planter measures: 7.5" x 6.5" x 6.5" and weighs approximately 3.7 lbs. We recommend placing your plant in the nursery pot inside it to make it easy to water and transplant.
Looking for more plant goodies? Check out our accessories.
For added humidity, our Lyfe Rose Gold Signature Mister will make a perfect addition to your plant shelf for both function and beauty. We also recommend adding our Plant Shield & Shine to your order for routine maintenance and pest prevention. 
Our plants are shipped from our indoor greenhouse in South Florida. Please note all our plants are one of a kind and if you want to message us we can send you a picture of the exact one you will receive. The product image here is intended to be the best representation of what you can expect to receive but yours may have slightly less or more growth depending on the crop we have when your order is placed. Any lifestyle pictures are meant to demonstrate how a fully grown or more mature plant looks for you to get a sense of it in your space.
About the Plant
Botanical Name

Philodendron Birkin

Common Names

Philodendron Birkin, Pinstripped philodendron, Birkin Plant

Plant Type

Houseplant, Perennial

Mature Size

Up to 8ft with supports

Sun Exposure

Part sun, bright indirect works great

Soil Type

Loamy but fast draining, equal parts loam, sand, and peat works great

Soil pH

Slightly acidic

Bloom Time

Non blooming

Flower Color

Non flowering

Hardiness Zones

Zone 9-11; grown as a houseplant in all climates

Native Area

Central and South American rainforests
Shipping & Returns
All our plants ship exclusively with UPS to ensure they arrive timely and in good condition. We ship most of our plants Mondays & Tuesdays to most of the USA to ensure they arrive speedy to your location. If you order on a Tuesday after 12 PM ET it is possible that we would not ship it till the following Monday.
We monitior the weather in each destination location to maximize the shipping time and utilize thermal protection to ensure that the plant is protected. You can add a heatpack or thermal bag to your order if temperatures at night fall below 40 degrees.
You can visit our shipping policy to learn more.
Beautiful Birkin
My beautiful Birkin arrived about 2 weeks ago. I was very impressed with the care that was put into packing the plant for shipping! She arrived quickly and healthy. She's thriving- already pushing out new growth!
I am always nervous when making an online purchase from a company for the first time. So, I am thrilled to share that my first purchase experience with Verdant Lyfe was so good that they have gained a customer for life! The only hiccup that I had was with a discount code that didn't go through but Customer Service quickly addressed and corrected the problem.
Stunning Philo
I am a philo phreak and this stunner has to be my favorite. Of course the health of the plant makes it even dearer! There is no one who does plants like VL. The health is amazing, the packing is above the bar and the customer service is unbeatable!! This will always be my first stop for plants!!!!!
LOVE THE PLANT
The packaging was well done; the plant is easy to take care and is growing very well:)
very striking
You can really notice this plant when mixed with others because of the color of its leaves.