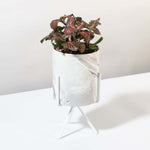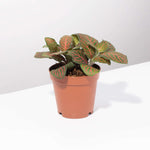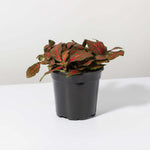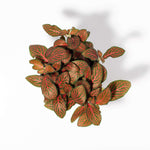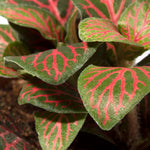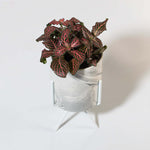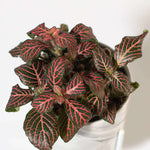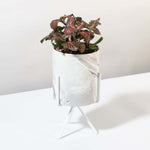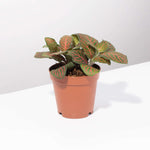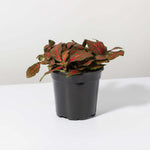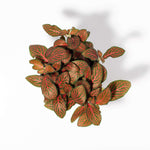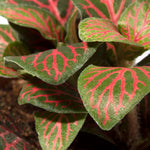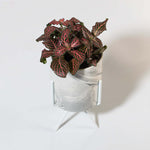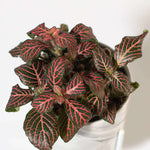 Red Nerve Plant Fittonia Leather Leaf Plant
Regular price
$18.00
Sale price
$16.00
Unit price
per
Sale
Sold out
Details
Red Fittonia, also known as the Nerve Plant, is a beautiful and unique houseplant that can bring a pop of color to any room. With its striking red veins that contrast against its green leaves, it's no wonder this plant has become a popular choice among plant enthusiasts.
Native to the rainforests of South America, the Red Fittonia thrives in warm, humid environments, making it a great choice for bathrooms or kitchens. Its delicate, creeping stems can grow up to 6-8 inches in height, and its compact size makes it a great option for small spaces.
One of the most striking features of the Red Fittonia is its red veins, which stand out against the green leaves and add a dramatic touch to any décor. Its leaves can vary in shape and size, but they are typically oval or elliptical and have a slightly wavy edge.
Caring for a Red Fittonia is relatively easy, but it does require a bit more attention than other houseplants. It prefers bright, indirect light and should be watered consistently to maintain moist soil. However, it's important not to overwater, as this can lead to root rot. Additionally, the Red Fittonia thrives in high humidity, so misting the leaves or using a humidifier can help keep it healthy and happy.
In terms of placement, the Red Fittonia can be displayed in a variety of ways. It can be planted in a small pot on a windowsill, or it can be displayed in a hanging basket to show off its trailing nature. Its vibrant colors also make it a great choice for adding a bold pop of color to any room.
Overall, the Red Fittonia is a stunning and unique choice for any plant lover. Its striking red veins and green leaves make it a showstopper in any décor, and its low-maintenance care requirements make it a great choice for those new to plant care. If you're looking for a beautiful and eye-catching addition to your plant collection, the Red Fittonia is definitely worth considering.
We call her the "drama queen" of the plant world because she is known for fainting and the smallest environmental instability but quickly pops back when given water, light, or the right temperature. 
Available in the following packaging based on your preference:
Nursery Pot - Standard plastic 2-inch  pot can be placed within another pot or repotted when ready. 

Olympia Planter - Marble-pattern grey and white porcelain planter raised on a metal planter. Approximately 4" opening with drainage hole.

 

Wanda - Elegant Hexagonal patterned white ceramic planter pot (approximately 4") has a hole for drainage and comes with a matching bamboo drip tray.
Looking for more plant goodies? Check out our accessories.
For added humidity, our Lyfe Rose Gold Signature Mister will make a perfect addition to your plant shelf for both function and beauty. We also recommend adding our Plant Shield & Shine to your order for routine maintenance and pest prevention.  
Our plants are shipped from our indoor greenhouse in South Florida. Please note all our plants are one of a kind and if you want to message us we can send you a picture of the exact one you will receive. The product image here is intended to be the best representation of what you can expect to receive but yours may have slightly less or more growth depending on the crop we have when your order is placed. Any lifestyle pictures are meant to demonstrate how a fully grown or more mature plant looks for you to get a sense of it in your space.
About the Plant
Botanical Name

Fittonia verschafeltii

Common Names

Nerve plant, mosaic plant, fittonia, painted net leaf, drama plant

Plant Type

Evergreen herbaceous perennial

Mature Size

3 to 6 inches tall; 12 - to 18 - inch spread

Sun Exposure

Filtered indirect sun or part shade

Soil Type

Moist, well - draining soil

Soil pH

Prefers slightly acidic soil(6.5); will tolerate alkaline soils

Bloom Time

Sporadically; usually July to August

Flower Color

Yellowish - white or reddish; flowers are insignificant

Hardiness Zones

Zone 11; grown as a houseplant in all climates

Native Area

Tropical rainforests of South America, principally Peru

Toxicity / Pet Friendly

Non-Toxic, Pet Friendly to both cats and dogs
Shipping & Returns
All our plants ship exclusively with UPS to ensure they arrive timely and in good condition. We ship most of our plants Mondays & Tuesdays to most of the USA to ensure they arrive speedy to your location. If you order on a Tuesday after 12 PM ET it is possible that we would not ship it till the following Monday.
We monitior the weather in each destination location to maximize the shipping time and utilize thermal protection to ensure that the plant is protected. You can add a heatpack or thermal bag to your order if temperatures at night fall below 40 degrees.
You can visit our shipping policy to learn more.
Red Nerve Plant
Adorable and really love the way it looks
A beautiful addition to my plants
I planted her in with my arrow leaf plant and she seems very happy so far. Very excited to have her.
Red Nerve Plant Fittonia Leather Leaf Plant
Red Nerve Plant Fittonia Leather Leaf Plant
Red Fittunia
I receive plant in good condition, I was very pleased with it. With recommend family and friends to Verdant life, the plants are gorgeous.