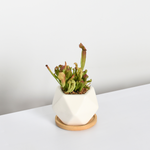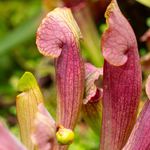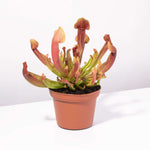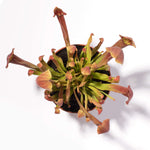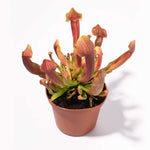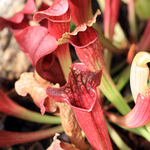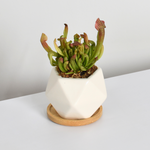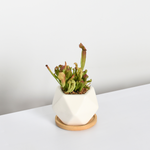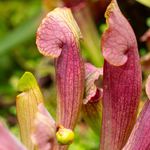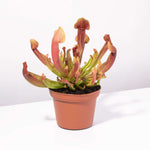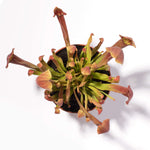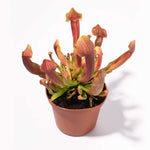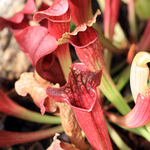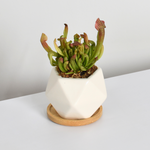 Sarracenia x Maroon Trumpet Pitcher Plant
Regular price
$22.00
Sale price
$18.00
Unit price
per
Sale
Sold out
Details
Behold the botanical sensation that's turning the plant kingdom upside down with its sultry looks and killer charm – the Maroon Trumpet Pitcher Plant! This ain't your ordinary houseplant; this is a show-stopping, jazz hands-flaunting carnivore that's ready to serenade your garden or windowsill with its fabulous presence.
Picture this: lush, ruby-red pitchers with an enchanting flair, stretching their elegant necks to catch those pesky bugs like paparazzi hunting for a shot. Oh, it's a feast for the senses – a garden gala, if you will. Your garden will turn into a veritable red carpet-event, with all the insects queueing up to get a glimpse of this mesmerizing beauty.
But don't be fooled by its stunning looks, for this sassy botanical diva means business! Those cunningly charming pitchers aren't just for show; they're Mother Nature's own Venus flytraps, luring in their unsuspecting prey with their hypnotic allure and then snap – the grand finale of the gourmet meal!
And let's talk style. The Maroon Trumpet Pitcher Plant has an impeccable fashion sense, with a flair for dramatic flair. Its eye-catching maroon hue, perfectly complemented by dramatic veins, will make it the envy of the entire garden party. The plant world will whisper in hushed tones, "Who's that glamorous beauty over there?"
But wait, there's more! The Maroon Trumpet Pitcher Plant is as low-maintenance as a diva can get. It's the A-list celebrity of the plant world with its effortless self-sufficiency – just give it a sunny spot, keep its feet wet, and watch the magic happen.
So, if you're ready to add a touch of glitz, glamour, and a whole lot of drama to your garden, it's time to roll out the red carpet for the Sarracenia x Maroon Trumpet Pitcher Plant. Get your front-row seat to witness this horticultural masterpiece – because with this showstopper, every day is a star-studded affair!
Key Success Tips:
Make sure to only use Sphagnum Moss as the potting medium when repotting. 
Keep humidity above 89%. If indoors a humidifier, mister, and possibly terrarium are recommended. 
Only use distilled or rainwater. 
Needs Bright Light. If indoors Grow Lights are recommended. 
This plant can come potted in the following options:

Nursery Pot - Standard plastic 2" or 3" planter pot that can be placed inside a larger pot or left as is until it outgrows it.
Wanda - Elegant Hexagonal patterned white ceramic planter pot (approximately 4") has a hole for drainage and comes with a matching bamboo drip tray.
Looking for more plant goodies? Check out our accessories.
For added humidity, our Lyfe Rose Gold Signature Mister will make a perfect addition to your plant shelf for both function and beauty. We also recommend adding our Plant Shield & Shine to your order for routine maintenance and pest prevention.  
Our plants are shipped from our indoor greenhouse in South Florida. Please note all our plants are one of a kind and if you want to message us we can send you a picture of the exact one you will receive. The product image here is intended to be the best representation of what you can expect to receive but yours may have slightly less or more growth depending on the crop we have when your order is placed. Any lifestyle pictures are meant to demonstrate how a fully grown or more mature plant looks for you to get a sense of it in your space.
About the Plant
Botanical Name

Sarracenia x Maroon

Common Names

Trumpet Pitcher Plant

Plant Type

Herbaceous with perennial lifecycle

Mature Size

20-25 inches tall; Can spread 6 to 9 inches

Sun Exposure

Can handle full sun to partial shade

Soil Type

Swamp like, poor drainage, kept moist - using moss helps retain moisurel

Soil pH

Acidic loving

Bloom Time

Generally around May to June but also seen some go into September in Florida.

Flower Color

Maroon flowers

Hardiness Zones

Zone 5-8 outdoors can grow elsewhere with a good winter

Native Area

USA, the Carolinas
Shipping & Returns
All our plants ship exclusively with UPS to ensure they arrive timely and in good condition. We ship most of our plants Mondays & Tuesdays to most of the USA to ensure they arrive speedy to your location. If you order on a Tuesday after 12 PM ET it is possible that we would not ship it till the following Monday.
We monitior the weather in each destination location to maximize the shipping time and utilize thermal protection to ensure that the plant is protected. You can add a heatpack or thermal bag to your order if temperatures at night fall below 40 degrees.
You can visit our shipping policy to learn more.
It's a very happy little plant
It's a very small plant (came in like a 2" pot). Was packaged nicely and arrived thriving. I planted it in a very small terrarium and it's doing very well. The only thing that would make this purchase even better is if VL sold terrarium mix and/or kits that was good for these kinds of plants. That part was hard to find elsewhere.
My new buddy
This little guy is growing like a weed. I ask him every morning if he ate dinner last night. No answer and I don't know how to tell.
They are beautiful
Slow growing. But hust full of life. They were very healthy when i got them.
Arrived very quickly, and is in excellent shape
The plant is doing a lot better since it was replanted
Beautiful plant
It arrived healthy and happy. I am enjoying caring for it.