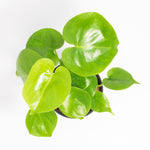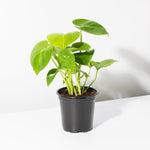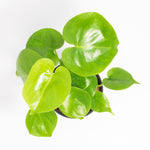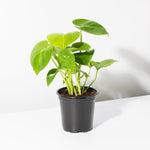 Split Leaf Monstera Deliciosa Plant
Regular price
$24.00
Sale price
$22.00
Unit price
per
Sale
Sold out
Details
Are you ready to bring a slice of the jungle into your living space? Look no further than our Monstera Deliciosa plant - the undisputed diva of the leafy world! With its lush, vibrant green foliage and iconic Swiss cheese-like perforations, this botanical beauty is a showstopper that would envy even the most discerning art critic!
Elegance? Check. Exotic charm? Double check. The Monstera Marvel effortlessly transforms any room into a chic urban jungle, making it the perfect conversation starter at your next soiree. Watch as your guests become mesmerized by the plant's ever-evolving leaf patterns - like a living, breathing masterpiece!
Need a personal assistant to remind you to water your plants? Forget it! The Monstera Deliciosa is as low-maintenance as it gets, making it the ideal companion for busy bees and forgetful folks alike. Plus, its tenacity is the stuff of legends - even the black thumbs out there will find it hard to resist the allure of this resilient green goddess.
Calling all plant parents who appreciate a little dose of drama! The Monstera Marvel thrives on being the center of attention and won't shy away from flaunting its verdant allure. So, why settle for ordinary when you can have extraordinary? Elevate your interior decor game with this living work of art and witness your space transform into a jungle oasis that radiates both style and a touch of untamed wilderness.
Bring home the Monstera Deliciosa today and embark on an adventure of natural elegance. But be warned: once you let this botanical superstar into your life, you'll be forever under its leafy spell. So, brace yourself for the compliments, the envy, and most importantly, the everlasting joy of nurturing one of nature's finest creations. Happy planting! 🌿
Available in the following packaging based on your preference:

Nursery Pot - Standard plastic 4-inch, 6-inch, or 8-inch pot that can be placed inside a larger pot or left as is until it outgrows it. 
Selene Planter - Porcelain 6-inch pot ceramic marble planter with drainage hole and matching rose gold ceramic tray. The planter measures: 7.5" x 6.5" x 6.5" and weighs approximately 3.7 lbs. We recommend placing your plant inside the nursery pot to make it easy to water and transplant.
Looking for more plant goodies? Check out our accessories.
For added humidity, our Lyfe Rose Gold Signature Mister will make a perfect addition to your plant shelf for both function and beauty. We also recommend adding our Plant Shield & Shine to your order for routine maintenance and pest prevention.  
Our plants are shipped from our indoor greenhouse in South Florida. Please note all our plants are one of a kind and if you want to message us we can send you a picture of the exact one you will receive. The product image here is intended to be the best representation of what you can expect to receive but yours may have slightly less or more growth depending on the crop we have when your order is placed. Any lifestyle pictures are meant to demonstrate how a fully grown or more mature plant looks for you to get a sense of it in your space.
About the Plant
Botanical Name

Monstera Deliciosa

Common Names

Split-leaf philodendron, Swiss cheese plant, Windowleaf, Ceriman

Plant Type

Climbing evergreen

Mature Size

3 ft but can get larger with proper support, 2-3 ft wide

Sun Exposure

Bright indirect sun or part shade

Soil Type

Peat-based soils for potting, well draining

Soil pH

Prefers slightly acidic soil(5.5) to neutral (7)

Bloom Time

Mid Summer, but mostly in the wild

Flower Color

Cream, Tan

Hardiness Zones

Zone 10-12; grown as a houseplant in all climates with correct humidity

Native Area

Central and South America
Shipping & Returns
All our plants ship exclusively with UPS to ensure they arrive timely and in good condition. We ship most of our plants Mondays & Tuesdays to most of the USA to ensure they arrive speedy to your location. If you order on a Tuesday after 12 PM ET it is possible that we would not ship it till the following Monday.
We monitior the weather in each destination location to maximize the shipping time and utilize thermal protection to ensure that the plant is protected. You can add a heatpack or thermal bag to your order if temperatures at night fall below 40 degrees.
You can visit our shipping policy to learn more.
Best Christmas present EVER!
Beautiful and vibrant foliage goes perfectly in our space! One grateful customer :)
Happy
My plants were sent in an incredibly sweet packaging!! The size was bigger than I thought. Thank you for your sweet little gifts.🙏🏼🌺
Medium happy
The email that was sent to me to remind me to leave a review came today and stated that my order was fulfilled 14 days ago! And while that may be the case I got them about 4 days ago. Because they sat in the mail for an extended period of time this one came a little sad, all is not lost and im generally happy with my purchase but it's always nice to get something in good condition. I will however order again
lush
Not only was my Monstera packaged with care and love, it is beautiful.
Split Leaf Monstera Deliciosa Plant
My plant arrived in good shape and seems to be thriving. It looks like she is going to enjoy her new home and I am happy to have her here.
Thank you for your feedback we can't wait to see the growth on this beauty. Share with us on Instagram @verdantlyfe. Enjoy!