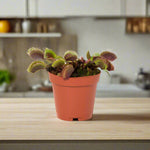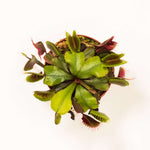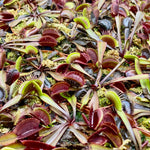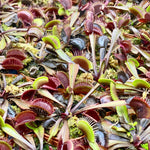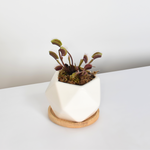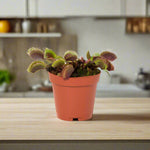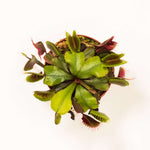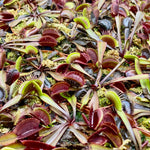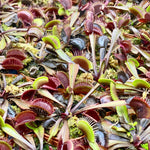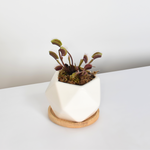 Red Venus Fly Trap
Regular price
Sale price
$20.00
Save:
Unit price
per
Sale
Sold out
Details
This version has a reddish belly inside the leaves and in the right lighting gets deeper red traps. A cool little bug eating live plant. Belongs to the carnivorous plants native to subtropical wetlands on the East Coast. The Latin name is known as the Dionaea muscipula 'Akai Ryu' and it has beautiful red coloring. We call it the red dragon or just red VFT. 
Available in the following packaging based on your preference:
Nursery Pot - Standard plastic 2 inch planter pot that can be placed inside a larger pot or left as is until it outgrows it.
Wanda Planter - The plant comes planted in this elegant Hexagonal patterned white ceramic planter pot (approximately 4") has a hole for drainage and comes with a matching bamboo drip tray.
Looking for more plant goodies? Check out our accessories.
For added humidity, our Lyfe Rose Gold Signature Mister will make a perfect addition to your plant shelf for both function and beauty. We also recommend adding our Plant Shield & Shine to your order for routine maintenance and pest prevention. 
Getting cold on your area? Add a heat pack to your order here.
Our plants are shipped from our indoor greenhouse in South Florida. Please note all our plants are one of a kind and if you want to message us we can send you a picture of the exact one you will receive. The product image here is intended to be the best representation of what you can expect to receive but yours may have slightly less or more growth depending on the crop we have when your order is placed. Any lifestyle pictures are meant to demonstrate how a fully grown or more mature plant looks for you to get a sense of it in your space.
About the Plant
Botanical Name

Dionaea muscipula

Common Names

Venus Fly Trap, venus flytrap, VFT

Plant Type

Herbaceous with perennial lifecycle

Mature Size

6 to 9 inches tall; Can spread 6 to 9 inches

Sun Exposure

Can handle full sun to partial shade

Soil Type

Swamp like, poor drainage, kept moist - using moss helps retain moisurel

Soil pH

Acidic loving

Bloom Time

Generally around May to June but also seen some go into September in Florida.

Flower Color

White flowers

Hardiness Zones

Zone 5-8 outdoors can grow elsewhere with a good winter

Native Area

USA, the Carolinas
Shipping & Returns
All our plants ship exclusively with UPS to ensure they arrive timely and in good condition. We ship most of our plants Mondays & Tuesdays to most of the USA to ensure they arrive speedy to your location. If you order on a Tuesday after 12 PM ET it is possible that we would not ship it till the following Monday.
We monitior the weather in each destination location to maximize the shipping time and utilize thermal protection to ensure that the plant is protected. You can add a heatpack or thermal bag to your order if temperatures at night fall below 40 degrees.
You can visit our shipping policy to learn more.
Gift for my grandson who just loved it. Very lively plant
Red Venus Fly Trap
The plant is doing great and has started getting some new traps! My pitcher plant and sundew are also doing amazing and the sundew has even flowered quite a bit! I keep them all in trays of distilled water in a mini green house and they do great!
10/10
My Venus fly trap is doing amazing! A lot of the fly traps started turning black and I just pruned them and read that it's natural for them to die and come back and the plant is thriving. So much new growth it's fun to watch
Trap less
What a waste. Arrived with only two potential traps. Now I think the whole plant will die.