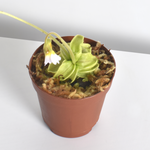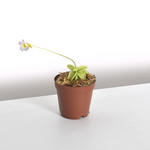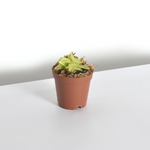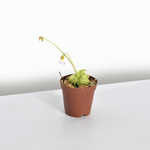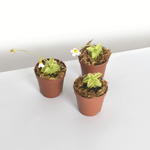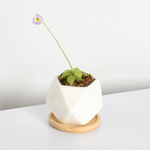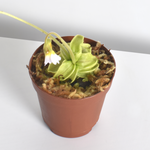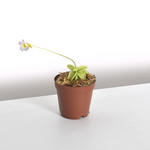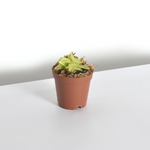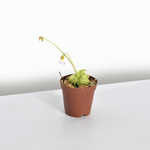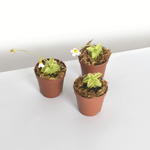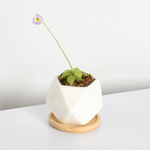 Pinguicula Butterwort Carnivorous Plant
Regular price
Sale price
$22.00
Save:
Unit price
per
Sale
Sold out
Details
The Pinguicula primuliflora is a stunning and unique carnivorous plant that is sure to captivate any plant enthusiast. With its bright green leaves and delicate, trumpet-shaped flowers, this plant is a must-have for anyone looking to add some personality to their collection.
The Pinguicula primuliflora, also known as the Butterwort, is a small perennial herb that produces carnivorous leaves that are covered in small, sticky glands that attract, trap, and digest insects. The leaves are oval-shaped, fleshy, and range in size from 2-5 cm long. The leaves are green in color and have a slightly shiny, glossy appearance, giving the plant an overall vibrant and healthy look.
The Pinguicula primuliflora produces beautiful pink, white, or purple flowers that bloom in the spring and summer months. The flowers are small and delicate, with a trumpet-shaped appearance that is sure to catch the eye of anyone who sees it. The flowers are typically held above the leaves on a tall, slender stem, making them an excellent addition to any windowsill or tabletop.
This plant is relatively easy to care for, making it an excellent choice for both beginner and experienced gardeners. It prefers to be grown in a well-draining soil mix, and should be kept in a location that receives plenty of bright, indirect sunlight. It is also important to keep the soil moist, but not waterlogged, to prevent root rot.
Overall, the Pinguicula primuliflora is a beautiful and unique carnivorous plant that is sure to impress. Its bright green leaves and delicate, trumpet-shaped flowers make it an excellent addition to any plant collection, and its relatively low maintenance requirements make it an excellent choice for gardeners of all skill levels.
These bog-loving plants do best when kept in a humid environment and only given distilled or rainwater. Also, be sure not to put them in regular soils as it is too nutritious for them and they get too many nutrients. We sell Sphagnum Moss which is an ideal medium for them. When they are either in your home in a proper environment or outdoors, there is no need to feed them regularly. They should catch some gnats or flies from the air naturally and it doesn't take much to keep them full and fed. 
Available in the following packaging based on your preference:
Nursery Pot - Standard plastic 2-inch planter pot that can be placed inside a larger pot or left as is until it outgrows it.
Wanda Planter - Elegant Hexagonal patterned ceramic planter pot (approximately 4") with bamboo base. The rocks featured at the top are available for purchase separately. 
Looking for more plant goodies? Check out our accessories.
For added humidity, our Lyfe Rose Gold Signature Mister will make a perfect addition to your plant shelf for both function and beauty. We also recommend adding our Plant Shield & Shine to your order for routine maintenance and pest prevention.  
Our plants are shipped from our indoor greenhouse in South Florida. Please note all our plants are one of a kind and if you want to message us we can send you a picture of the exact one you will receive. The product image here is intended to be the best representation of what you can expect to receive but yours may have slightly less or more growth depending on the crop we have when your order is placed. Any lifestyle pictures are meant to demonstrate how a fully grown or more mature plant looks for you to get a sense of it in your space.
About the Plant
Botanical Name

Pinguicula Primuliflora

Common Names

Butterwort, Southern Butterwort, Primrose butterwort, ping

Plant Type

Native annual or short-lived perennial carnivorous plant

Mature Size

Less than 1 ft

Sun Exposure

Can handle full sun to partial shade

Soil Type

Swamp like, poor drainage, kept moist - using moss helps retain moisure

Soil pH

Acidic loving

Bloom Time

Generally around May to June but also seen some go into September in Florida.

Flower Color

White and Purple

Hardiness Zones

coming soon

Native Area

Southeastern USA
Shipping & Returns
All our plants ship exclusively with UPS to ensure they arrive timely and in good condition. We ship most of our plants Mondays & Tuesdays to most of the USA to ensure they arrive speedy to your location. If you order on a Tuesday after 12 PM ET it is possible that we would not ship it till the following Monday.
We monitior the weather in each destination location to maximize the shipping time and utilize thermal protection to ensure that the plant is protected. You can add a heatpack or thermal bag to your order if temperatures at night fall below 40 degrees.
You can visit our shipping policy to learn more.
Beautiful lil ping
I received my box and all my goodies. The ping was my favorite part. He was so healthy!! I've managed to keep him alive for a few weeks now. Will definitely be purchasing more in the future.
Such a cute little plant
I love it. It's Great for gnats.put it in my greenhouse and it's caught 10 already!
Pinguicula primuliflora Primrose Butterwort Carnivorous Plant