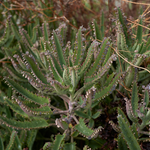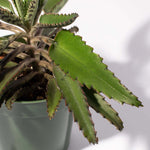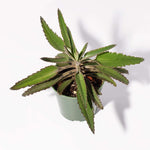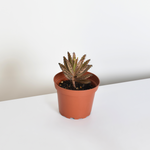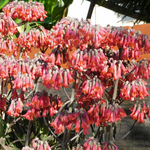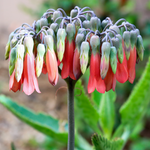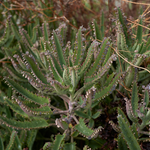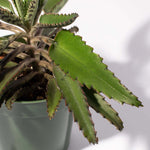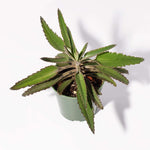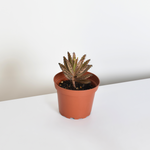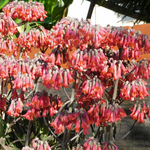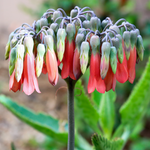 Mother of Thousands Succulent
$0.00
Regular price
Sale price
$14.00
Save:
Unit price
per
Sale
Sold out
Details
The botanical wonder that reigns supreme among houseplants - the awe-inspiring Mother of Thousands Kalanchoe x houghtonii! Prepare to be captivated by its mesmerizing beauty and astonishing reproductive prowess.
Behold the symphony of colors that adorns this enchanting succulent. Its velvety, jade-green leaves, speckled with delicate silver spots, create a striking contrast bound to turn heads in any room. But that's not all! The true magic lies in the mesmerizing array of tiny, miniature plantlets that sprout along the edges of each leaf, resembling a cascading bounty of botanical jewels.
The Mother of Thousands possesses a secret power that sets it apart from ordinary houseplants - its ability to propagate itself effortlessly. Every leaf that falls into the soil or detaches from the plant carries the potential to birth an entirely new generation. Witness the wonder as each leaf transforms into an independent, self-sufficient plant, ready to flourish and carry on the legacy of its remarkable lineage.
This botanical marvel is not just a visual spectacle but a resilient survivor as well. Native to Madagascar, the Mother of Thousands has adapted to harsh conditions, making it the perfect companion for busy individuals seeking a low-maintenance yet striking addition to their indoor garden. With its inherent ability to store water, it can endure periods of neglect and thrive in environments with minimal watering.
Whether you're an experienced plant parent or a novice enthusiast, the Mother of Thousands Kalanchoe x houghtonii is an excellent choice for all. Its unique growth pattern and self-replicating nature make it a fantastic conversation starter and an ideal gift for plant lovers who appreciate the extraordinary.
Embrace the allure of nature's masterpiece with the Mother of Thousands Kalanchoe x houghtonii. Let its ethereal charm and remarkable reproductive abilities grace your living space, inviting wonder and admiration from all who encounter its botanical splendor.
 A fast-growing succulent that is constantly growing new "plantletts" along the edges of its leaves. This is a Mother of thousands, Kalanchoe x Houghtonii is a hybrid species of Kalanchoe daigremontiana and kalanchoe delagoensis and can be identified by the leaves that have a V shape. Can get very tall and has Flowers in the Spring that are a pink, red, orange shade and look like bells. 

Available in the following packaging based on your preference:
Nursery Pot - Standard plastic 2-inch or 4-inch planter pot that can be placed inside a larger pot or left as is until it outgrows it.
Clive Planter - This plant comes packaged in a white square porcelain planter pot ready for your home or office space with a bamboo tray to catch drips when watered.

Looking for more plant goodies? Check out our accessories.
For added humidity, our Lyfe Rose Gold Signature Mister will make a perfect addition to your plant shelf for both function and beauty. We also recommend adding our Plant Shield & Shine to your order for routine maintenance and pest prevention.  
Our plants are shipped from our indoor greenhouse in South Florida. Please note all our plants are one of a kind and if you want to message us we can send you a picture of the exact one you will receive. The product image here is intended to be the best representation of what you can expect to receive but yours may have slightly less or more growth depending on the crop we have when your order is placed. Any lifestyle pictures are meant to demonstrate how a fully grown or more mature plant looks for you to get a sense of it in your space.
About the Plant
Botanical Name

Kalanchoe x houghtonii D.B. Ward

Common Names

Alligator Plant, Houghton's Hybrid, Mother of Millions Hybrid, Mother of Thousands, Mexican Hat Plant, Mother of thousands 'Houghtonii', Devil's backbone

Plant Type

Monocarpic Succulent with erect, unbranched stems

Mature Size

Can grow up to 30 inches tall

Sun Exposure

Full Sun

Soil Type

Fast draining mixes, however not a drought resistant plant, needs regular watering

Soil pH

Neutral to slightly alkaline

Bloom Time

Seasonal bloomer, Spring, once mature enough.

Flower Color

Red, pink

Hardiness Zones

Zone 10-12 outdoors; may grow indoors in containers with enough light

Native Area

Hybrid created in the USA

Toxicity

Not pet friendly if ingested, toxic to dogs and cats
Shipping & Returns
All our plants ship exclusively with UPS to ensure they arrive timely and in good condition. We ship most of our plants Mondays & Tuesdays to most of the USA to ensure they arrive speedy to your location. If you order on a Tuesday after 12 PM ET it is possible that we would not ship it till the following Monday.
We monitior the weather in each destination location to maximize the shipping time and utilize thermal protection to ensure that the plant is protected. You can add a heatpack or thermal bag to your order if temperatures at night fall below 40 degrees.
You can visit our shipping policy to learn more.
Mother of thousands is doing her thing
Delightful plan for children to enjoy
Flowering cactus...
Love my plant....thank you. I haven't transfered it yet to a larger pot. Can't wait to see it in full bloom.
I love my Mother of Thousands
This plant was #1 on my wishlist. My wish came to my beautifully. I am very happy with her.
Mother of Thousands
Plant arrived safely…painstakenly wrapped for any damage. The plant is growing well and has produced several baby's on the perimeter of two leaves. I have recommended verdant lyfe to several friends.