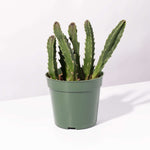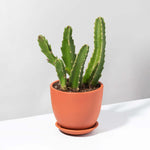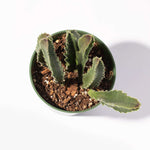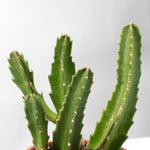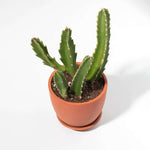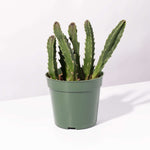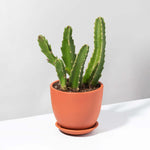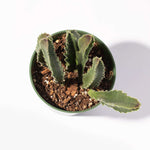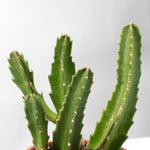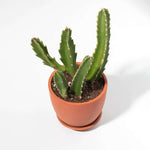 Stapelia Gigantea Zulu Giant Starfish Succulent
$28.00
Regular price
Sale price
$24.00
Save: $4.00
Unit price
per
Sale
Sold out
Details
One of the most interesting of our succulents, the Stapelia gigantea gets it's common name "Carrion Flower" from the stench of the large yellow flower - it smells like rotting meat. These plants use flies to pollinate them so if you see a swarm of flies, they are doing their work! Super cool to watch it bloom and the smell does go away pretty quickly after it blooms and just leaves you wondering how on earth this evolved from the cactus-looking plant. Technically not a cactus and part of the milkweed family. This set of plants will likely have blooms in the spring with the warmth and lighting required of most blooming cactuses. 

Available in the following packaging based on your preference:
Nursery Pot - Standard 4-inch planter pot that can be placed inside a larger pot or left as is until it outgrows it.
Marie Planter - This plant comes packaged in a 4" terracotta planter pot ready for your home or office space with a matching tray to catch drips when watered.

If your plant needs added humidity our Plant Mister would make a perfect addition to your plant shelf for both function and beauty.
Looking for more plant goodies? Check out our accessories Here.
Our plants are shipped from our indoor greenhouse in South Florida. Please note all our plants are one of a kind and if you want to message us we can send you a picture of the exact one you will receive. The product image here is intended to be the best representation of what you can expect to receive but yours may have slightly less or more growth depending on the crop we have when your order is placed. Any lifestyle pictures are meant to demonstrate how a fully grown or more mature plant looks for you to get a sense of it in your space.
About the Plant
Botanical Name

Stapelia gigantea

Common Names

Carrion Flower, Zulu Giant, Stinky Plant

Plant Type

Succulent, Milkweed

Mature Size

12-inches tall and about 36-inches wide

Sun Exposure

Full Sun to partial shade

Soil Type

Fast draining mixes, however not a drought resistant plant, needs regular watering

Soil pH

Neutral to slightly alkaline

Bloom Time

Seasonal bloomer once mature enough.

Flower Color

Yellow with Red striping

Hardiness Zones

Zone 9a-12 outdoors; may grow indoors in containers with enough light

Native Area

Africa

Pet Safe/Toxicity

Not pet friendly, can be toxic
Shipping & Returns
All our plants ship exclusively with UPS to ensure they arrive timely and in good condition. We ship most of our plants Mondays & Tuesdays to most of the USA to ensure they arrive speedy to your location. If you order on a Tuesday after 12 PM ET it is possible that we would not ship it till the following Monday.
We monitior the weather in each destination location to maximize the shipping time and utilize thermal protection to ensure that the plant is protected. You can add a heatpack or thermal bag to your order if temperatures at night fall below 40 degrees.
You can visit our shipping policy to learn more.
Excellent!!!
Already, 3 babies. Received August 18th.
Stapelia gigantea
This was the most well packaged plant I've ever gotten. Our weather has been cold still and the seller packed it in a little collapseable cooler with a heat pack. Plant was in amazing shape when it arrived. Very good size! Would definitely purchase from the seller again!