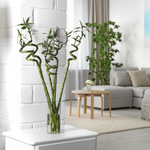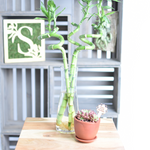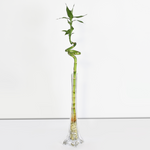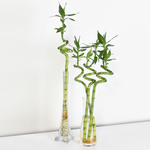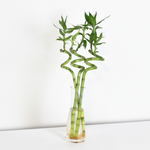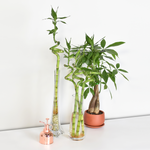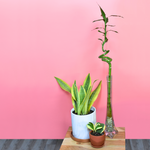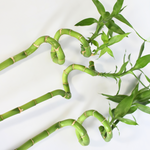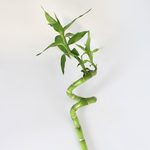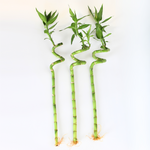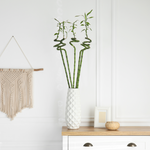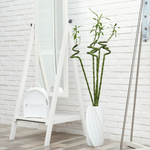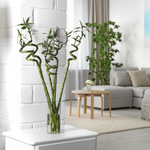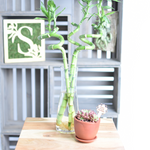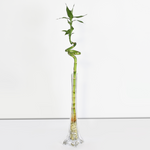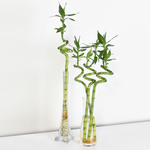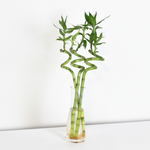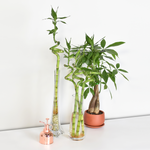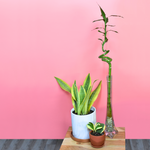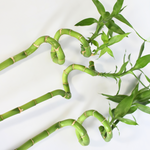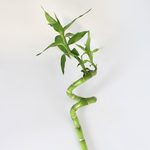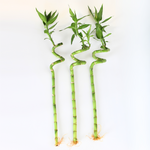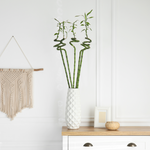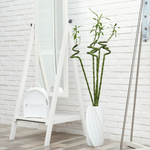 Lucky Bamboo Dracaena Sanderiana Water Plant
Regular price
Sale price
$11.00
Unit price
per
Sale
Sold out
Details
A new easy plant favorite, the Lucky Bamboo Plant, brings a touch of nature's luck and charm right into your living space! This petite plant packs a big punch when it comes to positive energy and aesthetic appeal. 
With its graceful, vibrant green stalks, our Lucky Bamboo Plant effortlessly adds a pop of freshness to any room or office. Each stalk is meticulously trained into a delightful spiral or woven design, creating an enchanting display that captivates the eyes and warms the heart.
But it's not just its visual allure that makes this bamboo plant so special. According to ancient beliefs, Lucky Bamboo attracts good fortune, positive energy, and prosperity. Whether you place it in your home or workspace or even gift it to a loved one, this little wonder is thought to bring luck and harmony to its surroundings.
Caring for your Lucky Bamboo Plant is a breeze, making it perfect for both seasoned plant enthusiasts and green thumbs in training. With minimal sunlight and water requirements, this low-maintenance companion will thrive happily on a desk, windowsill, or even in a decorative vase filled with water.
Gift yourself or a loved one with the joy and serenity that our Lucky Bamboo Plant offers. Bring nature's luck into your life and watch this delightful plant spread good vibes and positive energy wherever it goes. Let our Lucky Bamboo Plant be your charming reminder that fortune is just a leaf away!
Always ensure it has water at the base and swap it out weekly to avoid any bacteria buildup. 
Available in the following options based on your preference:
Single Stalk - Shipped bare root in a bag with some water at the bottom for transport. This is great for you to place in a fishtank, decorative vase, or other completely sealed container with water or any decorative filler. 

3-Pack Bundle - Shipped bare root in a bag with some water at the bottom for transport. 

This is great for you to place in a fishtank, decorative vase, or other completely sealed container with water or any decorative filler. 

Bundle with Vase and Rocks - Ships bare-root with a gorgeous stem vase and bag of our Green Quartz rocks for you to prop it up as high as you would like. 
These are all the "twisted top" varieties that you see pictured and measure approximately 26" long (but as a growing item, it can vary). 
Looking for more plant goodies? Check out our accessories.
For added humidity, our Lyfe Rose Gold Signature Mister will make a perfect addition to your plant shelf for both function and beauty. We also recommend adding our Plant Shield & Shine to your order for routine maintenance and pest prevention.  
Our plants are shipped from our indoor greenhouse in South Florida. Please note all our plants are one of a kind and if you want to message us we can send you a picture of the exact one you will receive. The product image here is intended to be the best representation of what you can expect to receive but yours may have slightly less or more growth depending on the crop we have when your order is placed. Any lifestyle pictures are meant to demonstrate how a fully grown or more mature plant looks for you to get a sense of it in your space.
About the Plant
Botanical Name

Dracaena sanderiana

Common Names

Lucky bamboo plant, friendship bamboo, ribbon plant

Plant Type

Perennial shrub

Mature Size

1–5 ft. tall, 1–2 ft. wide (indoors)

Sun Exposure

Partly shady

Soil Type

Water or Moist well draining mixes

Soil pH

Acidic

Bloom Time

Fall or Winter but not when indoors

Flower Color

White but unlikely

Hardiness Zones

10 to 11; grown as an indoor houseplant in all climates

Native Area

Africa

Toxicity/Pet Safety

Toxic if ingested, not Pet Safe

Watering Frequency

Keep in water at all times
Shipping & Returns
All our plants ship exclusively with UPS to ensure they arrive timely and in good condition. We ship most of our plants Mondays & Tuesdays to most of the USA to ensure they arrive speedy to your location. If you order on a Tuesday after 12 PM ET it is possible that we would not ship it till the following Monday.
We monitior the weather in each destination location to maximize the shipping time and utilize thermal protection to ensure that the plant is protected. You can add a heatpack or thermal bag to your order if temperatures at night fall below 40 degrees.
You can visit our shipping policy to learn more.
Beautiful, healthy plant
I was a little leery of ordering a live plant from a company I had never heard of, but it was a good price and I had seen nothing that would cause me to not order. I received my Lucky Bamboo plant pretty fast, and it was packaged very well. Verdant Lyfe offered me tips on plant care and overall I am very pleased with my purchase. Two weeks later and my plant is healthy looking.