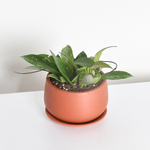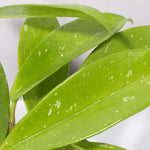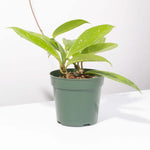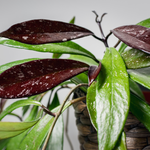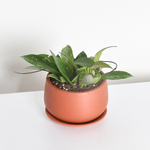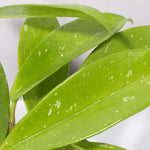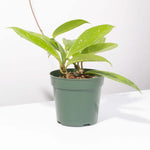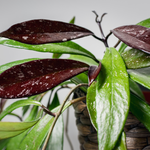 Hoya pubicalyx Splash Vining Plant
Regular price
Sale price
$29.00
Save:
Unit price
per
Sale
Sold out
Details
The Hoya Pubicalyx is a hardy thick leafed Hoya that has a gorgeous ball of flowers once it matures. This is a semi-succulent, perennial, that trails and vines with lush waxy foliage and gorgeous blooms. It needs bright light and drying between watering but will give you amazing growth in hanging pots or elevated shelves. A perfect plant for novice houseplant owners. 
This botanical beauty is not your average houseplant. Oh no, it's a charismatic charmer that knows how to steal the spotlight in any room.
With its glossy, heart-shaped leaves cascading down like a vibrant waterfall, the Hoya Publicalyx exudes an air of elegance and sophistication. It's the Audrey Hepburn of the plant world, effortlessly capturing attention with its timeless beauty.
But this plant isn't just a pretty face; it's a low-maintenance companion that'll make even the most notorious plant killers feel like seasoned horticulturists. The Hoya Publicalyx thrives on neglect, requiring minimal care and attention. It's like having a personal assistant who says, "Don't worry, I got this."
This botanical diva is also a natural-born air purifier. It's on a mission to banish those pesky pollutants from your living space, leaving behind nothing but pure, fresh oxygen. It's like having a miniature environmentalist working tirelessly to improve your air quality while looking fabulous.
With the Hoya Publicalyx, you'll become the envy of all your friends and neighbors. Picture yourself, sipping tea in your cozy living room, while your plant steals the show and receives more compliments than your impeccably chosen furniture. It's a conversation starter, a mood booster, and a symbol of your refined taste.
So, why settle for ordinary plants when you can have the extraordinary? Embrace the Hoya Publicalyx and let its enchanting presence transform your living space into a botanical wonderland. Get ready for a plant parenthood journey filled with endless admiration, lush foliage, and the occasional gasp from awestruck visitors.
Available in the following packaging based on your preference:

Nursery Pot - Standard plastic 4-inch planter pot that can be placed inside a larger pot or left as is until it outgrows it.
Valentina 5" - An elegant terra-cotta minimalistic planter that has rounded edges all around. Comes with a matching drainage drip tray. 
If your plant needs added humidity our Plant Mister would make a perfect addition to your plant shelf for both function and beauty.
Looking for more plant goodies? Check out our accessories Here.
Our plants are shipped from our indoor greenhouse in South Florida. Please note all our plants are one of a kind and if you want to message us we can send you a picture of the exact one you will receive. The product image here is intended to be the best representation of what you can expect to receive but yours may have slightly less or more growth depending on the crop we have when your order is placed. Any lifestyle pictures are meant to demonstrate how a fully grown or more mature plant looks for you to get a sense of it in your space.
About the Plant
Botanical Name

Hoya pubicalyx splash

Common Names

Hoya Pubicalyx speckled, speckled hoya

Plant Type

semi-succulent perennial

Mature Size

Up to 15 foot long vines

Sun Exposure

Full Sun to Part Shade

Soil Type

Moist but well draining, dry between waterings

Soil pH

All types, not picky

Bloom Time

Summer & Spring

Flower Color

Deep purple, almost black

Hardiness Zones

Zone 9-12; grown as a houseplant in all climates

Native Area

Asia and Australia

Toxicity and Pet Safety

Non-toxic and pet safe
Shipping & Returns
All our plants ship exclusively with UPS to ensure they arrive timely and in good condition. We ship most of our plants Mondays & Tuesdays to most of the USA to ensure they arrive speedy to your location. If you order on a Tuesday after 12 PM ET it is possible that we would not ship it till the following Monday.
We monitior the weather in each destination location to maximize the shipping time and utilize thermal protection to ensure that the plant is protected. You can add a heatpack or thermal bag to your order if temperatures at night fall below 40 degrees.
You can visit our shipping policy to learn more.