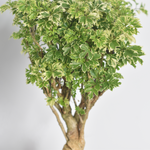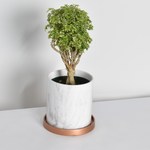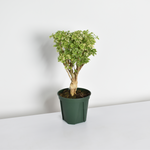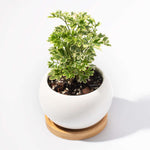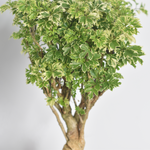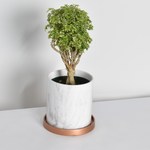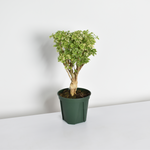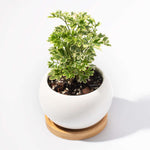 Ming Aralia 'Snowflake' Polyscias Fruticosa Variegated Plant
Regular price
Sale price
$14.00
Unit price
per
Sale
Sold out
Details
Ferny but feathery, bushy or tree-y. This gorgeous plant can be groomed to grow like a bonsai or tree style or more like a bushy full plant leaves (pun-intended) this plant to be your own creation based on the look you want. It grows slowly but can grow to over 6 foot tall with the right kind of care. You will fall in love with the variegated yellow edges on the green leaves and beautiful rewarding but easy to maintain plant the Ming Aralia is. 
We just added the Ming Aralia Snowflake Stump (a 3 year old beauty that has been trained to produce a stunning stump) - nature's very own work of art blended with a touch of whimsy! It's like the most fashionable tree stump you've ever seen. So, what makes this stump so unique, you ask? Well, hold onto your gardening gloves because we're about to drop some stump-tastic knowledge on you!
First things first, let's talk about the Snowflake part. Just like a dapper winter wonderland, this stump flaunts delicate white patterns reminiscent of freshly fallen snow. It's like Jack Frost himself decided to decorate a tree stump for kicks, creating a masterpiece that will leave your house guests in awe.
But wait, there's more! The Ming Aralia, known for its eccentric personality, gives this stump its unique character. With its gracefully twisted branches and lush green foliage, it's as if Mother Nature took a flamboyant artist and said, "Hey, let's turn this stump into a masterpiece!"
Not only is the Ming Aralia Snowflake Stump a visual delight, but it's also low-maintenance. Forget about time-consuming tree grooming or stump-tending rituals. This stump is an independent spirit that doesn't need much attention, making it the perfect choice for busy garden enthusiasts or those with a penchant for low-effort high-style.
Imagine this: sitting on your patio, sipping a refreshing beverage, and gazing at your Snowflake Stump. It becomes a conversation starter, a center of attention that steals the show from all those ordinary stumps nearby. Your neighbors will wonder how you managed to transform a stump into a work of horticultural art, and you can simply smile and say, "Ah, it's the Ming Aralia Snowflake Stump. Simply magical!"
So, whether you're a garden guru, a landscaping lover, or just someone with a penchant for extraordinary nature, the Ming Aralia Snowflake Stump is the quirky addition you've been waiting for. Get ready to turn heads, spark conversations, and transform your garden into a whimsical wonderland. Hurry and grab one today before they become the most sought-after stumps in town!
Available in the following packaging based on your preference:
Nursery 2" or 4" - Standard plastic 4 inch planter pot that can be placed inside a larger pot or left as is until it outgrows it.
Diana Planter - This plant comes packaged in a white round ceramic planter pot almost 4" ready for your home or office space with a bamboo tray to catch drips when watered.
Nursery 6"- This is our "stump" or almost bonsai version of the plant packed in our standard plastic nursery pot that is great to place in a larger decorative pot. 
Selene Planter - Porcelain 6-inch pot ceramic marble planter with drainage hole and matching rose gold ceramic tray. The planter measures: 7.5" x 6.5" x 6.5" and weighs approximately 3.7 lbs. We recommend placing your plant inside the nursery pot to make it easy to water and transplant.
Looking for more plant goodies? Check out our accessories.
For added humidity, our Lyfe Rose Gold Signature Mister will make a perfect addition to your plant shelf for both function and beauty. We also recommend adding our Plant Shield & Shine to your order for routine maintenance and pest prevention.  
Our plants are shipped from our indoor greenhouse in South Florida. Please note all our plants are one of a kind and if you want to message us we can send you a picture of the exact one you will receive. The product image here is intended to be the best representation of what you can expect to receive but yours may have slightly less or more growth depending on the crop we have when your order is placed. Any lifestyle pictures are meant to demonstrate how a fully grown or more mature plant looks for you to get a sense of it in your space.
About the Plant
Botanical Name

Polyscias Fruticosa 'snowflake'

Common Names

Snowflake Ming, Ming Aralia

Plant Type

Evergreen shrub

Mature Size

6-8 ft tall, 2-3 foot wide

Sun Exposure

Part shade

Soil Type

Rich but loamy and well drained

Soil pH

Acidic

Bloom Time

Summer but rare

Flower Color

Yellow or white but rare

Hardiness Zones

11 through 12t

Native Area

Asia
Shipping & Returns
All our plants ship exclusively with UPS to ensure they arrive timely and in good condition. We ship most of our plants Mondays & Tuesdays to most of the USA to ensure they arrive speedy to your location. If you order on a Tuesday after 12 PM ET it is possible that we would not ship it till the following Monday.
We monitior the weather in each destination location to maximize the shipping time and utilize thermal protection to ensure that the plant is protected. You can add a heatpack or thermal bag to your order if temperatures at night fall below 40 degrees.
You can visit our shipping policy to learn more.
Super tiny but super cute
This plant is the cutest tiniest "parsley tree" I've ever seen... The planter is very cute, the plant was a lot smaller then I expected but it will grow...
This is the only plant I have gotten from you that the stems were broken and In pieces..every other plant has been perfect..Thanks
Ming Aralia 'Snowflake' Polyscias Fruticosa Variegated Plant