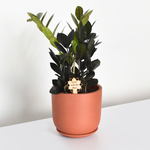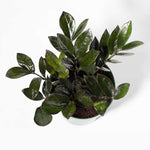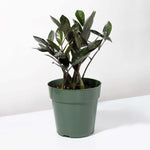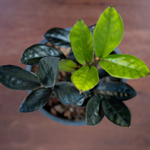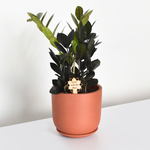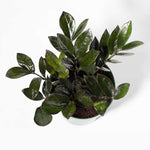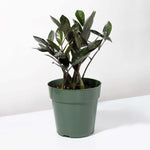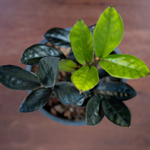 Black Zanzibar Gem Zamioculcas zamiifolia 'Nova Star' Raven ZZ Plant
Regular price
Sale price
$58.00
Unit price
per
Sale
Sold out
Details
Meet the ZZ Raven: Your New Mysterious Green Companion
Greetings, plant aficionados and leafy-adventure seekers! Are you ready to step into the enchanting darkness of the plant realm with the one and only ZZ Raven? Buckle up, because this isn't your grandma's garden gnome – it's a whole new level of botanical intrigue!
Unmasking the ZZ Raven: A Crash Course in Green Enigma
🌿 Goth Chic: Imagine a plant that's not just green but embraces the dark side with style. The ZZ Raven, with its jet-black foliage, is the goth icon of the plant world. It's the Morticia Addams of your indoor garden, adding an alluring touch of darkness to your aesthetic.
🌿 Survivor Mentality: The ZZ Raven might as well be a plant superhero with its unbeatable survival skills. It thrives on neglect, laughs in the face of low light, and practically sips water like it's a fancy cocktail. Forget needy plants – this one's a self-sufficient badass.
🌿 Conversation Starter: Want to up your hosting game? The ZZ Raven is the ultimate party guest. Its mysterious appearance will have your friends talking, while its care needs (or lack thereof) will make you look like the savviest plant parent in town.
🌿 Low-Key Drama: Drama belongs on the big screen, not in your living room. The ZZ Raven demands nothing but a corner with low light – no diva behavior here. Forget about constant pruning or complex care routines; this plant thrives on the chill life.
🌿 Iconic Statement: The ZZ Raven isn't just a plant; it's a statement piece. Whether you're decking out your office, living room, or secret lair, its black magic will capture attention and earn you the title of Plant Whisperer Extraordinaire.
Raven's Rulebook:
Name: ZZ Raven (Zamioculcas zamiifolia 'Raven')
Mood: Dark, mysterious, and effortlessly cool
Height: Up to 2-3 feet of enigmatic elegance
Lighting: Low light champion – perfect for cozy corners
Watering: Drought-resistant diva; water when it pleases you
Personality: Drama-free, self-sufficient, and fiercely fabulous
Habitat: Thrives indoors, transforming any space into a gothic oasis
Embrace the Dark Side:
Ready to add a touch of gothic glamour to your plant posse? The ZZ Raven is here to satisfy your cravings for the mysterious and fabulous. Embrace the darkness and let this enigmatic beauty cast its spell over your space. Join the dark side and order your own ZZ Raven today – your indoor garden will never be the same again. 🖤🌿
 Available in the following packaging based on your preference:
Nursery Pot - Standard plastic 6-inch planter pot that can be placed inside a larger pot or left as is until it outgrows it.
Selene Planter - Porcelain 6-inch pot ceramic marble planter with drainage hole and matching rose gold ceramic tray. The planter measures: 7.5" x 6.5" x 6.5" and weighs approximately 3.7 lbs. We recommend placing your plant in the nursery pot inside it to make it easy to water and transplant.

 

Whitney Terracotta Planter - 

a beautiful molded terracotta pot that is porous and fire glazed to allow plant roots to breathe; color works well with any decor and will develop a beautiful patina color over time. Includes matching dish underneath to catch water drainage and protect surfaces. 
Looking for more plant goodies? Check out our accessories.
For added humidity, our Lyfe Rose Gold Signature Mister will make a perfect addition to your plant shelf for both function and beauty. We also recommend adding our Plant Shield & Shine to your order for routine maintenance and pest prevention.  
Our plants are shipped from our indoor greenhouse in South Florida. Please note all our plants are one of a kind and if you want to message us we can send you a picture of the exact one you will receive. The product image here is intended to be the best representation of what you can expect to receive but yours may have slightly less or more growth depending on the crop we have when your order is placed. Any lifestyle pictures are meant to demonstrate how a fully grown or more mature plant looks for you to get a sense of it in your space.
About the Plant
Botanical Name

Zamioculcas zamiffolia

Common Names

ZZ Plant, Zanzibar Gem

Plant Type

Tropical Perennial

Mature Size

3 foot to 4 foot tall

Sun Exposure

Low Indirect to Bright Indirect

Soil Type

Well draining

Soil pH

6.0-7.0

Bloom Time

Spring

Flower Color

Yellow brown spadix

Hardiness Zones

Zone 11, 12; grown as a houseplant in all climates

Native Area

Eastern Africa

Toxicity

Not Pet Friendly, it is toxic as it contains calcium oxalate crystals in parts of the plant
Shipping & Returns
All our plants ship exclusively with UPS to ensure they arrive timely and in good condition. We ship most of our plants Mondays & Tuesdays to most of the USA to ensure they arrive speedy to your location. If you order on a Tuesday after 12 PM ET it is possible that we would not ship it till the following Monday.
We monitior the weather in each destination location to maximize the shipping time and utilize thermal protection to ensure that the plant is protected. You can add a heatpack or thermal bag to your order if temperatures at night fall below 40 degrees.
You can visit our shipping policy to learn more.
I love it ,so pretty
Love it . It is so pretty.
Raven ZZ
When the plant came and I unpacked it I was SO. excited! She's very sexy, can't wait for spring. I can't thank you enough for your beautiful plants. I'll definitely buy more.
Perfection
Beautiful plant ! 5⭐ packaging..verdant life knows how to pack and ship plants ! Thanks !
Gorgeous ❤️
Always wanted the raven as I have the regular green ZZ plant. Came in pristine condition. One of my favorite plants so far. I love everything I get.