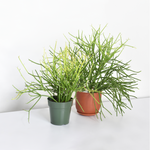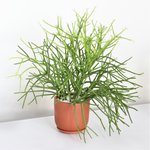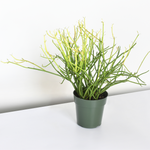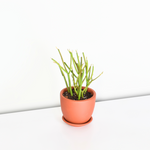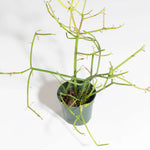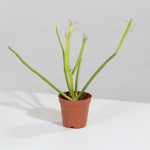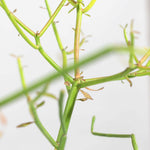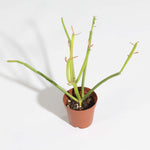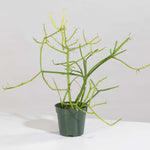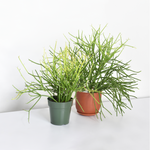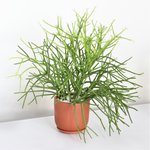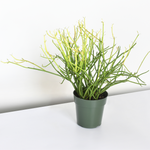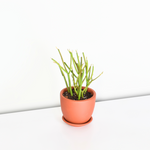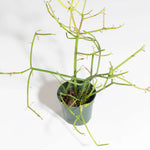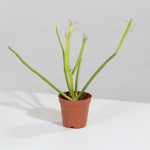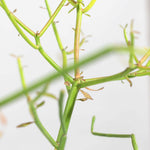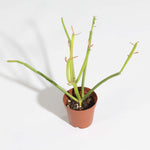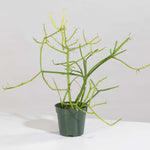 Euphorbia Tirucalli Firesticks Pencil Cactus Succulent Plant
Regular price
$18.00
Sale price
$16.00
Unit price
per
Sale
Sold out
Details
Introducing the fiery marvel that will set your plant collection ablaze with envy - behold the Euphorbia Tirucalli Firesticks Pencil Cactus! Prepare for a botanical experience like no other as you embrace the sizzling charm of this captivating succulent.
With its vibrant, flame-colored stems that blaze through your space, the Firesticks Pencil Cactus demands attention like a pyromaniac in a firework factory. These eye-catching stems shoot upward like nature's own sparklers, showcasing shades of fiery reds, oranges, and yellows -- when temperatures drop. Talk about setting the plant world ablaze!
But don't be fooled by its fiery appearance - this succulent is as low-maintenance as they come. The Firesticks Pencil Cactus thrives in neglect, making it the perfect companion for those with a knack for forgetting to water. Its drought tolerance is so impressive, you'll start to wonder if it secretly moonlights as a cactus superhero!
Speaking of superpowers, this succulent is not just a pretty face. It boasts an astonishing ability to survive in a variety of light conditions, from full sun to partial shade. It's like having a botanical chameleon that effortlessly adapts to any environment, turning heads wherever it goes.
But wait, there's more! The Firesticks Pencil Cactus is not only a star in your indoor garden, but it's also a conversation starter extraordinaire. Imagine the delight on your guests' faces as they behold this botanical inferno, struggling to decide whether it belongs in a botanical garden or a contemporary art gallery.
So, if you're looking to ignite your plant collection with a touch of drama, the Euphorbia Tirucalli Firesticks Pencil Cactus is the plant for you. Embrace the heat, bask in the glow, and let this fiery succulent be the flaming torch that lights up your life. Warning: Keep fire extinguisher handy for jealous neighbors.
A cold blast of air, and suddenly you have stunning Red Firesticks! The Euphorbia Tirucalli Firesticks or Pencil Cactus plants hail from Africa, where it is typically a green stick plant, but once the cold nights come, it turns a fire red, making it an amazing seasonal changing Cactus to own. The plants can get very large if planted directly in the ground but can be controlled with regular trimming in a planter pot.
This is a fast-growing plant, and please be cautious when cutting as the sap is toxic and can irritate the skin; it's not pet friendly only if ingested.  
Available in the following packaging based on your preference:
Nursery Pot - Standard plastic 2-inch or 4-inch planter pot that can be placed inside a larger pot or left as is until it outgrows it.
Marie Terracotta Planter - 4.5" Terracotta planter with matching saucer for drainage. 

Looking for more plant goodies? Check out our accessories.
For added humidity, our Lyfe Rose Gold Signature Mister will make a perfect addition to your plant shelf for both function and beauty. We also recommend adding our Plant Shield & Shine to your order for routine maintenance and pest prevention.  
Our plants are shipped from our indoor greenhouse in South Florida. Please note all our plants are one of a kind and if you want to message us we can send you a picture of the exact one you will receive. The product image here is intended to be the best representation of what you can expect to receive but yours may have slightly less or more growth depending on the crop we have when your order is placed. Any lifestyle pictures are meant to demonstrate how a fully grown or more mature plant looks for you to get a sense of it in your space.
About the Plant
Botanical Name

Euphorbia Tirucalli

Common Names

Firesticks, Pencil Cactus, Fire cactus, sticks on fire, Fire Succulent

Plant Type

Succulent, shrubby bushy

Mature Size

Can get very large almost a tree - 10ft long; Can spread 2 to 3 foot

Sun Exposure

Full Sun

Soil Type

Fast draining mixes, however not a drought resistant plant, needs regular watering

Soil pH

Any

Bloom Time

Seasonal bloomer once mature enough.

Flower Color

Pale yellow tubular flowers

Hardiness Zones

Zone 9-12 outdoors; may grow indoors in containers with enough light

Native Area

Africa
Shipping & Returns
All our plants ship exclusively with UPS to ensure they arrive timely and in good condition. We ship most of our plants Mondays & Tuesdays to most of the USA to ensure they arrive speedy to your location. If you order on a Tuesday after 12 PM ET it is possible that we would not ship it till the following Monday.
We monitior the weather in each destination location to maximize the shipping time and utilize thermal protection to ensure that the plant is protected. You can add a heatpack or thermal bag to your order if temperatures at night fall below 40 degrees.
You can visit our shipping policy to learn more.
Could just drink this up it's so cute
I love how big this is an the terracotta pot looks darling like a tea cup. An the way this was packed nothing was damaged not even one of its tiny tiny leaves. I'm looking now at what's the next plant I'm a get now. Thank you verdantlyfe for another amazing plant
Firesticks Pencil cactus succulent plant
It is adorable. Arrived in excellent condition.