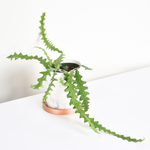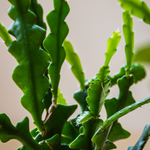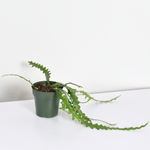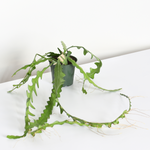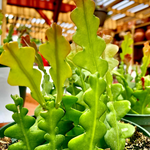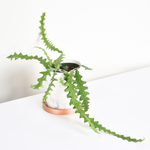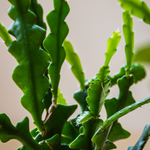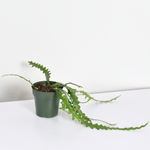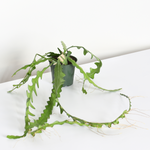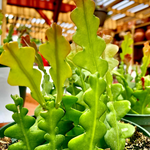 Ric Rac Fishbone Epiphyllum anguliger Trailing Cactus
Regular price
Sale price
$25.00
Unit price
per
Sale
Sold out
Details
Get Hooked on the Ric Rac Fishbone Trailing Cactus – The Funkiest Fishtail in the Plant Kingdom! Also known by it's many other names, the Zig Zag Cactus, Orchid Cactus or the botanical names Disocactus anguliger & Epiphyllum anguliger.  
Looking to add some underwater whimsy to your plant posse? Look no further than the Ric Rac Fishbone Trailing Cactus – a true aquatic rockstar that'll have your other houseplants green with envy! Sidenote- this one does flower when it gets to a mature size and those blooms add to its whimsy. 
With its funky fishtail-like leaves, this cactus brings the party wherever it goes. Picture it trailing down from a hanging planter like a colorful coral reef dancing in the ocean currents. Just one glance at its playful foliage, and you'll swear you hear the distant sound of steel drums and Hawaiian hula music!
But don't let its quirky appearance fool you – this fishbone cactus is no diva. It's more like your cool surfer buddy, laid-back and easygoing. No need to fuss over watering schedules; it thrives on a "come as you are" approach, just like a true beachcomber.
Speaking of beach vibes, the Ric Rac Fishbone Trailing Cactus is the ultimate vacation souvenir without the jet lag! Even on the grayest of days, this cactus will transport you to a tropical paradise where worries are mere ripples in the ocean.
And let's talk about its style game – off the charts! Whether your home décor leans boho chic or modern minimalist, this cactus is the chameleon of charm. Its elegant curves and playful silhouette make it the perfect match for any interior design – it's like the cactus version of haute couture!
But wait, there's more! Not only does this cactus have the looks and the charm, but it's also a breeze to care for. Forget about hovering over your houseplants like a helicopter parent. The Ric Rac Fishbone Trailing Cactus knows how to roll with the punches, making it the ideal companion for those who want plant parenthood without the stress.
So, ready to make a splash with your plant game? Dive in and get your fins on the Ric Rac Fishbone Trailing Cactus – the most captivating cactus to swim into your life. Get hooked on its aquatic allure, and let it sprinkle a dash of oceanic magic in your home. Because when it comes to turning your living space into a tropical oasis, this cactus is simply fin-tastic!
Available in the following packaging based on your preference:
Nursery Pot - Standard plastic 4-inch or 6-inch planter pot that can be placed inside a larger pot or left as is until it outgrows it.
Selene Planter - Porcelain 6-inch pot ceramic marble planter with drainage hole and matching rose gold ceramic tray. The planter measures: 7.5" x 6.5" x 6.5" and weighs approximately 3.7 lbs. We recommend placing your plant inside the nursery pot to make it easy to water and transplant.
Looking for more plant goodies? Check out our accessories.
For added humidity, our Lyfe Rose Gold Signature Mister will make a perfect addition to your plant shelf for both function and beauty. We also recommend adding our Plant Shield & Shine to your order for routine maintenance and pest prevention.  
Our plants are shipped from our indoor greenhouse in South Florida. Please note all our plants are one of a kind and if you want to message us we can send you a picture of the exact one you will receive. The product image here is intended to be the best representation of what you can expect to receive but yours may have slightly less or more growth depending on the crop we have when your order is placed. Any lifestyle pictures are meant to demonstrate how a fully grown or more mature plant looks for you to get a sense of it in your space.
About the Plant
Botanical Name

Disocactus anguliger, Epiphyllum anguliger

Common Names

Ric Rac Cactus, Fishbone cactus, zig zag cactus, ricrac cactus, orchid cactus

Plant Type

Succulent, cactus, shrubby bushy

Mature Size

6 inch tall but can spread 2 to 3 foot

Sun Exposure

Part Sun

Soil Type

Loamy, moist but well draining, not super drought tolerant

Soil pH

Acidic

Bloom Time

Late summer or fall.

Flower Color

Pale yellow or white

Hardiness Zones

Zone 10-12 outdoors; may grow indoors in containers with enough light

Native Area

Americas

Pet Friendly / Toxicity

Pet Safe, Non-Toxic
Shipping & Returns
All our plants ship exclusively with UPS to ensure they arrive timely and in good condition. We ship most of our plants Mondays & Tuesdays to most of the USA to ensure they arrive speedy to your location. If you order on a Tuesday after 12 PM ET it is possible that we would not ship it till the following Monday.
We monitior the weather in each destination location to maximize the shipping time and utilize thermal protection to ensure that the plant is protected. You can add a heatpack or thermal bag to your order if temperatures at night fall below 40 degrees.
You can visit our shipping policy to learn more.