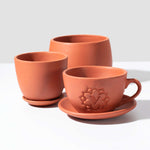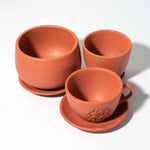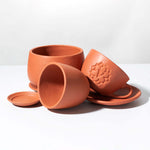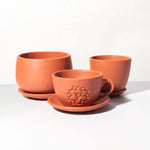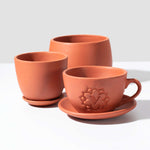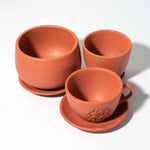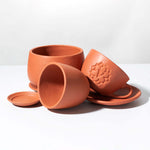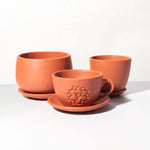 Terracotta Trio Planter Signature Bundle
$78.00
Regular price
Sale price
$68.00
Save: $10.00
Unit price
per
Sale
Sold out
Details
A trio of terracotta planters that is worthy of display on any surface. This set contains our best selling terracotta plant favorites. It is a great value as the retail value is $77.
This bundle is made up of the following 3 plants:
This set of planters deserves to adorn your  desk, table, shelf, or cabinet.
Only the Lyfe Teacup has the signature Verdant Lyfe "V" monogram on one side of the pot. 
It is made from quality, terracotta  that is molded and fire glazed and has a drainage hole to avoid overwatering and root rot. Also comes with a dish to catch drainage. 
Terracotta is a porous material that allows plant roots to breathe and a color that complements any decor. As it is a natural material it will develop a beautiful patina color over time. An excellent home for plants that need to dry between waterings. 
Please pre-soak your terracotta pot in water overnight before starting to use the pot.
When you don't pre-soak terra cotta pots, the plant dries out faster. This isn't a huge deal—as long as you are attentive to your plant and water it when the soil is dry enough. But it will help you conserve water and lower the maintenance level of your plant. We also like to soak plants thoroughly when they are in terracotta planters to ensure they get enough water and it isn't being dried up by the planter. It is normal for mineral sediment to build up on the surface and can be wiped off. 
A great upgrades size for any 2" - 4" plant. 
Please note this item is excluded from further discounts.
Pot Size:  Lyfe Teacup -  4.3 inch opening, Total width: 5.5 inch, Height: 2.75 inch Marie -  4 inch L x 4 inch W x 3.5 inch H Valentina - 5.5 inch L x 5.5 inch W x 4 inch H Saucer Size: Width: 5.5 inches, Height: 0.6 inch Weight: 0.75 lbs - 1.75 lbs each
Images with plants are for reference only. If you want it with the plant pictured please visit those product pages.
Shipping & Returns
All our plants ship exclusively with UPS to ensure they arrive timely and in good condition. We ship most of our plants Mondays & Tuesdays to most of the USA to ensure they arrive speedy to your location. If you order on a Tuesday after 12 PM ET it is possible that we would not ship it till the following Monday.
We monitior the weather in each destination location to maximize the shipping time and utilize thermal protection to ensure that the plant is protected. You can add a heatpack or thermal bag to your order if temperatures at night fall below 40 degrees.
You can visit our shipping policy to learn more.
Absolutely stunning
I love this terracotta planter. It looks stunning in my office and its high quality with smooth texture. It's not rough like a lot of terracotta planters I've had in the past. Thanks Verdant Lyfe!!