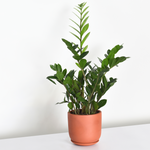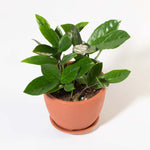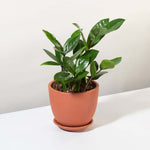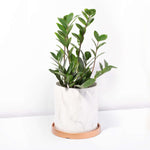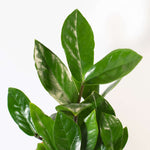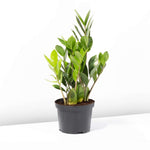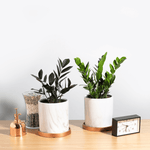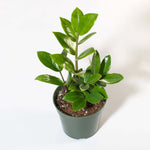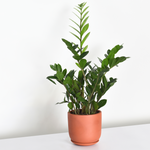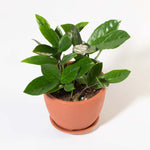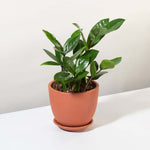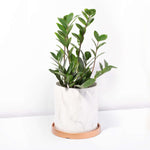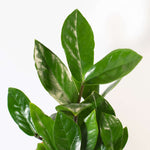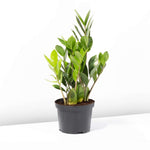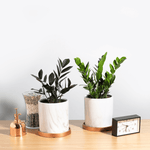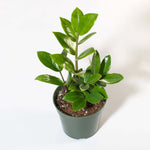 Zanzibar Gem Zamioculcas zamiifolia Green ZZ Plant
Regular price
$22.00
Sale price
$16.00
Unit price
per
Sale
Sold out
Details
Ladies and gentlemen, plant enthusiasts and serial overwaterers, brace yourselves for the ZZ Plant – the Chuck Norris of the plant world, here to prove that you don't need a green thumb to rock the botanical scene!
Why the ZZ Plant Rocks Our Plant-loving Socks:
🌿 Indestructible Charm: Are you convinced that you have the touch of plant doom? Fear not! The ZZ Plant laughs in the face of neglect. Forget to water it? No problem. Place it in a dark corner? It thrives there. This plant doesn't just survive – it thrives on your "oops, I forgot you existed."
🌿 Fashionably Dark: Move over, sunlight snobs! The ZZ Plant doesn't need a VIP pass to the sunny side. It's like the ninja of the plant kingdom, content in low light situations where others might wither away. It's your home's newest shadow-dwelling style icon.
🌿 Air-purifying Jedi: Have you been yearning for fresher air without resorting to complicated contraptions? The ZZ Plant has your back. It moonlights as an air-purifying superstar, quietly battling toxins and CO2 while you Netflix and chill.
🌿 Pet-friendly Brilliance: Fur babies and curious kiddos? Bring 'em on! The ZZ Plant isn't about causing trouble. It's got a "pet-friendly" sign hanging on its leafy door, welcoming even the most adventurous explorers without handing out plant-induced side-eye.
🌿 Low-maintenance Swagger: Your plant babysitter just got laid off. The ZZ Plant scoffs at constant pampering. It doesn't need daily check-ins, weekly pep talks, or spa treatments. Water it once in a blue moon, and it'll be your faithful green sidekick for years.
ZZ Plant Cheat Sheet:
Name: ZZ Plant (Zamioculcas zamiifolia)
Vibe: Cool, calm, collected, and unkillable
Height: Up to 3 feet of laid-back elegance
Light Preferences: Low light to bright, indirect light – it's chill either way
Watering Regimen: The less, the merrier; let it dry out between sips
Special Powers: Air-purifying extraordinaire, master of low maintenance
Elevate Your Plant Game:
Ready to introduce some no-nonsense pizzazz to your plant squad? The ZZ Plant is your ticket to carefree green glory. It doesn't demand much but delivers a whole lot of lushness and chill vibes. Get yours now and bask in the glory of being a plant parent without the drama! 🌿👑
 Available in the following packaging based on your preference:
Nursery Pot - Standard plastic 4-inch and 6-inch planter pot that can be placed inside a larger pot or left as is until it outgrows it.
Selene Planter - Porcelain 6-inch pot ceramic marble planter with drainage hole and matching rose gold ceramic tray. The planter measures: 7.5" x 6.5" x 6.5" and weighs approximately 3.7 lbs. We recommend placing your plant in the nursery pot inside it to make it easy to water and transplant. 

Marie Terracotta Planter - 4.5-inch Minimalistic Terracotta planter with drainage hole comes with matching saucer to protect surfaces. 
Whitney Terracotta Planter - large 6-inch beautiful molded terracotta pot that is porous and fire glazed to allow plant roots to breathe; color works well with any decor and will develop a beautiful patina color over time. Includes matching dish underneath to catch water drainage and protect surfaces. 
Looking for more plant goodies? Check out our accessories.
For added humidity, our Lyfe Rose Gold Signature Mister will make a perfect addition to your plant shelf for both function and beauty. We also recommend adding our Plant Shield & Shine to your order for routine maintenance and pest prevention.  
Our plants are shipped from our indoor greenhouse in South Florida. Please note all our plants are one of a kind and if you want to message us we can send you a picture of the exact one you will receive. The product image here is intended to be the best representation of what you can expect to receive but yours may have slightly less or more growth depending on the crop we have when your order is placed. Any lifestyle pictures are meant to demonstrate how a fully grown or more mature plant looks for you to get a sense of it in your space.
About the Plant
Botanical Name

Zamioculcas zamiffolia

Common Names

ZZ Plant, Zanzibar Gem

Plant Type

Tropical Perennial

Mature Size

3 foot to 4 foot tall

Sun Exposure

Low Indirect to Bright Indirect

Soil Type

Well draining

Soil pH

6.0-7.0

Bloom Time

Spring

Flower Color

Yellow brown spadix

Hardiness Zones

Zone 11, 12; grown as a houseplant in all climates

Native Area

Eastern Africa

Toxicity

Not Pet Friendly, it is toxic as it contains calcium oxalate crystals in parts of the plant
Shipping & Returns
All our plants ship exclusively with UPS to ensure they arrive timely and in good condition. We ship most of our plants Mondays & Tuesdays to most of the USA to ensure they arrive speedy to your location. If you order on a Tuesday after 12 PM ET it is possible that we would not ship it till the following Monday.
We monitior the weather in each destination location to maximize the shipping time and utilize thermal protection to ensure that the plant is protected. You can add a heatpack or thermal bag to your order if temperatures at night fall below 40 degrees.
You can visit our shipping policy to learn more.
ZZ plants
They came in perfect condition. They were bigger than 6 inches and quite full. Just beautiful. I love verdant plants.