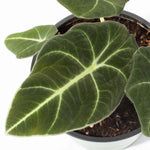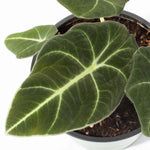 Alocasia Black Velvet Reginula Aroid Plant
Regular price
$24.00
Sale price
$19.00
Unit price
per
Sale
Sold out
Details
The Alocasia Black Velvet - the houseplant equivalent of a little black dress! This stunning beauty will elevate any space with its sleek and sophisticated appearance. The velvety black leaves are as soft to the touch as they are easy on the eyes, and the contrasting veins add a touch of drama to its already captivating charm.
But don't let its elegant demeanor fool you - this plant is as tough as nails. It can handle a variety of lighting conditions, from low to bright indirect light, and only needs watering once a week to keep it looking its best. Plus, its compact size makes it the perfect addition to any desk, shelf, or windowsill.
So whether you're looking to add a touch of class to your home or office, the Alocasia Black Velvet is a perfect choice. Just be prepared for all the compliments that are sure to come your way!
Available in the following packaging based on your preference:

Nursery Pot - Standard plastic 4-inch or 6-inch planter pot that can be placed inside a larger pot or left as is until it outgrows it.
Valentina Terracotta Pot 6" - a beautiful molded terracotta pot that is porous and fire glazed to allow plant roots to breathe; color works well with any decor and will develop a beautiful patina color over time. Includes matching dish underneath to catch water drainage and protect surfaces. 
Selene Planter - Porcelain 6-inch pot ceramic marble planter with drainage hole and matching rose gold ceramic tray. The planter measures: 7.5" x 6.5" x 6.5" and weighs approximately 3.7 lbs. We recommend placing your plant inside the nursery pot to make it easy to water and transplant.
Looking for more plant goodies? Check out our accessories.
For added humidity, our Lyfe Rose Gold Signature Mister will make a perfect addition to your plant shelf for both function and beauty. We also recommend adding our Plant Shield & Shine to your order for routine maintenance and pest prevention.  
Our plants are shipped from our indoor greenhouse in South Florida. Please note all our plants are one of a kind and if you want to message us we can send you a picture of the exact one you will receive. The product image here is intended to be the best representation of what you can expect to receive but yours may have slightly less or more growth depending on the crop we have when your order is placed. Any lifestyle pictures are meant to demonstrate how a fully grown or more mature plant looks for you to get a sense of it in your space.
About the Plant
Botanical Name

Alocasia 'Quilted Dream'

Common Names

Alocasia, Elephant Eats, African Mask, Mini-Polly African Mask, Mini-Elephant Ears, Amazon Taro, Alocasia Amazonica Polly, Bambino Amazonica

Plant Type

Tropical Plant

Mature Size

6 inch to 3 foot tall and spreads 6 inch to 2 foot wide

Sun Exposure

Indirect to Bright Indirect

Soil Type

Moist but well draining loamy

Soil pH

Slightly Acidic

Bloom Time

Spring Summer

Flower Color

Not really showy light yellow color

Hardiness Zones

Zone 10-11; grown as a houseplant in all climates

Native Area

Tropical and subtropical regions of eastern Australia and areas of Asia

Toxicity/ Pet Friendly

Not pet safe, toxic to humans and pets
Shipping & Returns
All our plants ship exclusively with UPS to ensure they arrive timely and in good condition. We ship most of our plants Mondays & Tuesdays to most of the USA to ensure they arrive speedy to your location. If you order on a Tuesday after 12 PM ET it is possible that we would not ship it till the following Monday.
We monitior the weather in each destination location to maximize the shipping time and utilize thermal protection to ensure that the plant is protected. You can add a heatpack or thermal bag to your order if temperatures at night fall below 40 degrees.
You can visit our shipping policy to learn more.
I LOVE my Alocasia Black Velvet
First off I ordered this plant a little skeptical it would arrive with all its leaves just due to the size they are but I am so glad I ordered it! It came in packaged perfectly with no damage and perfectly healthy. Thank you so much! Never disappointed
I love my Black Velvet Alocasia
Alocasias are my absolute favorite plants to keep around the house. She lost a leaf shortly after I got her, but it took no time to grow back. She's been thriving and flourishing, drinking her distilled water...ONLY! lol
Amazing plant!
I love this plant! It's safely packaged with clear instructions!
Beautiful
I received this absolutely beautiful plant in which I have been wanting for a while so when I got this one in the mail, I was super excited. I received a healthy plant all I had to do with unpack it, and put it in my bathroom where it is absolutely gorgeous. You guys packing is amazing. I love everything about this company and will be ordering more plants very soon.
Beautiful
This was my first purchase from Verdant Lyfe but definitely will not be my last. The package arrived so quickly, the plants were in phenomenal condition. You can tell they really care about the plants they send out. I also appreciate how the plants aren't crazy overpriced, especially if you get them on sale! I'm already looking at plants for my next purchase 😉