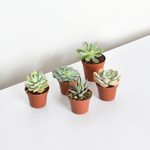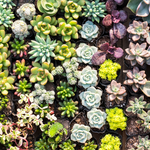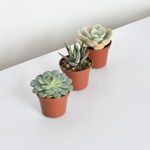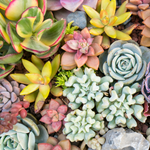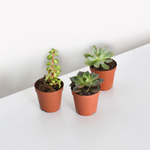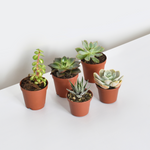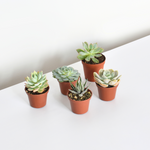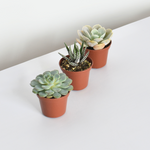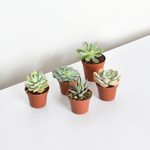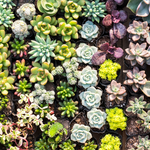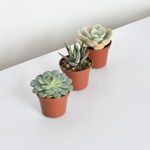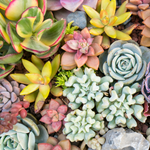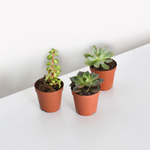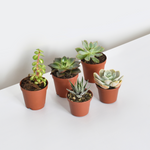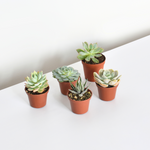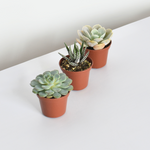 Grower's Choice Succulent Symphony Bundle
Regular price
Sale price
$24.00
Unit price
per
Sale
Sold out
Details
Behold the 'Succulent Symphony' – Mother Nature's greatest hits, now available in a dazzling trio or quintuple to grace your plant collection! 🌵🎶 Turn up the volume on your plant game with this harmonious bundle of three hand-picked succulents that are ready to rock your world. You will get either your choice of a 3-pack of 2" Nursery Succulents or a 5-pack of 2" Nursery Succulents. 
Picture this: a lineup of succulent superstars that could make even the most seasoned gardeners jealous. The headliner? A charismatic Echeveria Elvis, flaunting velvety leaves and a quiff that would make the King himself proud. Alongside, we have the mysterious Senecio Serenade, with trailing vines that dance like notes on a musical staff. And don't forget the evergreen Crassula Crescendo, known for its low-key coolness and resilience that rivals a rockstar's stamina.
Whether you're a green-thumb virtuoso or a novice plant groupie, our Succulent Symphony promises a show-stopping performance. Set them up as a trio that harmonizes like a botanical acapella or a quintuple band, or let each plant take a solo spotlight for a stunning solo act. Their stage? Any windowsill, shelf, or desk that craves a touch of natural glam.
But wait, there's an encore! These succulents are pros at the art of low-maintenance living, demanding nothing more than an occasional sip of water and a sunny spot to bask in the limelight. No diva demands, no backstage drama – just pure, unadulterated charm.
Tired of the same old plant routine? It's time to mix things up with our Succulent Symphony. Order now and let the green serenade begin! 🎤🌱
Looking for more plant goodies? Check out our accessories.
For added humidity, our Lyfe Rose Gold Signature Mister will make a perfect addition to your plant shelf for both function and beauty. We also recommend adding our Plant Shield & Shine to your order for routine maintenance and pest prevention. 
If you receive a plant you are not sure of please send us an email to hello@verdantlyfe.com with a picture of it and we would be happy to ensure you know what it is and how to care for it the best. We will generally choose to complement your other selections with something that needs similar conditions or include a note with your order regarding the available lighting and we will try to match plants that suit that light source. 
Shipping & Returns
All our plants ship exclusively with UPS to ensure they arrive timely and in good condition. We ship most of our plants Mondays & Tuesdays to most of the USA to ensure they arrive speedy to your location. If you order on a Tuesday after 12 PM ET it is possible that we would not ship it till the following Monday.
We monitior the weather in each destination location to maximize the shipping time and utilize thermal protection to ensure that the plant is protected. You can add a heatpack or thermal bag to your order if temperatures at night fall below 40 degrees.
You can visit our shipping policy to learn more.