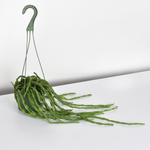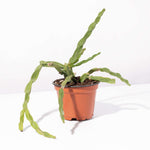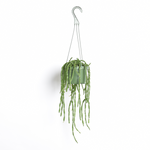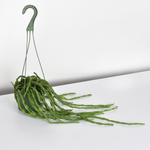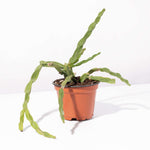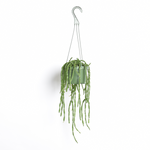 Rhipsalis Paradoxa Chain Succulent Mistletoe Cactus
Regular price
$29.00
Sale price
$24.00
Unit price
per
Sale
Sold out
Details
Introducing the Rhipsalis Paradoxa - Chain Succulent (Mistletoe Cactus)!
Discover the enchanting allure of the Rhipsalis Paradoxa, a unique and captivating addition to your plant collection. This extraordinary chain succulent, also known as the Mistletoe Cactus, is a botanical wonder that will transform any space into a lush oasis. Here's why the Rhipsalis Paradoxa deserves a special place in your home:
Distinctive Appearance: The Rhipsalis Paradoxa stands out with its unique, chain-like growth pattern. Delicate, cascading stems adorned with slender, elongated leaves create a mesmerizing and almost otherworldly aesthetic. It's a true conversation starter and a stunning addition to your indoor garden.
Low Maintenance: Whether you're a seasoned plant enthusiast or a beginner, the Rhipsalis Paradoxa is an ideal choice. This resilient succulent thrives on minimal care. Simply place it in indirect sunlight and water sparingly, allowing the soil to dry out between waterings. It's the perfect plant for those who value beauty without the fuss.
Versatile: Whether you're looking to adorn a hanging planter, create a unique centerpiece, or bring life to your office space, the Rhipsalis Paradoxa adapts effortlessly to various environments. Its ability to tolerate low light conditions makes it an excellent choice for rooms with limited natural sunlight.
Air-Purifying: Beyond its aesthetic appeal, this chain succulent also contributes to a healthier living space. Like many succulents, it helps improve indoor air quality by absorbing pollutants and releasing oxygen. Enjoy a breath of fresh air while adding a touch of natural beauty to your surroundings.
Collector's Item: Our Rhipsalis Paradoxa specimens are carefully curated to ensure you receive the best. Each plant is a testament to the beauty of nature's artistry, making it a must-have for plant collectors and enthusiasts.
Thoughtful Gift: Searching for a thoughtful and unique gift? The Rhipsalis Paradoxa is a symbol of tranquility and harmony, making it an ideal present for any occasion. Share the beauty of nature with friends and loved ones.
At Verdant Lyfe, we take pride in providing you with exceptional plants that are as unique as you are. Our Rhipsalis Paradoxa - Chain Succulent embodies elegance, ease of care, and the endless wonders of the plant world. Bring the beauty of the rainforest into your home today and experience the magic of the Rhipsalis Paradoxa for yourself. Don't miss out on this extraordinary addition to your botanical collection. Order yours now and let nature's artistry flourish in your space.
Mistletoe Cactus plants are a reminder that Christmas is a feeling we should have all year long. There are almost 1400 species, all of which are native to the Americas and the Caribbean except Mistletoe Cactus, which is also found throughout the tropics of Africa and into Sri Lanka where it is known in Sinhala as Nawahandi. One theory is that the seeds of this epiphytic cactus were distributed by migratory birds from America to these regions. Mistletoe cactus is a vining plant and is well suited for low lighting conditions in hanging planters. 
In its natural habitat, this plant clings to the crevices on trees and rocks in the rainforest hence, avoid placing it in direct sunlight. Space your watering session when the topsoil goes dry. Belonging to the tropics, they enjoy high humidity as opposed to the general requirements of a cactus plant.
Available in the following packaging based on your preference:
Nursery Pot - Standard plastic 4-inch planter pot that can be placed inside a larger pot or left as is until it outgrows it.
Amelia Planter - This plant comes packaged in a hanging white oval/round 4.5" porcelain planter pot ready for your home or office space with an s-hook for ease of use to hang on any wall or patio area. The bottom is flat if you want to display the plant on a shelf or table without hanging. Does have a hole for drainage.
For added humidity, our Lyfe Rose Gold Signature Mister will make a perfect addition to your plant shelf for both function and beauty. We also recommend adding our Plant Shield & Shine to your order for routine maintenance and pest prevention.  
Our plants are shipped from our indoor greenhouse in South Florida. Please note all our plants are one of a kind and if you want to message us we can send you a picture of the exact one you will receive. The product image here is intended to be the best representation of what you can expect to receive but yours may have slightly less or more growth depending on the crop we have when your order is placed. Any lifestyle pictures are meant to demonstrate how a fully grown or more mature plant looks for you to get a sense of it in your space.
About the Plant
Botanical Name

Rhipsalis paradoxa

Common Names

Mistletoe Cactus, Chain Cactus, Spaghetti Cactus

Plant Type

Succulent, Evergreen

Mature Size

3 ft long crowned with clusters of chain like joints; Can spread 0.5 to 1 foot

Sun Exposure

Partial to full shade

Soil Type

Fast draining mixes, however not a drought resistant plant, needs regular watering

Soil pH

Acidic

Bloom Time

All year round once mature enough.

Flower Color

Greenish white with tinged pink

Hardiness Zones

Zone 10-12 outdoors; may grow indoors in containers with enough light

Native Area

Central and South America, the Caribbean, Florida. It is also found throughout the tropics of Africa and Sri Lanka

Toxicity/ Pet Friendly

Non toxic and pet friendly
Shipping & Returns
All our plants ship exclusively with UPS to ensure they arrive timely and in good condition. We ship most of our plants Mondays & Tuesdays to most of the USA to ensure they arrive speedy to your location. If you order on a Tuesday after 12 PM ET it is possible that we would not ship it till the following Monday.
We monitior the weather in each destination location to maximize the shipping time and utilize thermal protection to ensure that the plant is protected. You can add a heatpack or thermal bag to your order if temperatures at night fall below 40 degrees.
You can visit our shipping policy to learn more.
Love how long an full it was
My rhipsalis is so cute in its hanging planter I had bought 2 expecting to need to fill it out but nope now I have one in my bed room an one in the living room they both already have started new chains it's so much fun to watch them grow. Thank you so much for these one of a kind plants
Love this one
So different and unusual. Came in perfect!
Nice product
Product was very nice as in picture. Would buy again