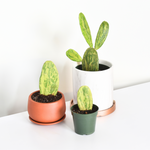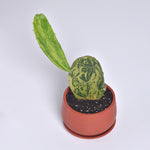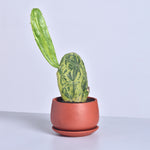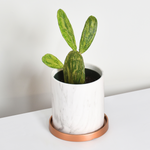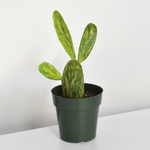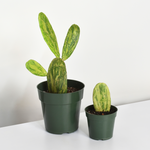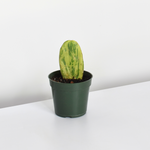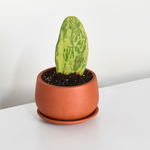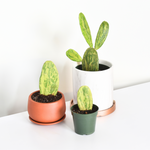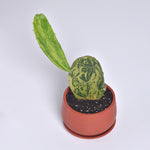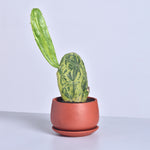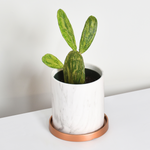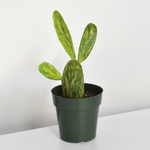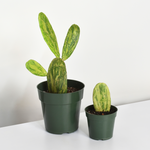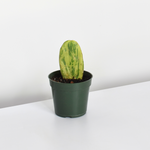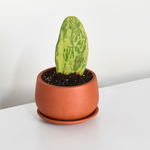 Variegated Opuntia Prickly Pear Cactus
Regular price
Sale price
$16.00
Unit price
per
Sale
Sold out
Details
Say hello to our Variegated Prickly Pear Cactus aka Opuntia 'Variegata.' Are you ready to take your home décor to the next level of chic sophistication? This Variegated Prickly Pear Cactus has officially been added as our prickly superstar! This trendy, yet almost not spiky diva is about to redefine the meaning of plant perfection.
Not your ordinary greenery, this cactus brings a splash of vibrant colors to the table – its luscious variegated pads that will make your guests green with envy! With a fashion-forward blend of emerald greens and creamy yellows, this cactus is the unrivaled style icon of the plant world.
Don't let those adorable tiny prickles fool you; our Variegated Opuntia knows how to make an entrance. Perfect for those who embrace the "go big or go home" attitude, this cactus demands attention and adds an irresistibly bold touch to any space. Place it on your windowsill, balcony, or even by your desk, and watch as heads turn and compliments pour in.
Oh, and let's talk about maintenance – or should we say lack thereof? This cactus is the ultimate low-maintenance companion. No need to worry about watering schedules or pampering – it thrives on neglect like a true diva. So sit back, relax, and enjoy the envious glances from your friends as they wonder how you effortlessly keep such a fabulous plant.
Not just a pretty face, the Variegated Opuntia Prickly Pear Cactus symbolizes resilience and adaptability. Just like a strong-willed fashionista, it can endure challenging conditions and come out shining even brighter. So, whether you're a seasoned plant parent or a green thumb beginner, this cactus has got your back – it's practically impossible to kill, unless you overwater. 
Embrace the spiky revolution and bring the Variegated Opuntia Prickly Pear Cactus home today. Dare to be different, dare to be bold, and let this sassy succulent guide you to a new era of plant parenthood. Remember, trends may come and go, but this cactus is here to stay – a timeless masterpiece in a prickly package!
This is a fast-growing plant, and please be cautious when cutting as the sap is toxic and can irritate the skin; it's not pet friendly only if ingested.  
Available in the following packaging based on your preference:
Nursery Pot - Standard plastic 4-inch or 6-inch planter pot that can be placed inside a larger pot or left as is until it outgrows it.
Valentina Terracotta Pot 6" - a beautiful molded terracotta pot that is porous and fire-glazed to allow plant roots to breathe; color works well with any decor and will develop a beautiful patina color over time. Includes matching dish underneath to catch water drainage and protect surfaces. 
Selene Planter - Porcelain 6-inch pot ceramic marble planter with drainage hole and matching rose gold ceramic tray. The planter measures: 7.5" x 6.5" x 6.5" and weighs approximately 3.7 lbs. We recommend placing your plant inside the nursery pot to make it easy to water and transplant.
Looking for more plant goodies? Check out our accessories.
For added humidity, our Lyfe Rose Gold Signature Mister will make a perfect addition to your plant shelf for both function and beauty. We also recommend adding our Plant Shield & Shine to your order for routine maintenance and pest prevention.  
Our plants are shipped from our indoor greenhouse in South Florida. Please note all our plants are one of a kind and if you want to message us we can send you a picture of the exact one you will receive. The product image here is intended to be the best representation of what you can expect to receive but yours may have slightly less or more growth depending on the crop we have when your order is placed. Any lifestyle pictures are meant to demonstrate how a fully grown or more mature plant looks for you to get a sense of it in your space.
About the Plant
Botanical Name

Opuntia 'Variegata'

Common Names

Variegated Prickly Pear Cactus, Variegated Rabbit Ears

Plant Type

Succulent, cactus, shrubby bushy

Mature Size

Can get very large almost a tree - 10ft long; Can spread 2 to 3 foot

Sun Exposure

Full Sun

Soil Type

Resiliant and drought tolerant

Soil pH

Any

Bloom Time

Seasonal bloomer once mature enough.

Flower Color

Pale yellow, produces fruit

Hardiness Zones

Zone 9-12 outdoors; may grow indoors in containers with enough light

Native Area

Americas
Shipping & Returns
All our plants ship exclusively with UPS to ensure they arrive timely and in good condition. We ship most of our plants Mondays & Tuesdays to most of the USA to ensure they arrive speedy to your location. If you order on a Tuesday after 12 PM ET it is possible that we would not ship it till the following Monday.
We monitior the weather in each destination location to maximize the shipping time and utilize thermal protection to ensure that the plant is protected. You can add a heatpack or thermal bag to your order if temperatures at night fall below 40 degrees.
You can visit our shipping policy to learn more.