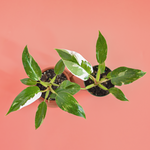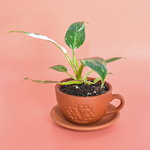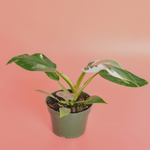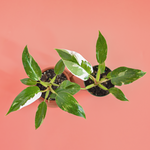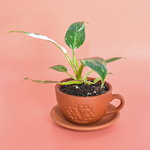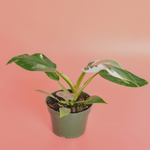 Philodendron 'White Princess'
$59.00
Regular price
Sale price
$39.00
Save: $20.00
Unit price
per
Sale
Sold out
Details
The Philodendron White Princess is a stunning and unique addition to any plant collection. This beautiful plant features dark green leaves with a striking white variegation pattern, creating a contrasting and eye-catching display. The leaves are large, glossy, and heart-shaped, giving the plant a lush, tropical appearance.
The Philodendron White Princess is a climbing plant that can reach up to 3 feet in height, making it an excellent choice for a hanging basket or a climbing trellis. It is a slow-growing plant, but its stunning appearance more than makes up for its leisurely pace. The plant thrives in bright, indirect light and requires regular watering to keep its soil evenly moist. However, it is essential to avoid over-watering, as this can lead to root rot.
This plant is not only visually stunning, but it is also easy to care for, making it a great choice for both experienced and novice gardeners alike. Its unique coloration and slow-growing nature make it a sought-after collector's item for plant enthusiasts. It is sure to be a conversation starter in any home or office. Whether displayed on a bookshelf, a windowsill or hanging from the ceiling, the Philodendron White Princess is a beautiful and low-maintenance addition to any space.
All you need to do is place it in a bright room, and you're good to go. If you live in a humid environment, the growth of the Philodendron erubescens 'White Princess' Plant accelerates, so make sure you have a larger pot ready for transplant! And maybe add a moss pole for down the road since they love to grow up a tree. 
*Most of our stock has some highly variegated leaves and stems, as you can see here; if you want a picture of yours, please message us, and we can send over a picture*
Available in the following packaging based on your preference:

Lyfe Teacup Planter (approx 6") - This plant comes packed in our monogrammed, glazed terracotta planter with a matching drip tray saucer.
Marie Terracotta Planter - Minimalistic oval-shaped 4.5" Terracotta planter with matching saucer for drainage. 
Looking for more plant goodies? Check out our accessories.
For added humidity, our Lyfe Rose Gold Signature Mister will make a perfect addition to your plant shelf for both function and beauty. We also recommend adding our Plant Shield & Shine to your order for routine maintenance and pest prevention.  
Our plants are shipped from our indoor greenhouse in South Florida. Please note all our plants are one of a kind and if you want to message us we can send you a picture of the exact one you will receive. The product image here is intended to be the best representation of what you can expect to receive but yours may have slightly less or more growth depending on the crop we have when your order is placed. Any lifestyle pictures are meant to demonstrate how a fully grown or more mature plant looks for you to get a sense of it in your space.
About the Plant
Botanical Name

Philodendron erubescens 'Pink Princess'

Common Names

That Princess Plant, Philodendron 'Pink Princess', PPP

Plant Type

Houseplant, Self Heading Hybrid

Mature Size

Up to 8ft with supports

Sun Exposure

Part sun, bright indirect works great

Soil Type

Loamy but fast draining, equal parts loam, sand, and peat works great

Soil pH

Slightly acidic

Bloom Time

Non blooming

Flower Color

Non flowering

Hardiness Zones

Zone 9-11; grown as a houseplant in all climates

Native Area

Central and South American rainforests

Toxicity/ Pet Friendly

Toxic and not pet friendly
Shipping & Returns
All our plants ship exclusively with UPS to ensure they arrive timely and in good condition. We ship most of our plants Mondays & Tuesdays to most of the USA to ensure they arrive speedy to your location. If you order on a Tuesday after 12 PM ET it is possible that we would not ship it till the following Monday.
We monitior the weather in each destination location to maximize the shipping time and utilize thermal protection to ensure that the plant is protected. You can add a heatpack or thermal bag to your order if temperatures at night fall below 40 degrees.
You can visit our shipping policy to learn more.
Absolutely gorgeous!!
I received my philodendron white princess and fell in love immediately. This plant has quickly become one of my favorites! He already pooped out a new leaf. Soooo in love!
Cute but time will tell
I got a low variegated one. Not that I had a choice. It seems healthy. I didn't re pot it though. Time will tell how it does. Satisfied for now.
Stunning White Princess!
I've been dying for a WPP for months and finally broke down and took the plunge. I placed the order on a Friday evening and it arrived the following Thursday. The plant is gorgeous! It was carefully packed and arrived in perfect condition - not even one tiny sign of wilt or unhappiness. I've had it for a little over 10 days now and there's already a new leaf! I couldn't be happier with this purchase.
This is my second order from Verdant Lyfe and I have been incredibly impressed both times. I will also add that the customer service is top notch. I had a question about a different plant in this same order and received a response in within a few hours.