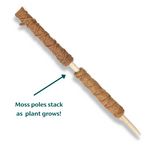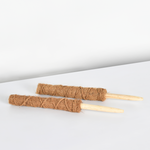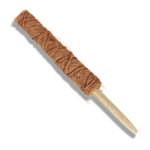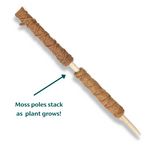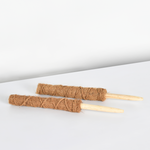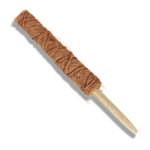 Stackable Coco Moss Pole
Regular price
Sale price
$16.00
Save:
Unit price
per
Sale
Sold out
Details
Introducing our Stackable Coco Pole – the ultimate natural support system for your climbing houseplants, each 18". Elevate your indoor jungle with this versatile and eco-friendly solution, designed to provide the ideal environment for your treasured Monstera or Philodendron to thrive. Here's why you'll absolutely love it:
🌿 Sustainable and Biodegradable: Crafted from renewable coconut husks, our Stackable Coco Pole is as Earth-friendly as it gets. Feel good about your plant support choice as you reduce your carbon footprint.
🌱 Boosts Leaf Growth: Watch in awe as your plants produce larger, lusher leaves. Our Coco Pole creates the perfect conditions for your green companions to reach their full potential.
💪 The Sturdiest Choice: Amongst The Moss Pole Family, our Stackable Coco Pole stands out as the sturdiest option. Say goodbye to sagging or unstable supports – this pole is designed to stand tall and strong.
🔗 Stackable Design: Need more vertical room for your plant to climb? No problem! The hollow design of our Stackable Coco Pole allows you to extend it without causing any disruption to your beloved plant.
🏡 Neutral Elegance: The neutral colors of our Stackable Coco Pole effortlessly blend with a variety of interior styles. Whether your home is modern, rustic, or eclectic, this pole will complement your decor seamlessly.
Elevate your plant parenting game with the Stackable Coco Pole and watch your climbing houseplants thrive like never before. 🌿🌟
Shipping & Returns
All our plants ship exclusively with UPS to ensure they arrive timely and in good condition. We ship most of our plants Mondays & Tuesdays to most of the USA to ensure they arrive speedy to your location. If you order on a Tuesday after 12 PM ET it is possible that we would not ship it till the following Monday.
We monitior the weather in each destination location to maximize the shipping time and utilize thermal protection to ensure that the plant is protected. You can add a heatpack or thermal bag to your order if temperatures at night fall below 40 degrees.
You can visit our shipping policy to learn more.