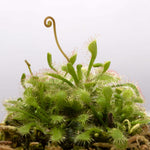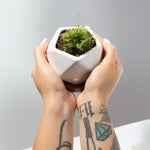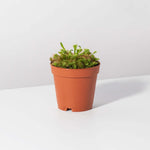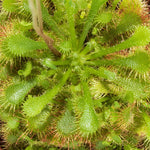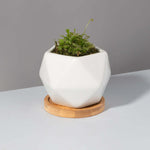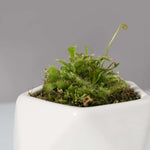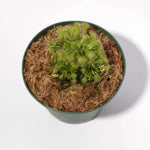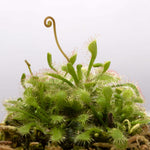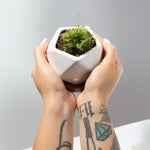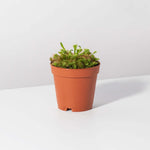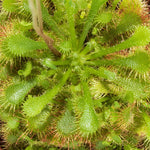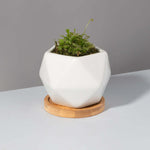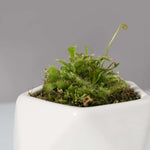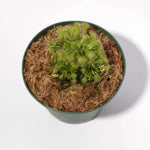 Pink Sundew Drosera capillaris Carnivorous Plant
$22.00
Regular price
Sale price
$19.00
Save: $3.00
Unit price
per
Sale
Sold out
Details
Our Pink Sundew plant, Latin name Drosera capillaris, is a favorite for a terrarium, carnivorous plant collection, or bog garden. These are "flypaper" plants that catch their prey by getting them stuck on the hairs that are on the leaves. Their leaves are like long tentacles that protrude from the center covered in fine sticky hairs. 

We find that these bog-loving plants do best when kept in a humid environment and only given distilled or rainwater. They love bright light. Also, be sure not to put them in regular soils as it is too nutritious for them and they get too many nutrients. When they are either in your home in a proper environment or outdoors there is no need to feed them on a regular schedule. They should catch some gnats or flies from the air naturally and it doesn't take much to keep them full and fed. 
Available in the following packaging based on your preference:
Nursery Pot - Standard plastic 2-inch planter pot that can be placed inside a larger pot or left as is until it outgrows it.
Wanda Planter - Elegant Hexagonal patterned ceramic planter pot (approximately 4") with bamboo base. The rocks featured at the top are available for purchase separately. 
If your plant needs added humidity our Plant Mister would make a perfect addition to your plant shelf for both function and beauty.
Looking for more plant goodies? Check out our accessories Here.
Our plants are shipped from our indoor greenhouse in South Florida. Please note all our plants are one of a kind and if you want to message us we can send you a picture of the exact one you will receive. The product image here is intended to be the best representation of what you can expect to receive but yours may have slightly less or more growth depending on the crop we have when your order is placed. Any lifestyle pictures are meant to demonstrate how a fully grown or more mature plant looks for you to get a sense of it in your space.
About the Plant
Botanical Name

Dorsera Capillaris

Common Names

Bog Sundew, Pink Sundew

Plant Type

Native annual or short-lived perennial carnivorous plant

Mature Size

Less than 1 ft

Sun Exposure

Can handle full sun to partial shade

Soil Type

Swamp like, poor drainage, kept moist - using moss helps retain moisure

Soil pH

Acidic loving

Bloom Time

Generally around May to June but also seen some go into September in Florida.

Flower Color

Pink

Hardiness Zones

coming soon

Native Area

Cape region, South Africa
Shipping & Returns
All our plants ship exclusively with UPS to ensure they arrive timely and in good condition. We ship most of our plants Mondays & Tuesdays to most of the USA to ensure they arrive speedy to your location. If you order on a Tuesday after 12 PM ET it is possible that we would not ship it till the following Monday.
We monitior the weather in each destination location to maximize the shipping time and utilize thermal protection to ensure that the plant is protected. You can add a heatpack or thermal bag to your order if temperatures at night fall below 40 degrees.
You can visit our shipping policy to learn more.
Healthy
Seems to be doing very well. Has a lot of tendrils I didn't think they were supposed to do that so soon but I guess that means he's a happy little cat. Pretty happy with it. 👍
Cute and Recovering
This sundew is so cute and small. It was shipped very carefully, but it's still recovering and trying to get its dew drops back. Looking forward to seeing some of the new leaves open up.
Wife loves her gift
Our 6yo knew just what my wife wanted for Christmas. VERDANTLYFE.COM Didn't disappoint. The Pink Sundew was in great condition. Shipping was prompt and packed fantastic. Perfect amount of care information. She decided it was potted well and decided not to re pot. Just placed in a vase with rocks to allow for humidity. The plant is still adjusting but quickly began preparations produce flowers. Our son helped her name our new plant. I'm really glad I found this site. She has two more carnivorous plants picked out that I'll be ordering as soon as I finish this review.