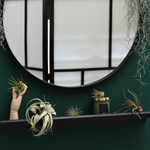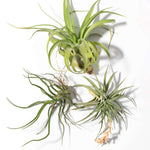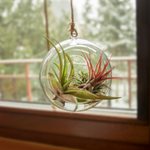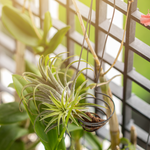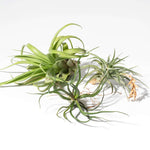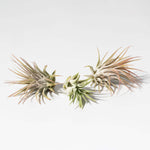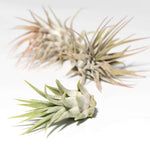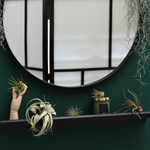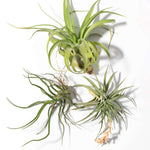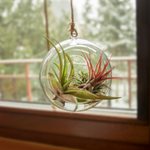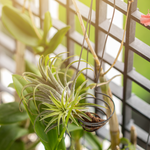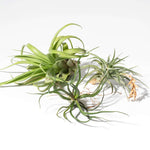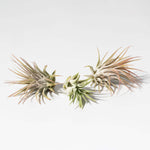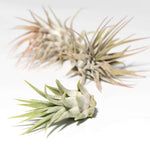 Tillandsia Grower's Choice Air Plant 3 Pack Bundle
Regular price
$25.00
Sale price
$19.00
Unit price
per
Sale
Sold out
Details
Looking to elevate your plant game without compromising your precious space? Enter the enchanting world of airplants, scientifically known as "Tillandsia," where botanical brilliance meets minimalism! These quirky little green wonders are the ultimate show-stoppers, and we're thrilled to introduce you to the magic they hold.
🌿 Less Space, More Grace: Your Compact Plant Oasis 🌿
Airplants are the epitome of style and substance, gracefully adorning any space with their ethereal presence. Perfect for seasoned plant collectors and green rookies, they weave an enchanting allure into your surroundings while demanding none of your valuable real estate.
🌿 Low-Maintenance Royalty: Reigning over the Green Realm 🌿
Worried about juggling a hectic schedule and a growing plant family? Fear not! These Tillandsia dynamos are the embodiment of low-maintenance royalty. Embrace the ease of care they offer as they gracefully bloom under the right light, bringing ever-changing colors to your world.
🌿 Your Versatile Plant Canvas: A Vision in Any Space 🌿
Need to fill up that bare corner or craving a mesmerizing terrarium spectacle? Look no further, our airplant bundle is here to ignite your creativity and bring life to every nook and cranny. Let your imagination run wild as you design living art with these botanical gems. We do sell 
🌿 Pet-Friendly Popularity: Perfect for Paws, Whiskers, and Scales 🌿
Calling all pet parents! Embrace these plant wonders without a hint of worry. Airplants have gained a loyal fan base among feline, canine, and reptile aficionados as they pose no threat to your furry and scaly companions. Now you can cultivate your green haven in harmony with your four-legged friends.
🌿 A Bundle of Air Delights: A Surprise Awaits 🌿
Step into the world of plant surprises! Our curated collection of three airplants will leave you delighted as you discover the unique beauties handpicked just for you. Though we can't promise an exact match, we're here to make your plant dreams come true. If you have a special request, leave a note at checkout, and we'll weave our botanical magic.
So, are you ready to welcome these whimsical botanical wonders into your home? Embrace the enchantment of airplants, and let them weave their green spells on your heart and space. Elevate your plant game to a whole new level with these mystical Tillandsia treasures! 🌱✨
This bundle will include 3 of any of the following Tillandsia:
Tillandsia aeranthos
Tillandsia argentea
Tillandsia brachycaulos
Tillandsia bulbosa belize
Tillandsia bulbosa guatemala
Tillandsia capitata 'Rubra'
Tillandsia capitata 'medusae'
Tillandsia capitata 'Slim'
Tillandsia curly slim
Tillandsia funckiana
Tillandsia ionantha 'Fuego'
Tillandsia ionantha 'Rubra'
Tillandsia juncea
All of these will have about 1" wide and 2"-6" tall. 
Please note this item is excluded from further discounts.
If you receive a plant you are not sure of, please send us an email to hello@verdantlyfe.com with a picture of it and we would be happy to ensure you know what it is and how to care for it the best. We will generally choose to complement your other selections with something that needs similar conditions.
Looking for more plant goodies? Check out our accessories.
For added humidity, our Lyfe Rose Gold Signature Mister will make a perfect addition to your plant shelf for both function and beauty. We also recommend adding our Plant Shield & Shine to your order for routine maintenance and pest prevention.  
Shipping & Returns
All our plants ship exclusively with UPS to ensure they arrive timely and in good condition. We ship most of our plants Mondays & Tuesdays to most of the USA to ensure they arrive speedy to your location. If you order on a Tuesday after 12 PM ET it is possible that we would not ship it till the following Monday.
We monitior the weather in each destination location to maximize the shipping time and utilize thermal protection to ensure that the plant is protected. You can add a heatpack or thermal bag to your order if temperatures at night fall below 40 degrees.
You can visit our shipping policy to learn more.
Plants are so pretty and arrived quickly! You can tell they were packaged with care! Thank you!
Tillandsia Grower's Choice Air Plant 3 Pack Bundle