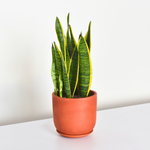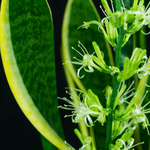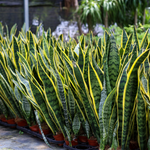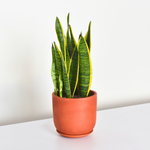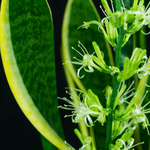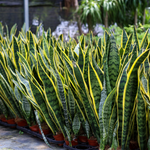 Variegated Yellow Edged Snake Plant Sansevieria trifasciata var. laurentii
Regular price
$22.00
Sale price
$18.00
Unit price
per
Sale
Sold out
Details
Hey there, green thumbs and trendsetters! Get ready to meet the ultimate A-lister in the plant kingdom – the Sansevieria Trifasciata Var. Laurentii. Don't be fooled by the tongue-twister name; this plant is about to become the superstar of your botanical collection!
Lights, Camera, Laurentii: A Crash Course in Green Glamour
🌱 Golden Elegance: Imagine a plant that not only grabs attention but practically demands it. The Sansevieria Trifasciata Var. Laurentii, with its striking golden-yellow edges, is the Marilyn Monroe of the plant world – glamorous, iconic, and impossible to ignore.
🌱 Easy-Breezy Charm: Tired of needy plants? Laurentii is the friend that totally gets you. This starlet thrives on neglect, soaking up sunshine and sips of water without batting an eyelash. It's like having your very own personal assistant that's too cool for fuss.
🌱 Talk of the Town: Looking to impress your friends, family, or maybe your judgmental cat? Laurentii is your go-to wingman. Its stunning appearance will have your guests wondering if you've secretly enrolled in plant styling school.
🌱 Low-Maintenance Royalty: Drama belongs in the movies, not in your living room. Laurentii's the epitome of zen – it purifies your air, looks fabulous doing it, and never asks for anything more than a sunny spot and the occasional drink.
🌱 Interior Design Diva: This isn't just a plant; it's a designer accessory. Whether your space is modern, boho, or Pinterest-worthy, Laurentii fits right in, effortlessly elevating your decor game.
Laurentii's Cheat Sheet:
Name: Sansevieria Trifasciata Var. Laurentii
Vibe: Golden, glamorous, and totally photogenic
Height: Up to 2-4 feet of sheer elegance
Sunlight: Thrives in bright, indirect light – think golden-hour glow
Watering: Drought-tolerant diva; water when it pleases you
Personality: Laid-back, low-maintenance, and oh-so-chic
Habitat: Indoor superstar, transforming spaces from basic to bombshell
Embrace the Glamour:
Ready to add a touch of Hollywood to your humble abode? The Sansevieria Trifasciata Var. Laurentii is here to make you the star of your own indoor jungle. Elevate your plant game, channel your inner diva, and order your very own Laurentii today. Get ready to shine in the spotlight – this is your moment to embrace the glam and the green! 🌟🌱
Available in the following packaging based on your preference:
Nursery Pot - Standard plastic 6 inch planter pot that can be placed inside a larger pot or left as is until it outgrows it.
Selene Planter - Porcelain 6-inch pot ceramic marble planter with drainage hole and matching rose gold ceramic tray. The planter measures: 7.5" x 6.5" x 6.5" and weighs approximately 3.7 lbs. We recommend placing your plant in the nursery pot inside it to make it easy to water and transplant.
Marie Terracotta Planter - Minimalistic oval-shaped 4.5" Terracotta planter with matching saucer for drainage. 
Looking for more plant goodies? Check out our accessories.
For added humidity, our Lyfe Rose Gold Signature Mister will make a perfect addition to your plant shelf for both function and beauty. We also recommend adding our Plant Shield & Shine to your order for routine maintenance and pest prevention.  
Our plants are shipped from our indoor greenhouse. in South Florida. Please note all our plants are one of a kind and if you want to message us we can send you a picture of the exact one you will receive. The product image here is intended to be the best representation of what you can expect to receive but yours may have slightly less or more growth depending on the crop we have when your order is placed. Any lifestyle pictures are meant to demonstrate how a fully grown or more mature plant looks for you to get a sense of it in your space.
About the Plant
Botanical Name

Sansevieria trifasciata var. laurentii

Common Names

Variegated Snake Plant, Sansevieria trifasciata 'Laurentii', Gold Edged Snake Plant, Mother-in-Law's Tongue 'Laurentii' Devil's Tongue, Bowstring Hemp, Bow String Hemp, Good luck Plant, African Spear, Goldband Sansevieria, Viper's Bowstring Hemp, Magic Sword, Laurentii Snake Plant, Yellow Snake Plant, Yellow Edge plant

Plant Type

Showy Evergreen

Mature Size

2-4 feet tall; Can spread 1 to 2 foot, however stays small indoors

Sun Exposure

Full Sun

Soil Type

Fast draining, dry loving, sandy well draining mixes

Soil pH

Alkaline to Neutral

Bloom Time

Rarely as a houseplant, but will get white flowers

Flower Color

White

Hardiness Zones

Zone 10-12 outdoors; may grow indoors in containers with enough light

Native Area

Tropical areas of West Africa

Toxicity/ Pet Safety

Toxic, not pet safe; Not safe for consumption
Shipping & Returns
All our plants ship exclusively with UPS to ensure they arrive timely and in good condition. We ship most of our plants Mondays & Tuesdays to most of the USA to ensure they arrive speedy to your location. If you order on a Tuesday after 12 PM ET it is possible that we would not ship it till the following Monday.
We monitior the weather in each destination location to maximize the shipping time and utilize thermal protection to ensure that the plant is protected. You can add a heatpack or thermal bag to your order if temperatures at night fall below 40 degrees.
You can visit our shipping policy to learn more.
Plant
I love ❤️ my plant I talk to it everyday
Arrived well packaged and very healthy! I can't wait till it grows larger, snake plants are so gorgeous :)
Satisfied
My plant arrives very healthy. I plan to buy many more in the future.
Wonderful !
Plant arrived very quickly and in gorgeous condition. So much bigger and luscious than I expected , so very very pleased !