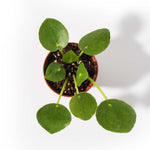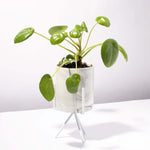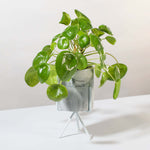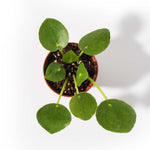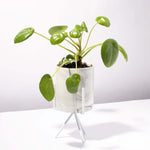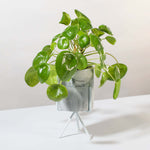 Chinese Money Plant Pilea Peperomioides Pet-Friendly Plant
Regular price
$22.00
Sale price
$18.00
Unit price
per
Sale
Sold out
Details
Call it UFO, pancake, or coin plant but these leaves just make you fall in love. Circular shaped leaves grow off the erect center stem on this super instagram-able plant. A plant collection isn't complete without it. Super easy to propagate and lots of "pups" pop up from it too. 

This uniquely shaped plant is considered to bring luck to you and your loved ones, so don't let the chance of owning one slip.
At first glance, the first thing that you will notice about the "chinese Money Plant" is its unique circular leaves. The Chinese believe that round objects bring luck, but aside from the symbolism-- this plant looks stunning!
The long stem perfectly complements the circular leaves, and anyone who would see this plant will instantly be impressed by how amazing it looks-- definitely making it one of the most Insta-Worthy plants in your home. 
In addition, the Chinese Money Plant is easy to propagate, bringing in more luck and more beautiful plants to fill your home.
Available in the following packaging based on your preference:
Nursery Pot - Standard plastic 2-inch planter pot that can be placed inside a larger pot or left as is until it outgrows it. 
Clive Planter - This plant comes packaged in a white square porcelain planter pot ready for your home or office space with a bamboo tray to catch drips when watered.
Amelia Planter - This plant comes packaged in a hanging white oval/round 4.5" porcelain planter pot ready for your home or office space with an s-hook for ease of use to hang on any wall or patio area. The bottom is flat if you want to display the plant on a shelf or table without hanging. Does have a hole for drainage.

 

Olympia Planter - The plant comes packaged in a grey-white marble style cylindrical porcelain planter raised on a white metal stand. Does have a hole for drainage.
Looking for more plant goodies? Check out our accessories.
For added humidity, our Lyfe Rose Gold Signature Mister will make a perfect addition to your plant shelf for both function and beauty. We also recommend adding our Plant Shield & Shine to your order for routine maintenance and pest prevention.  
Our plants are shipped from our indoor greenhouse in South Florida. Please note all our plants are one of a kind and if you want to message us we can send you a picture of the exact one you will receive. The product image here is intended to be the best representation of what you can expect to receive but yours may have slightly less or more growth depending on the crop we have when your order is placed. Any lifestyle pictures are meant to demonstrate how a fully grown or more mature plant looks for you to get a sense of it in your space.
About the Plant
Botanical Name

Pilea Peperomioides'

Common Names

Pancake plant, UFO plant, Chinese Money Plant, Pilea plant

Plant Type

Tropical Perennials

Mature Size

Can get tall up to 12 inches or just over but will spread out with pup plants

Sun Exposure

Medium sun, bright indirect works well

Soil Type

Requires constant moisture, don't allow to dry

Soil pH

Neutral to mildly acidic

Bloom Time

Mid Spring

Flower Color

White; pink

Hardiness Zones

Zone 8b-11; grown as a houseplant in all climates

Native Area

Rainforests of South and Central America

Toxicity / Pet Friendly

These plants have no known toxicity to humans or animals.
Shipping & Returns
All our plants ship exclusively with UPS to ensure they arrive timely and in good condition. We ship most of our plants Mondays & Tuesdays to most of the USA to ensure they arrive speedy to your location. If you order on a Tuesday after 12 PM ET it is possible that we would not ship it till the following Monday.
We monitior the weather in each destination location to maximize the shipping time and utilize thermal protection to ensure that the plant is protected. You can add a heatpack or thermal bag to your order if temperatures at night fall below 40 degrees.
You can visit our shipping policy to learn more.
Chinese Money Plant Pilea Peperomioides Pet-Friendly Plant
Enjoying!
My little plant is doing good! All three are still looking good. 🤞🏻 So fun!