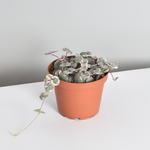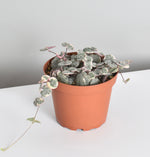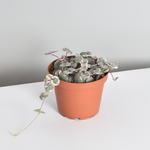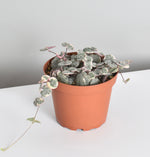 Variegated String of Hearts Trailing Pink Succulent Ceropegia Woodii Var.
Regular price
$22.00
Sale price
$18.00
Unit price
per
Sale
Sold out
Details
The plant that pulls at your heartstrings. This Variegated String of Hearts is a multicolor flurry of our favorites, featuring white and pink edges on the stunning heart-shaped leaves. Simply Stunning for every collection of trailing beauties. 
It might not be obvious, but the "String of Hearts" plant is actually a manageable succulent plant. It looks like a string of hearts, bringing love and joy to your home. In addition to being one of the most stunning plants you will ever encounter, these plants are pet-friendly, too! 
Each leaf is heart-shaped with stunning patterns unlike any other-- spreading love throughout your garden or home. They are very tolerant in dry soil, so make sure you don't overwater them to ensure they are healthy for quick trailing.
* Important Note on Watering: Bottom Watering is preferred. Leave /soak the plant in water for 30 minutes, then remove it when you see that the water has gotten through the soil. Never topwater. Let it dry completely before the next watering.

Available in the following packaging based on your preference:
Nursery Pot - Standard plastic 2-inch or 4-inch planter pot that can be placed inside a larger pot or left as is until it outgrows it. Every 2-inch pot will come with at least one tuber-rooted growth. 
Olympia Planter - The plant comes packaged in our elegant grey-white marbled style cylindrical porcelain planter raised on a white metal stand. This planter does come with a hole for drainage.
Amelia Hanging Porcelain Planter - Roughly a 4-inch round pot with a drainage hole. Comes with an S hook for easy hanging. 
Looking for more plant goodies? Check out our accessories.
For added humidity, our Lyfe Rose Gold Signature Mister will make a perfect addition to your plant shelf for both function and beauty. We also recommend adding our Plant Shield & Shine to your order for routine maintenance and pest prevention.
Our plants are shipped from our indoor greenhouse in South Florida. Please note all our plants are one of a kind and if you want to message us we can send you a picture of the exact one you will receive. The product image here is intended to be the best representation of what you can expect to receive but yours may have slightly less or more growth depending on the crop we have when your order is placed. Any lifestyle pictures are meant to demonstrate how a fully grown or more mature plant looks for you to get a sense of it in your space.
About the Plant
Botanical Name

Ceropegia woodii variegata

Common Names

String of hearts valentines, valentine's plant, rosary vine, Chinese lantern, Pink Chain of hearts

Plant Type

Succulent, viney and evergreen

Mature Size

2-5 cm tall and 2-4m wide spread

Sun Exposure

Partial Sun

Soil Type

Well draining, succulent soil, fertile

Soil pH

Neutral to acidic

Bloom Time

Summer, Fall.

Flower Color

White to a pale purplish-red

Hardiness Zones

9-12; may grow indoors in containers with enough light

Native Area

Southern end of Africa
Shipping & Returns
All our plants ship exclusively with UPS to ensure they arrive timely and in good condition. We ship most of our plants Mondays & Tuesdays to most of the USA to ensure they arrive speedy to your location. If you order on a Tuesday after 12 PM ET it is possible that we would not ship it till the following Monday.
We monitior the weather in each destination location to maximize the shipping time and utilize thermal protection to ensure that the plant is protected. You can add a heatpack or thermal bag to your order if temperatures at night fall below 40 degrees.
You can visit our shipping policy to learn more.
One of my favorites
I love this plant but unfortunately it was half dead when I got it. There is only one strand left. Not sure what to do.
If having a crush on a plant were a thing…
…this would be the plant. It's so cute and simple. It's grown A TON even in the short time I've had it. I also love that it doesn't really look like a succulent but still has that "alien planet" aesthetic succulents have. It's definitely a favorite for its ease of care and the payoff of its beauty.
My string of hearts
Sweet plant starting to grow
Replacement plants came beautifully!
Thanks for sending replacements! They are beautiful.