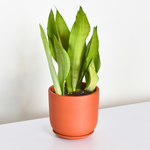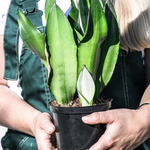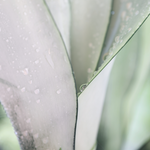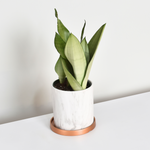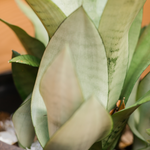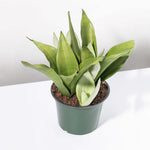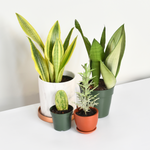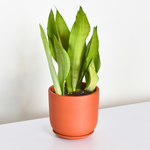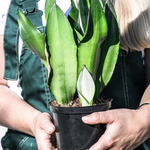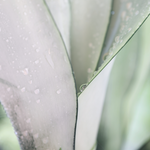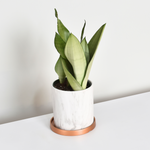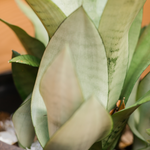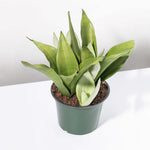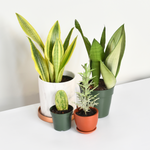 Silver Moonshine Snake Plant Sansevieria Trifasciata
Regular price
$0.00
Sale price
$32.00
Unit price
per
Sale
Sold out
Details
The Silver Moonshine Snake plant is a great place to start if you are just beginning your houseplant journey. It is a fast-growing succulent plant that can be a statement plant or add character to a boring corner of your indoor space and, most importantly, will take care of itself. This is an upright snake plant with stubby green leaves with a silvery sheen that earns the plant its name - Sansevieria Moonshine Snake Plant.

The Silver Moonshine Snake Plant boasts a distinctive appearance, with its elongated, sword-like leaves gracefully tapering to a point. The silver-green coloration of its leaves adds a modern and chic flair to any room, effortlessly blending with various decor styles. Whether you place it on a windowsill, desk, or shelf, this plant will catch the eye and become a conversation starter.
One of the most significant advantages of the Silver Moonshine Snake Plant is its ability to purify the air. As an excellent natural air purifier, it efficiently filters out toxins and pollutants, promoting a healthier and fresher indoor environment. With this plant by your side, you can breathe easier, knowing that it's working diligently to improve the air quality of your home or office.
Caring for the Silver Moonshine Snake Plant is a breeze, making it an ideal choice for busy individuals. This hardy species thrives in a wide range of light conditions, from bright indirect light to low-light areas, making it adaptable to various indoor settings. Additionally, its water requirements are minimal, as it can withstand periods of drought, reducing the risk of overwatering and root rot.
Ideal for beginners, this low-maintenance plant requires only occasional watering and can tolerate some neglect. It is also resistant to pests and diseases, allowing you to enjoy its beauty without constant worry. As an added bonus, the Silver Moonshine Snake Plant is known to release oxygen at night, making it an excellent bedroom companion for promoting better sleep quality.
Whether you're seeking to revitalize your living space with a touch of natural elegance or looking for a gift for a loved one, the Silver Moonshine Snake Plant is a timeless choice that never goes out of style. Invest in this captivating indoor plant and experience the joy of nurturing a beautiful, enduring piece of nature in the comfort of your own home. Order your Silver Moonshine Snake Plant now and bask in the beauty and benefits it brings to your life.
Available in the following packaging based on your preference:
Nursery Pot - Standard plastic 6-inch planter pot that can be placed inside a larger pot or left as is until it outgrows it. Remember, snake plants love to be crowded in their pots. 
Selene Planter - Porcelain 6-inch pot ceramic marble planter with drainage hole and matching rose gold ceramic tray. The planter measures: 7.5" x 6.5" x 6.5" and weighs approximately 3.7 lbs. We recommend placing your plant inside the nursery pot to make it easy to water and transplant.
Whitney Terracotta - a beautiful molded terracotta pot that is porous and fire-glazed to allow plant roots to breathe; color works well with any decor and will develop a beautiful patina color over time. Includes matching dish underneath to catch water drainage and protect surfaces.

 
Looking for more plant goodies? Check out our accessories.
For added humidity, our Lyfe Rose Gold Signature Mister will make a perfect addition to your plant shelf for both function and beauty. We also recommend adding our Plant Shield & Shine to your order for routine maintenance and pest prevention.  
Our plants are shipped from our indoor greenhouse. in South Florida. Please note all our plants are one of a kind and if you want to message us we can send you a picture of the exact one you will receive. The product image here is intended to be the best representation of what you can expect to receive but yours may have slightly less or more growth depending on the crop we have when your order is placed. Any lifestyle pictures are meant to demonstrate how a fully grown or more mature plant looks for you to get a sense of it in your space.
About the Plant
Botanical Name

Dracaena trifasciata Moonshine

Common Names

Sansevieria trifasciata 'Moonshine', 'Mother-in-law's tongue', 'Bowstring Hemp', 'Saint George's sword, Moonlight Sansevieria, Silver Moonshine. Moonshine snake plant

Plant Type

Succulent, Evergreen

Mature Size

Grows upto 1-2 feet tall

Sun Exposure

Bright indirect sunlight

Soil Type

Fast draining, dry loving, sandy well draining mixes

Soil pH

Slightly acidic to slightly alkaline

Bloom Time

Rare and infrequent

Flower Color

White

Hardiness Zones

Zone 10-12 outdoors; may grow indoors in containers with enough light

Native Area

Tropical areas of West Africa

Toxicity/ Pet Safety

Toxic, not pet safe; Not safe for consumption
Shipping & Returns
All our plants ship exclusively with UPS to ensure they arrive timely and in good condition. We ship most of our plants Mondays & Tuesdays to most of the USA to ensure they arrive speedy to your location. If you order on a Tuesday after 12 PM ET it is possible that we would not ship it till the following Monday.
We monitior the weather in each destination location to maximize the shipping time and utilize thermal protection to ensure that the plant is protected. You can add a heatpack or thermal bag to your order if temperatures at night fall below 40 degrees.
You can visit our shipping policy to learn more.
Snake plant
This snake plant is not only beautiful but it is used for oxygen. I have this in my bedroom where it functions well and looks beautiful. I bave purchased so many plants from you that I now can call myself a plant lady. My Lanai is beautiful it looks like an oasis with the pool and the decorated plants. Thank you for the suggestions and you perfect plants. Love you. By the way they are always delivered in perfect condition
Dolores Blaine
Beautiful addition to my snake plant collection!
Love how the leaves of this pale green snake plant contrast with my other, darker-leaved plants🪴
Snake plants are hands down the easiest plants to care for (or forget to care for 😳) and I love how they add color and life to my home.
I've purchased several plants online and I can say confidently that no other retailer packaged my plant babies with as much care as did the ladies at Verdant Lyfe. They were even generous enough to include a lovely plant journal and pen set with my order—such nice touch on top of already excellent customer care! Thank you and I look forward to giving you my business again very soon! 😍
Not as silver
Not as much silver, maybe it will it get more silver as it grows!
Beautiful plant
Plant arrived in great condition, shipping was fast and the plants were packed well. I wish it was a little more full, but it is still a very healthy and lovely plant.