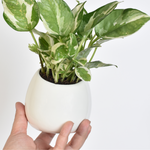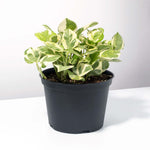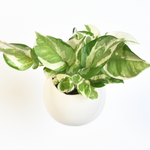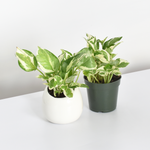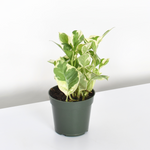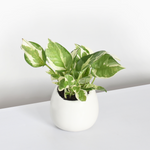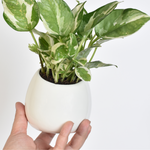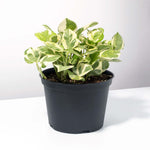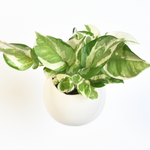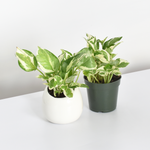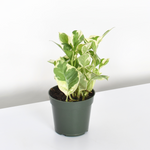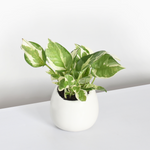 Pearls and Jade Pothos
$0.00
Regular price
Sale price
$22.00
Save:
Unit price
per
Sale
Sold out
Details
Introducing the Pearls and Jade Pothos: an exquisite houseplant that effortlessly infuses sophistication into any environment! With its captivating variegated leaves, this botanical gem is a must-have for passionate plant enthusiasts.
Meet the Pearls and Jade Pothos (Epipremnum Aureum 'Pearls and Jade'): This splendid member of the Araceae family showcases heart-shaped leaves adorned with a mesmerizing marbled pattern, featuring shades of green, cream, and white. This distinctive variegation imparts an aura of elegance and refinement that effortlessly complements any interior décor.
Easy-Care Elegance: Not only is the Pearls and Jade Pothos a visual marvel, but it's also a breeze to care for. Thriving in various lighting conditions, from low to bright indirect light, it is a low-maintenance delight that forgives occasional lapses in attention. Perfect for plant care beginners or those with bustling schedules.
Versatile Beauty: The Pearls and Jade Pothos boasts versatility in placement. It can be gracefully suspended from a hanging basket, trained to climb a trellis, or displayed in a pot on a shelf or desk. Its trailing nature adds height and dimension to any room, elevating your indoor greenery game.
Breathe Easy with Natural Purification: Beyond its aesthetic appeal, this plant is renowned for its air-purifying prowess. As a natural air cleanser, it actively removes toxins from the air, enhancing overall air quality, making it an ideal choice for homes and offices alike.
An Unmissable Addition: The Pearls and Jade Pothos seamlessly combines beauty and practicality, making it a must-have for plant enthusiasts. Whether you seek effortless care, striking visuals, or air purification benefits, this plant delivers it all. Don't let this opportunity slip by—add this botanical masterpiece to your collection today!
Choose Your Preferred Packaging:
Nursery Pot: Standard 4-inch and 6-inch plastic planter pot for flexibility in placement.
Amelia Planter: Elegant Modern round-shaped ceramic planter, roughly a 4-inch round pot with a drainage hole. Comes with an S hook for easy hanging. 
Selene Planter: Elegant 6-inch porcelain ceramic marble planter with drainage hole and matching rose gold ceramic tray.
Nursery Hanging Planter: A stunning 8-inch hanging planter for a dramatic display.
Enhance Your Plant Experience: Explore our range of plant accessories, including the Lyfe Rose Gold Signature Mister for added humidity and our Plant Shield & Shine for routine maintenance and pest prevention.
Your Unique Piece from Our Greenhouse: Our plants are sourced from our indoor greenhouse in South Florida. Please note that each plant is one-of-a-kind, and we can share a picture of the exact one you'll receive upon request. The product image here offers a representative example, but your plant's growth may vary slightly based on the crop when your order is placed. Lifestyle pictures demonstrate how a mature plant looks in your space, offering inspiration for your botanical sanctuary.
Looking for more plant goodies? Check out our accessories.
For added humidity, our Lyfe Rose Gold Signature Mister will make a perfect addition to your plant shelf for both function and beauty. We also recommend adding our Plant Shield & Shine to your order for routine maintenance and pest prevention.  
Our plants are shipped from our indoor greenhouse in South Florida. Please note all our plants are one of a kind and if you want to message us we can send you a picture of the exact one you will receive. The product image here is intended to be the best representation of what you can expect to receive but yours may have slightly less or more growth depending on the crop we have when your order is placed. Any lifestyle pictures are meant to demonstrate how a fully grown or more mature plant looks for you to get a sense of it in your space.
About the Plant
Botanical Name

Pothos 'Pearl N Jade'

Common Names

Pearl and Jade Pothos, Pearl N Jade Pothos , devil's ivy, devils vine

Plant Type

Vine

Mature Size

Can get up to 20-40ft long in wild and 3-6ft wide.

Sun Exposure

Full sun to partial shade

Soil Type

Moist but well draining, can tolerate dry spells

Soil pH

Neutral to Acidic

Bloom Time

None/NA

Flower Color

None/NA

Hardiness Zones

Zone 10-12 USDA; grown as a houseplant in all climates

Native Area

South Pacific, Solomon Islands

Toxicity/ Pet Friendly

Not pet safe, toxic to humans and pets
Shipping & Returns
All our plants ship exclusively with UPS to ensure they arrive timely and in good condition. We ship most of our plants Mondays & Tuesdays to most of the USA to ensure they arrive speedy to your location. If you order on a Tuesday after 12 PM ET it is possible that we would not ship it till the following Monday.
We monitior the weather in each destination location to maximize the shipping time and utilize thermal protection to ensure that the plant is protected. You can add a heatpack or thermal bag to your order if temperatures at night fall below 40 degrees.
You can visit our shipping policy to learn more.
Beautiful plant!
I'm obsessed with this little guy. It is the perfect size where I don't feel overwhelmed by it and it's easy to take care of! Also just plain gorgeous. It was shipped securely and got to me quickly. Def recommend trying one for yourself!
Beautiful healthy plant
This plant was in great condition and has been growing beautifully. Would definitely recommend.
Thumbs up
It arrived packed wonderfully and is a beautiful plant!
Gorgeous!
We love receiving plants from Verdant Lyfe. Everything comes packaged beautifully and safely. I let my pothos breathe it's new air on a windowsill for a few days before repotting it and moving it to its permanent home in my bathroom. It already has new growth, and the colors are gorgeous.