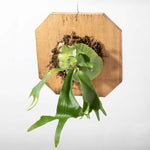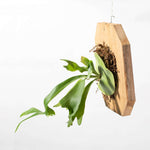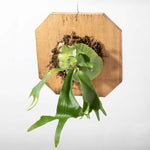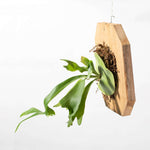 Mounted Staghorn Fern Platycerium alcicorne rare variety
Regular price
Sale price
$125.00
Unit price
per
Sale
Sold out
Details
One of the most gorgeous and satisfying plants to watch grow. The Staghorn Fern (sometimes called Elkhorn fern but those have thinner fronds) This is the Platycerium Alcicorne and has a more compact growth habit than the commonly known P. Bifrucatum. These plants are species of epiphytic ferns that grow in humid or tropical environments. These ferns make for an amazing ornamental adornment for any wall outside or inside (but cannot tolerate temps below 45 degrees well). They do very well in a bathroom due to the higher humidity so long as there is a good light source.
These are well-established Alcicorne Staghorn that will arrive to you mounted and already developed with some basal fronds (the circular leaves that form at the base of the stag horn that start out green but may turn brown over time). The Staghorn is mounted on wood that has been cut to be an oblong octagon and attached with Sphagnum moss and fishing wire and nails to create a vertical hanging environment that the stag horns love and thrive in. Each one of these is slightly different due to its hand-finished nature and will work well in any room with regular misting (out of direct airflow). 
During cold temperatures please cover or bring indoors as it is sensitive to freezing temperatures. 
Each piece of wood and Staghorn varies in size but approximately 8-10 inch size octagon wood and some fronds are up to 12 inch long. If you need exact sizing after placing your order we can message you what we have available for you to select the best fit. 
If your plant needs added humidity our Plant Mister would make a perfect addition to your plant shelf for both function and beauty.
Looking for more plant goodies? Check out our accessories Here.
Our plants are shipped from our indoor greenhouse in South Florida. Please note all our plants are one of a kind and if you want to message us we can send you a picture of the exact one you will receive. The product image here is intended to be the best representation of what you can expect to receive but yours may have slightly less or more growth depending on the crop we have when your order is placed. Any lifestyle pictures are meant to demonstrate how a fully grown or more mature plant looks for you to get a sense of it in your space.
About the Plant
Botanical Name

Platycerium bifurcatum

Common Names

Staghorn, staghorn fern, ball fern, elkhorn fern, deer horn fern, antler fern

Plant Type

Epiphytic ferns

Mature Size

Giant! Can get up to 3 foot wide

Sun Exposure

Indirect - direct light can scorch leaves

Soil Type

Hanging plant that does well initially on a bark or hook sideways for growth

Soil pH

Does not require soil to grow, does well hung up with humidity

Bloom Time

N/A

Flower Color

Fern - Non-flowering, basal and foliar fronds

Hardiness Zones

Zone 9-11; grown as in a greenhouse or houseplant in humid or warmer settings

Native Area

Tropical rainforests of Java
Shipping & Returns
All our plants ship exclusively with UPS to ensure they arrive timely and in good condition. We ship most of our plants Mondays & Tuesdays to most of the USA to ensure they arrive speedy to your location. If you order on a Tuesday after 12 PM ET it is possible that we would not ship it till the following Monday.
We monitior the weather in each destination location to maximize the shipping time and utilize thermal protection to ensure that the plant is protected. You can add a heatpack or thermal bag to your order if temperatures at night fall below 40 degrees.
You can visit our shipping policy to learn more.
The plant, staghorn fern, was a very nice specimen.
Beautiful
I have never received a plant 🪴 so well packaged. It is beautiful and very large and healthy.
Like a piece of art!
What a beautiful staghorn fern from Verdant Lyfe! I simply love it. The size is great and adds a perfect touch of tropical greenery to our home. I may get more than one for an even bigger statement. (It also arrived perfectly packaged and was beautiful right out of the box.)