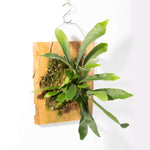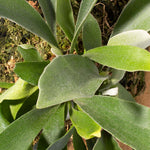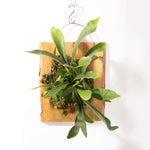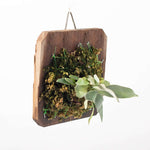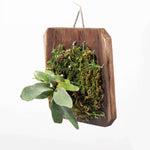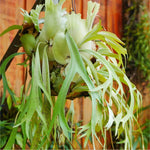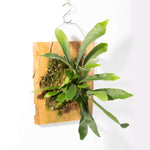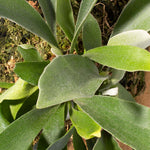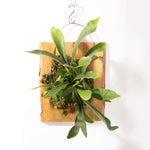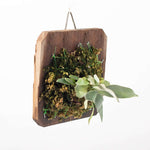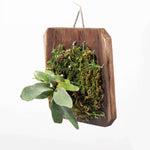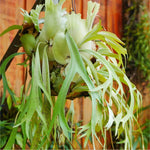 Mounted Staghorn Fern
$99.00
Regular price
Sale price
$89.00
Save: $10.00
Unit price
per
Sale
Sold out
Details
Introducing the Staghorn Fern: The Wall-Mounted Wonder!
Are you tired of the same old, ho-hum houseplants that sit there, taking up space and looking pretty? Well, say hello to the Staghorn Fern, the botanical superhero of your dreams! This platycerium bifurcatum isn't your average greenery – a true wall-mounted wonder here to save the day (and your decor)!
Why should you make room for the Staghorn Fern in your life? Let us count the ways:
It's the Crown Jewel: This fern's distinctive, antler-like fronds aren't just for show – they're the crown jewel of your plant collection. Hang it up proudly, and watch your friends' jaws drop in awe.

Low-Maintenance Royalty: Don't let its regal appearance fool you – the Staghorn Fern is a low-maintenance monarch. It's practically the king of self-sufficiency, requiring minimal care and attention.

Conversation Starter Extraordinaire: Forget dull chit-chat about the weather. When you have a Staghorn Fern in your home, you'll be regaling guests with tales of its unique growth patterns and exotic origins. It's the icebreaker your parties have been missing.

Vertical Greenery, FTW: Running out of space? No problem! This fern's wall-mountable design means you can turn your boring walls into living, breathing masterpieces. It's interior decorating, reinvented.

Eco-Friendly Elegance: By adding a Staghorn Fern to your collection, you're beautifying your space and making an eco-conscious choice. These ferns are champions of air purification, helping you breathe easier.

Tropical Vibes, No Passport Required: Craving the allure of the tropics but stuck at home? The Staghorn Fern will transport you to a lush rainforest paradise without the hassle of packing your bags. It's a staycation essential!
So, if you're ready to elevate your plant game and transform your space into a botanical wonderland, make room for the Staghorn Fern – the ultimate greenery with a twist. Get ready to go wild with this wall-mounted wonder, and let your decor reach new heights of sophistication and style!
This one is a slightly older Staghorn that is mounted and already developed with some basal fronds (the circular leaves that form at the base of the staghorn that start out green but may turn brown over time). The Staghorn is mounted on a raw edge piece of wood and attached with Sphagnum moss fishing wire and nails to create a vertical hanging environment where the staghorns love and thrive. Each of these is slightly different due to its hand-finished nature and will work well in any room with regular misting. You could hang on your wall for a year or two before requiring a larger space, as these can get rather large over time.
Please cover or bring it indoors during cold temperatures as it is sensitive to freezing temperatures. 
Each piece of wood and Staghorn varies in size but is approximately 8-12 inch in rectangular wood, and some fronds are up to 12 inches long. If you need exact sizing after placing your order, we can message you what we have available for you to select the best fit. 
Staghorn's are used to tropical climates where they receive regular rainwater and humidity. Please ensure water gets thoroughly through the sphagnum moss (if mounted) or around the coconut (if grown inside one) or in the soil at least once a week - drier climates need more. Using spring or rainwater is preferred.
As an epiphytic plant (one that grows on something, like a rock or tree bark), they get nutrients from the air and decomposition of natural material around them. We need to supplement their feeding during the Spring and Summer months, An even liquid fertilizer is preferred, such as a 10:10:10. We also have a slow-release fertilizer basket available that makes adding nutrients easy. Many people like to feed their staghorn with banana peels under the shield leaves as an easy, natural and organic feeding solution.
Looking for more plant goodies? Check out our accessories.
For added humidity, our Lyfe Rose Gold Signature Mister will make a perfect addition to your plant shelf for both function and beauty. We also recommend adding our Plant Shield & Shine to your order for routine maintenance and pest prevention.  
Our plants are shipped from our indoor greenhouse in South Florida. Please note all our plants are one of a kind and if you want to message us we can send you a picture of the exact one you will receive. The product image here is intended to be the best representation of what you can expect to receive but yours may have slightly less or more growth depending on the crop we have when your order is placed. Any lifestyle pictures are meant to demonstrate how a fully grown or more mature plant looks for you to get a sense of it in your space.
About the Plant
Botanical Name

Platycerium bifurcatum

Common Names

Staghorn, staghorn fern, ball fern, elkhorn fern, deer horn fern, antler fern

Plant Type

Epiphytic ferns

Mature Size

Giant! Can get up to 3 foot wide

Sun Exposure

Indirect - direct light can scorch leaves

Soil Type

Hanging plant that does well initially on a bark or hook sideways for growth

Soil pH

Does not require soil to grow, does well hung up with humidity

Bloom Time

N/A

Flower Color

Fern - Non-flowering, basal and foliar fronds

Hardiness Zones

Zone 9-11; grown as in a greenhouse or houseplant in humid or warmer settings

Native Area

Tropical rainforests of Java
Shipping & Returns
All our plants ship exclusively with UPS to ensure they arrive timely and in good condition. We ship most of our plants Mondays & Tuesdays to most of the USA to ensure they arrive speedy to your location. If you order on a Tuesday after 12 PM ET it is possible that we would not ship it till the following Monday.
We monitior the weather in each destination location to maximize the shipping time and utilize thermal protection to ensure that the plant is protected. You can add a heatpack or thermal bag to your order if temperatures at night fall below 40 degrees.
You can visit our shipping policy to learn more.
Better than expected!
We bought a Mounted Staghorn Fern on Cypress Wood for your son-in-law's birthday. I was having a hard time finding one that was a good size and beautifully presented.....until a found a GORGEOUS one at Verdant Lyfe! They promised me that it would be beautiful, but it turned out to be even better than expected! It arrived very carefully packed, and as soon as he took it out of the box it began to flourish! Thank you for keeping your promise, Verdant Lyfe! I've attached a picture of our very happy and surprised son-in-law with his new "friend"!
Mounted Staghorn Fern Platycerium bifurcatum on Cypress Wood (Elkhorn)
Focal point of my office!!
I absolutely am in awe of this plant!! It hangs directly across from my desk and I find myself mesmerized throughout the day staring at it.
It is so exciting to see how much it has grown!! I LOVE IT!!!
Top Notch
Top Notch is the best way to describe the whole experience. I received a picture of the exact plant I would receive before I purchased. It was expertly packaged and the customer service was outstanding. You can tell this company truly cares and treats the customers as I wish every company would. The quality of the plant was also fantastic. Arrived still damp and healthy. I will be using Verdant Lyfe for all my future plant needs. Thank you so much! Truly beyond thrilled.
Excellent condition
Plant arrived in great condition - it was clear a lot of care and work went into preparing the shipment so it arrived undamaged.