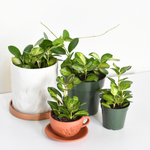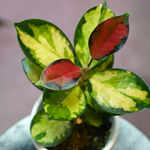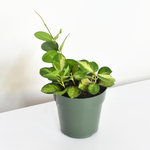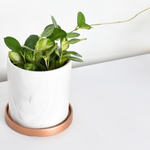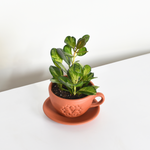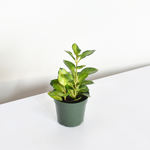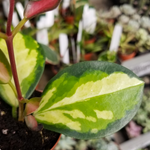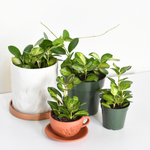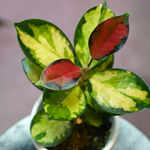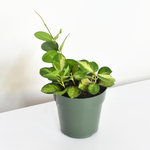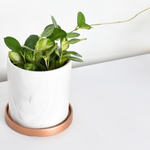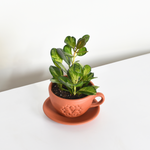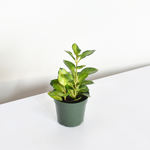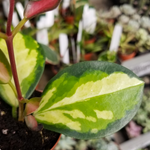 Hoya australis 'Lisa' Wax Plant
Regular price
Sale price
$24.00
Save:
Unit price
per
Sale
Sold out
Details
Elevate your indoor space with the mesmerizing beauty of the Hoya Australis 'Lisa.' This variegated houseplant is a true masterpiece of nature, adorned with stunning colors that include dark green, lime green, creamy yellow, ruby red, and soft peach. But its appeal goes far beyond its striking appearance; it's also remarkably easy to care for. In the right conditions, this vining wonder can produce fragrant clusters of white 'flowers,' adding a touch of natural, watercolor-like elegance to your surroundings.
Scientific Name: Hoya Australis ssp. tenuipes 'Lisa'
Common Names: Hoya Lisa, Wax Plant Lisa, Variegated Hoya Australis, Porcelain Flower
Origin: Descending from Australia, its plant parent is Hoya Australis ssp. tenuipes.
A Piece of Australian Wilderness in Your Home
Hoya Australis 'Lisa' traces its lineage back to the Hoya Australis, discovered on Australia's northeast coast in the 1700s. In its natural habitat, this Hoya uses its vines to gracefully climb trees, often growing to an impressive 10 feet long. Indoors, it will exhibit a more manageable growth of around 3 feet. Replicating its native environment to some extent will ensure your Hoya thrives, though you need not go to extremes with humidity and other factors. Maintain a temperature range of 60-80°F, provide proper sunlight, watering, and humidity, and you'll have a thriving plant that may reward you with clusters of sweetly scented, white, star-shaped flowers – a delightful treat for the senses.
Indoor Care:
Sun: Hoya Australis 'Lisa' thrives in bright, indirect light. It can tolerate some early morning or late afternoon sunlight, but avoid exposing it to harsh, direct midday sun. Southern-facing windows offer the most light, followed by east and west-facing options.
Water: Proper watering is key to your Hoya's well-being. This plant is succulent-like, storing water in its leaves. Therefore, it's sensitive to overwatering. Water your Hoya approximately once every couple of weeks or when the soil is dry halfway down. During the winter, reduce watering even further. If you're unsure, it's safer to underwater since Hoyas recover better from drought.
Repotting: Hoya Australis 'Lisa' doesn't need frequent repotting and prefers to be somewhat root-bound. However, if its roots become unruly and grow out of the pot's drainage holes, you can repot into a slightly larger container. In general, you may only need to repot every few years, primarily to refresh the soil. Always use well-draining soil, as Hoyas are intolerant of soggy conditions that can lead to root rot.
Fertilizer: To ensure your Hoya thrives, especially during its peak growth periods in spring and summer, provide a monthly dose of balanced houseplant fertilizer. This is essential if you hope to witness the beautiful Hoya blooms. During the winter, reduce fertilization as growth slows down.
Available in the following packaging based on your preference:

Nursery Pot - Standard plastic 4" or 6" planter pot that can be placed inside a larger pot or left as is until it outgrows it.
Lyfe Teacup Planter (approx 5") - This plant comes packed in our monogrammed, glazed terracotta planter with a matching drip tray saucer.
Selene Planter - Porcelain 6-inch pot ceramic marble planter with drainage hole and matching rose gold ceramic tray. The planter measures: 7.5" x 6.5" x 6.5" and weighs approximately 3.7 lbs. We recommend placing your plant inside the nursery pot to make it easy to water and transplant.
Looking for more plant goodies? Check out our accessories.
For added humidity, our Lyfe Rose Gold Signature Mister will make a perfect addition to your plant shelf for both function and beauty. We also recommend adding our Plant Shield & Shine to your order for routine maintenance and pest prevention.  
Our plants are shipped from our indoor greenhouse in South Florida. Please note all our plants are one of a kind and if you want to message us we can send you a picture of the exact one you will receive. The product image here is intended to be the best representation of what you can expect to receive but yours may have slightly less or more growth depending on the crop we have when your order is placed. Any lifestyle pictures are meant to demonstrate how a fully grown or more mature plant looks for you to get a sense of it in your space.
About the Plant
Botanical Name

Hoya australis lisa'

Common Names

Hoya Lisa, Lisa tricolor, tricolor hoya lisa

Plant Type

semi-succulent perennial

Mature Size

Up to 15 inches long

Sun Exposure

Full Sun to Part Shade

Soil Type

Moist but well draining, dry between waterings

Soil pH

All types, not picky

Bloom Time

Summer & Spring

Flower Color

Light pinky white

Hardiness Zones

Zone 9-12; grown as a houseplant in all climates

Native Area

Australia

Toxicity and Pet Safety

Non-toxic and pet safe
Shipping & Returns
All our plants ship exclusively with UPS to ensure they arrive timely and in good condition. We ship most of our plants Mondays & Tuesdays to most of the USA to ensure they arrive speedy to your location. If you order on a Tuesday after 12 PM ET it is possible that we would not ship it till the following Monday.
We monitior the weather in each destination location to maximize the shipping time and utilize thermal protection to ensure that the plant is protected. You can add a heatpack or thermal bag to your order if temperatures at night fall below 40 degrees.
You can visit our shipping policy to learn more.