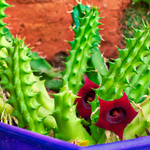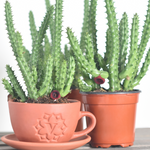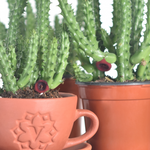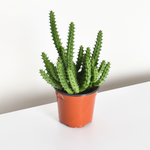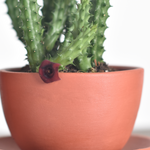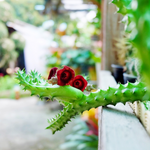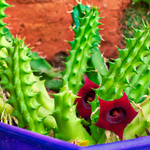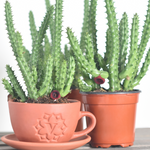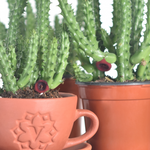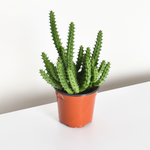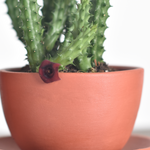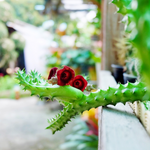 Huernia schneideriana Red Dragon Flower Succulent
Regular price
$30.00
Sale price
$28.00
Unit price
per
Sale
Sold out
Details
Hey there, fearless plant aficionados and green-thumbed warriors! Prepare to embark on a wild journey into the fantastical realm of succulents with the one and only Huernia Schneideriana – affectionately known as the "Red Dragon Flower." Strap in, because this ain't your average potted pet!
The Red Dragon Flower: A Crash Course in Awesomeness
🌵 Badass Aesthetics: Imagine a succulent that not only rocks the succulent scene but also steals the spotlight in a lineup of floral royalty. The Red Dragon Flower's star-shaped blooms are like the intricate tattoos of the plant world. Shades of orange, yellow, red, and purple collide to create a mesmerizing masterpiece that'll have your garden neighbors green with envy.
🌵 Rebel Growth Habits: Don't expect this dragon to follow the same playbook as its leafy companions. The Red Dragon Flower rebels against the norm with its mad growth skills. Trailing stems, each flaunting those iconic triangular leaves, cascade down pots and planters in a gravity-defying dance. Hang it high or let it sprawl – it's a rebel with a cause!
🌵 Zero Drama Maintenance: Are you allergic to high-maintenance plants? Fear not, for the Red Dragon Flower thrives on low drama vibes. It's got mad water-storing skills in those fleshy leaves, so it won't die on you if you forget to water it for a hot minute. In fact, it prefers you let it dry out between sips. Easy, breezy, succulent squeezy!
🌵 Party Starter: Who needs a DJ when you've got the Red Dragon Flower at your soirée? It's the ultimate icebreaker, sparking conversations about its fantastical blooms and rebellious style. Watch as your friends go from small talk to full-on succulent serenades – because this dragon's got that effect.
🌵 Status Symbol: You're not just getting a plant; you're getting an exclusive ticket to the rare succulent society. The Red Dragon Flower isn't your run-of-the-mill garden variety – it's a status symbol, a botanical unicorn, a treasure few can claim. Show it off proudly and let the world know you're in a league of your own.
Dragon Tamer's Cheat Sheet:
Name: Huernia Schneideriana (aka Red Dragon Flower)
Personality: Rebel with a floral cause
Height: Up to 12 inches of dragon-tastic glory (trailing)
Diet: Dry spell enthusiast; water sparingly
Party Trick: Insane star-shaped flowers in shades that'd make a rainbow jealous
Habitat: Happy indoors or outdoors, as long as there's light (but not too much!)
BFFs: Hang it, pot it, flaunt it – this dragon's down for whatever!
Conquer the Red Dragon:
Ready to level up your plant game? The Red Dragon Flower doesn't just stand out; it soars above the rest. From its rebellious growth habits to its jaw-dropping blooms, this succulent's got it all. Don't just own a plant – own a legend. Snag your very own Red Dragon Flower now and become the envy of succulent enthusiasts and garden gurus alike. Roar-some, right? 🐉🌸
Available in the following packaging based on your preference:
Nursery Pot - Standard plastic 4-inch planter pot that can be placed inside a larger pot or left as is until it outgrows it.
Lyfe Teacup Planter (approx 6") - This plant comes packed in our monogrammed, glazed terracotta planter with a matching drip tray saucer.
If your plant needs added humidity our Plant Mister would make a perfect addition to your plant shelf for both function and beauty.
Looking for more plant goodies? Check out our accessories Here.
Our plants are shipped from our indoor greenhouse in South Florida. Please note all our plants are one of a kind and if you want to message us we can send you a picture of the exact one you will receive. The product image here is intended to be the best representation of what you can expect to receive but yours may have slightly less or more growth depending on the crop we have when your order is placed. Any lifestyle pictures are meant to demonstrate how a fully grown or more mature plant looks for you to get a sense of it in your space.
About the Plant
Botanical Name

Huernia schneideriana

Common Names

Red Dragon Flower Cactus Huernia Zebrina Succulent

Plant Type

Succulent, shrubby bushy

Mature Size

3 ft long; Can spread .5 to 1 foot

Sun Exposure

Full Sun

Soil Type

Fast draining mixes, however not a drought resistant plant, needs regular watering

Soil pH

Neutral to slightly alkaline

Bloom Time

Seasonal bloomer once mature enough.

Flower Color

Greenish white with tinged pink

Hardiness Zones

Zone 10-12 outdoors; may grow indoors in containers with enough light

Native Area

African deserts
Shipping & Returns
All our plants ship exclusively with UPS to ensure they arrive timely and in good condition. We ship most of our plants Mondays & Tuesdays to most of the USA to ensure they arrive speedy to your location. If you order on a Tuesday after 12 PM ET it is possible that we would not ship it till the following Monday.
We monitior the weather in each destination location to maximize the shipping time and utilize thermal protection to ensure that the plant is protected. You can add a heatpack or thermal bag to your order if temperatures at night fall below 40 degrees.
You can visit our shipping policy to learn more.
Plant arrived not even in the dirt so whoever delivered it obviously didn't care what was inside the box. The bottom of each part of the plant was nothing but green moosh. I did what i could with it but more than likely it is going to die as it does not stand up, it hangs over the side of the pot laying on the stand.