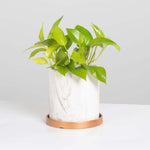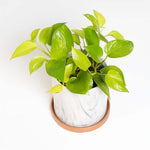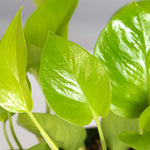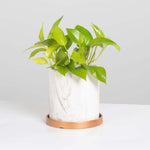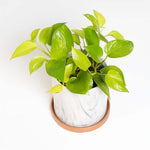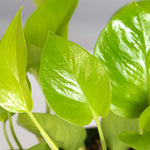 Neon Pothos Trailing Air Purifying Plant
Regular price
$0.00
Sale price
$32.00
Unit price
per
Sale
Sold out
Details
The Neon Pothos, a plant that is sure to bring a burst of color to your home or office! With its vibrant, lime-green leaves, this houseplant is a perfect choice for anyone looking to add a pop of energy to their space.
The Neon Pothos, also known as Epipremnum Aureum 'Neon', is a member of the Araceae family and is a type of vine that can grow up to 6 feet long. Its striking, heart-shaped leaves are a bright, fluorescent green that can light up any room.
Not only is the Neon Pothos visually stunning, but it's also an easy plant to care for. It's a low-maintenance plant that can thrive in various lighting conditions, from low to bright indirect light. It can also handle occasional periods of neglect, making it an excellent choice for those new to plant care or individuals with busy schedules.
The Neon Pothos is also versatile in terms of placement. It can be hung from a basket, trained to climb a trellis, or displayed in a pot on a shelf or desk. Its trailing nature makes it an excellent choice for adding height and dimension to any room.
In addition to its visual appeal, the Neon Pothos is known for its air-purifying properties. As a natural air purifier, it can help remove toxins from the air and improve air quality, making it an excellent choice for homes and offices.
The Neon Pothos is a stunning and practical choice for any plant lover. It's easy to care for, visually striking, and has numerous benefits for your space. Don't miss the opportunity to add this beautiful houseplant to your collection!
Available in the following packaging based on your preference:

Nursery Pot - Standard plastic 4-inch or 6-inch hanging basket pot that can be easily hung up or removing the hanging part and can be placed inside a  pot or left as is until it outgrows it.
Amelia Planter - This plant comes packaged in a hanging white oval/round 4.5" porcelain planter pot ready for your home or office space with an s-hook for ease of use to hang on any wall or patio area. The bottom is flat if you want to display the plant on a shelf or table without hanging. Does have a hole for drainage.
Selene Planter - Porcelain 6-inch pot ceramic marble planter with drainage hole and matching rose gold ceramic tray. The planter measures: 7.5" x 6.5" x 6.5" and weighs approximately 3.7 lbs. We recommend placing your plant in the nursery pot inside it to make it easy to water and transplant.

 
For added humidity, our Lyfe Rose Gold Signature Mister will make a perfect addition to your plant shelf for both function and beauty. We also recommend adding our Plant Shield & Shine to your order for routine maintenance and pest prevention.  
Looking for more plant goodies? Check out our accessories.
Our plants are shipped from our indoor greenhouse in South Florida. Please note all our plants are one of a kind and if you want to message us we can send you a picture of the exact one you will receive. The product image here is intended to be the best representation of what you can expect to receive but yours may have slightly less or more growth depending on the crop we have when your order is placed. Any lifestyle pictures are meant to demonstrate how a fully grown or more mature plant looks for you to get a sense of it in your space.
About the Plant
Botanical Name

Pothos 'Neon'

Common Names

Neon Pothos, devil's ivy, devils vine

Plant Type

Vine

Mature Size

Can get up to 20-40ft long in wild and 3-6ft wide.

Sun Exposure

Full sun to partial shade

Soil Type

Moist but well draining, can tolerate dry spells

Soil pH

Neutral to Acidic

Bloom Time

None/NA

Flower Color

None/NA

Hardiness Zones

Zone 10-12 USDA; grown as a houseplant in all climates

Native Area

South Pacific, Solomon Islands

Toxicity/ Pet Friendly

Not pet safe, toxic to humans and pets
Shipping & Returns
All our plants ship exclusively with UPS to ensure they arrive timely and in good condition. We ship most of our plants Mondays & Tuesdays to most of the USA to ensure they arrive speedy to your location. If you order on a Tuesday after 12 PM ET it is possible that we would not ship it till the following Monday.
We monitior the weather in each destination location to maximize the shipping time and utilize thermal protection to ensure that the plant is protected. You can add a heatpack or thermal bag to your order if temperatures at night fall below 40 degrees.
You can visit our shipping policy to learn more.
Amazed
I am so amazed at the quality of this plant. For anyone who doesn't have a lot of daily sunlight in their windows to offer a plant, this one is for you. I bought my Neon Pothos (i biught the Selene) in September 2022 and after lots of growing over the months she was ready leave her spot on the windowsill and hang in a macrame 4ft ceiling hanger I found on Amazon today. My tip for anyone choosing this plant would be to be conscious not to overwater - you dont want to down the roots and leave so much water that it pools at the bottom in the drip tray. Mine gets water every 7-8days and is thriving.
Vibrant and beautiful!
I love this plant! I received it almost two months ago, and I'm going to order another. It's so cheery!
Neon Pothos Trailing Air Purifying Plant
Verdant Health
This was my third order from Verdant Lyfe, and it was as ideal as ever. The healthiest plants arrive in the safest possible packaging, obviously arranged with great care. The four pothos plants had visible new growth by their second day in my home. I have told all my friends and family about Verdant Lyfe! Thank you to the entire crew there.
beautful!!1
what a beautiful indor plant!!