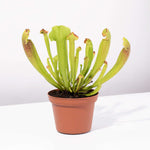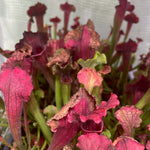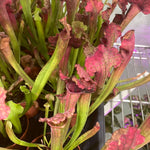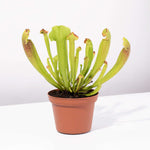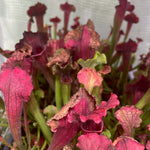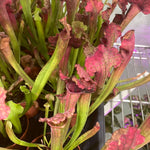 Sarracenia x Barba Green Trumpet Pitcher Carnivorous Plant 3" nursery pot
Regular price
Sale price
$24.00
Unit price
per
Sale
Sold out
Details
The Sarracenia x Barba Green Trumpet Pitcher Carnivorous Plant's unique appearance plant employs the same trapping mechanism as Darlingtonia californica, using a small entrance in the pitcher mouth, which prey goes through in search of more nectar that was produced by the plant on the rim of the pitcher mouth. The prey is then confused by light shining through what appear to be false exits (or "windows") and crawls toward the brighter area down into the pitcher. Criss-crossed downward-facing hairs densely line the interior of the pitcher, forcing the prey further into the pitcher to an area where digestive enzymes such as proteases are prevalent in the liquid. The pitchers of the parrot pitcher plant do not function as pitfall traps like those of its relatives. Instead, this species utilizes the "lobster trap" method of prey capture. Lured to its pitchers by their bright colors, insects gradually explore the traps. This plant can grow in soggy soil with the water level in the saucer as deep as 1/2 the pot, but most carnivorous plants prefer damp to wet soil, so keep the water at about 1/4 inch and refill as soon as it is nearly gone. Water from below, by adding water to the tray, rather than watering the plant.
This plant comes in a 3" nursery pot.
If your plant needs added humidity our Plant Mister would make a perfect addition to your plant shelf for both function and beauty.
Looking for more plant goodies? Check out our accessories Here.
Our plants are shipped from our indoor greenhouse in South Florida. Please note all our plants are one of a kind and if you want to message us we can send you a picture of the exact one you will receive. The product image here is intended to be the best representation of what you can expect to receive but yours may have slightly less or more growth depending on the crop we have when your order is placed. Any lifestyle pictures are meant to demonstrate how a fully grown or more mature plant looks for you to get a sense of it in your space.
Shipping & Returns
All our plants ship exclusively with UPS to ensure they arrive timely and in good condition. We ship most of our plants Mondays & Tuesdays to most of the USA to ensure they arrive speedy to your location. If you order on a Tuesday after 12 PM ET it is possible that we would not ship it till the following Monday.
We monitior the weather in each destination location to maximize the shipping time and utilize thermal protection to ensure that the plant is protected. You can add a heatpack or thermal bag to your order if temperatures at night fall below 40 degrees.
You can visit our shipping policy to learn more.
What an interesting plant
This plant arrived well packaged and very happy.
I am ver happy with this and all my other purchases from Verdant Lyfe.
Healthy and did not stink
My plants arrived healthy and thankfully they do not stink. Another companies plants smell awful at the roots (like rotten death). This plant is very delicate and not a single leaf or pitcher was broken.
Wonderful company
Plants arrived strong & healthy and were easy to transplant. Customer service has been outstanding. Looking forward to making more purchases from this great company.
Need one in every room
Love these little cuties and need one in every room. They're beautiful, pet safe and bonus, they'll eat anything little bug that's pestering our home! It happens, flies get in to our home periodically. I moved my little trumpet pitcher into the room that had a pest, closed the door and the next morning fly was gone. Moved out to my room where I saw a gnat in the morning, by afternoon it was gone. No pesticides required, a "green" solution!