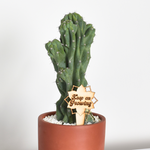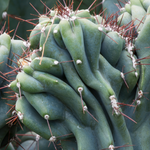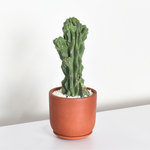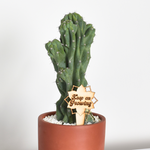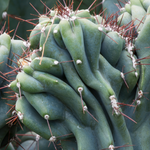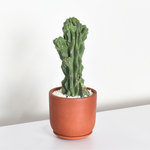 Monstrose Peruvian Apple Cactus Cereus Peruvianus
Regular price
Sale price
$25.00
Unit price
per
Sale
Sold out
Details
The Monstrose Marvel - the Cactus that's rewriting the rulebook on prickly personality! 🌵✨ Say goodbye to ordinary succulents and hello to the extraordinary Cereus Peruvianus Monstrose!
Are you tired of the same old spikey succulents? Ready for a plant companion that's as unique as your individuality? The Monstrose Cactus is here to steal the spotlight with its whimsical and wavy demeanor. Imagine a cactus that's not just a plant, but a conversation starter, an artistic masterpiece, and a greenery guru all rolled into one.
What's the secret behind the Monstrose Cactus' captivating contortions? Nature's very own dance of genetics! This cactus flaunts a twist on the classic, flaunting fascinatingly contorted growth patterns that are a head-turning twist on the traditional cacti silhouette. Its curves and kinks are like the plant world's equivalent of abstract art - unpredictable, enchanting, and utterly irresistible.
And let's talk about care. Don't let its avant-garde appearance fool you – the Monstrose Cactus is surprisingly easy to nurture. Low maintenance? You bet! It's like having a rebellious teenager who secretly adores your attention. Just a bit of sunlight, a dash of water now and then (seriously, don't smother it!), and you've got a plant companion that's sure to thrive.
Whether you're a seasoned plant parent looking for a new horticultural adventure or a newbie eager to dive into the world of green-thumb glory, the Monstrose Cactus is the perfect partner in photosynthesis crime. Spice up your space with its charismatic charm, and let your friends and guests' envious "oohs" and "aahs" be the background soundtrack to your plant parenting success story.
Get ready to turn your plant corner into a mini art exhibit, starring none other than the Monstrose Cactus. But beware: adopting this cactus might just turn you into the neighborhood's resident plant trendsetter. Embrace the unexpected, redefine plant parenthood, and make your space the epitome of eccentric elegance with the Cereus Peruvianus Monstrose! 🌵🎨🌟
Available in the following packaging based on your preference:
Nursery Pot - Standard plastic 4-inch or 6-inch planter pot that can be placed inside a larger pot or left as is until it outgrows it.
Marie Terracotta Planter - 4.5" Terracotta planter with matching saucer for drainage. 

Whitney Terracotta - a beautiful molded terracotta pot that is porous and fire-glazed to allow plant roots to breathe; color works well with any decor and will develop a beautiful patina color over time. Includes matching dish underneath to catch water drainage and protect surfaces. 
Looking for more plant goodies? Check out our accessories.
For added humidity, our Lyfe Rose Gold Signature Mister will make a perfect addition to your plant shelf for both function and beauty. We also recommend adding our Plant Shield & Shine to your order for routine maintenance and pest prevention.  
Our plants are shipped from our indoor greenhouse in South Florida. Please note all our plants are one of a kind and if you want to message us we can send you a picture of the exact one you will receive. The product image here is intended to be the best representation of what you can expect to receive but yours may have slightly less or more growth depending on the crop we have when your order is placed. Any lifestyle pictures are meant to demonstrate how a fully grown or more mature plant looks for you to get a sense of it in your space.
About the Plant
Botanical Name

Cereus Peruvianus ' Monstrose'

Common Names

Monstrose Cactus

Plant Type

Succulent, shrubby bushy

Mature Size

Can get very tall in the right environment 8ft tall or more; Can spread 2 to 3 foot

Sun Exposure

Full Sun

Soil Type

Fast draining mixes, however not a drought resistant plant, needs regular watering

Soil pH

Any

Bloom Time

Seasonal bloomer once mature enough.

Flower Color

Pale yellow tubular flowers

Hardiness Zones

Zone 9-12 outdoors; may grow indoors in containers with enough light

Native Area

Central America
Shipping & Returns
All our plants ship exclusively with UPS to ensure they arrive timely and in good condition. We ship most of our plants Mondays & Tuesdays to most of the USA to ensure they arrive speedy to your location. If you order on a Tuesday after 12 PM ET it is possible that we would not ship it till the following Monday.
We monitior the weather in each destination location to maximize the shipping time and utilize thermal protection to ensure that the plant is protected. You can add a heatpack or thermal bag to your order if temperatures at night fall below 40 degrees.
You can visit our shipping policy to learn more.